Technical Requirements
| | |
| --- | --- |
| Supported Operating Systems: | Windows 7 (64-bit and 32-bit), XP (32-bit SP2 or later), Windows Server 2008 R2 (64-bit), Windows Server 2008 (64-bit), Windows Server 2003 (64-bit) |
| SQL Servers: | MS SQL Server 2005, MS SQL Server 2008, MS SQL Server 2008 R2. Note that Microsoft SQL 2005 Server Express Edition SP3 is included with installation. |
| Supported AutoCAD Platforms: | AutoCAD 2013 SP1.1, AutoCAD Mechanical 2013 SP1, AutoCAD Electrical 2013 SP1 |
| Side-by-Side Installation Compatibility | ShipConstructor 2013 can be installed side-by-side with ShipConstructor 2012, 2011, 2009, 2008, or 2005. However, versions prior to ShipConstructor 2013 cannot share the same version of AutoCAD. |
New Features in ShipConstructor 2013 R2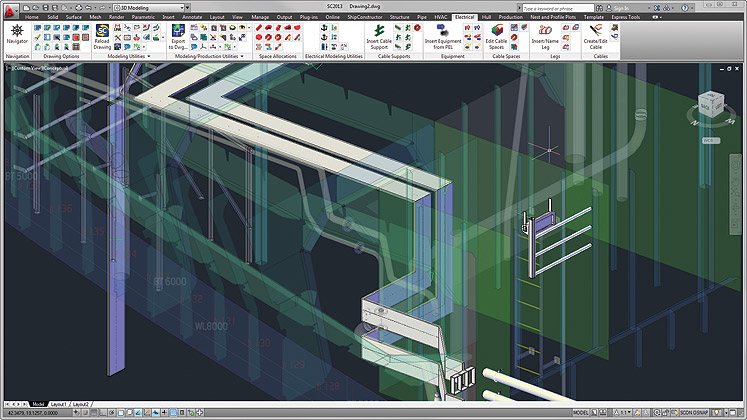 The ShipConstructor 2013 R2 release from SSI offers significant enhancements to its Electrical Product. ShipConstructor now has the ability to automatically route cables between junction points within a 3D environment shared by the rest of the shipbuilding engineering team, thereby reducing interferences and
promoting concurrent engineering.
Overview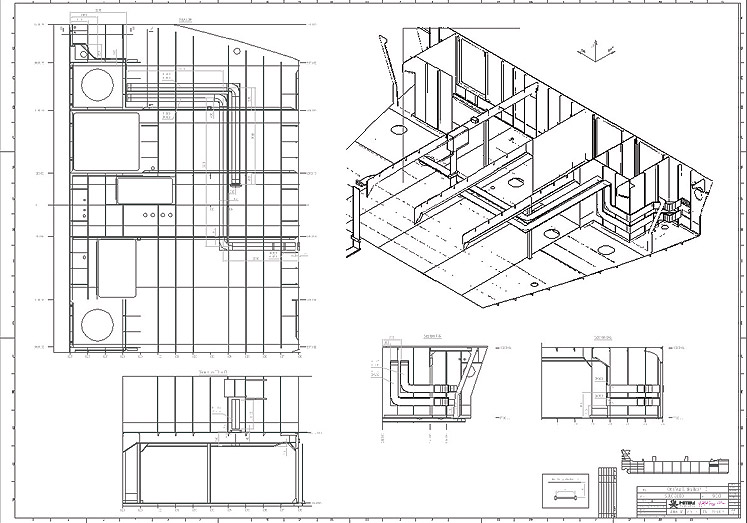 Electrical is a 3D modeling and production system for wireways, cable trays, supports, cables and transits. It features an associative 3D model connecting allocated space to individual wireways, cable trays, supports and subsequent cables. Associative production documentation can be generated from the model including cable pull schedules and reports. The cables within the model are automatically routed within the ShipConstructor environment according to EMC ratings, minimum bend radius and more.
Benefits
Detect issues early
Electrical is often one of the last disciplines to be considered and one of the most difficult to allocate space for. Space can be allocated early in the design process using Space Allocations which can be used in all interference checking against structure and other systems. These space allocations will then be used as the foundation for electrical wireways and cable supports ensuring that late issues should not arise.
Effective change
Cables, wireways, cable supports and space allocations within the 3D model are associatively connected. As changes are made to space allocations, wireways, and cable lengths are automatically updated. This level of associativity in the 3D Electrical model reduces the amount of manual work, and resulting errors, that must be performed when change is required.
Accurate cable lengths
Cables are created and automatically routed in 3D resulting in more accurate cable lengths and installation information in cable pull sheets and reports. This leads to lower material handling costs and less wasted cable as it is pulled through the ship.
Allocate space early in the process
Define a master equipment list
Model electrical wireways
Model standard cable supports and trays
Define EMC zones
Automatically route cables
Parametrically update wireways and cables as systems change
Create cable pull schedules and electrical arrangements
For download information, view the Updates page.