Overview
ShipConstructor 2014 R2.1 has been specifically designed to rapidly respond to emerging trends in ship design and engineering as identified by SSI's innovative new Client Council program. The initial Client Council consisted of Vripack, Peters Shipyards, Royal Huisman, Vera Navis, Marine Technologies Ltd., BMT Nigel Gee, Mustang Marine, Skipskompetanse, and Pendennis.The companies involved in the this Client Council suggested several ways to enhance their productivity such as a new split plate command, a new fillet cut type for stiffener endcuts, increased pipe and HVAC connection tolerance, as well as the ability to create MarineDrafting views in other types of drawings. These features have now been incorporated into ShipConstructor 2014 R2.1.
New Split Plate Command
An emerging trend is that ShipConstructor software is being used earlier in the design process and clients want to reuse the information at later stages in order to avoid rework and prevent errors. Therefore, ShipConstructor 2014 R2.1 now has the ability to create full panel parts and then break them into separate parts at a later stage. This allows, for example, a large plate panel to be modeled as a single plate part which could then be 100% detailed including all the datum lines, attached stiffeners, other marklines, and cutouts etc. Once the final arrangement has been completed, and just before nesting, the user can then add the most efficient seams.

1. Create lines that represent seams across an existing plate part.
2. Choose the command (SCPLATESPLIT) or SC Structure > Plate > Split Plate or Structure tab > Plates panel > Split Plate.
3. Select the plate part.
4. Select the seam curves.
5. The first split part created from the current piecemark location is shown. If the part has identicals/mirrors then you are prompted to keep the break/keep relationships.
6. Pick the next part's piecemark location.
7. A plate part is created and shown.
8. The process of selecting a piecemark and showing a plate part is looped until you escape or press ENTER. The process will stop automatically when you have created all the sub parts.
The command will detect when you try to create the same part twice and prevent it.
The new plate parts will have the same properties as the original part:
• Stock
• Throw
• Mark side
• Assemblies
• Finishes
• UDAs
• Weld shrinkage
• Datum lines
• Orientation icon display
Properties that are copied:
• Cutouts are placed on parts they touch
• Marklines and Mark Text are placed on the parts they lie on.
• Corner treatments are copied to new parts where the construction lines, the corner treatment are associated with, exist on the split part.
• Dynamic marking blocks are associated with the plate they are positioned on. If the dynamic marking block spans multiple parts then it will be removed.
Properties that are removed:
• Plate Green is removed from all parts.
• Flanges are removed from all parts.
• Bevel standards are removed from all parts.
Other Behavior:
• New part names will use the active naming convention and not the naming convention of the original part.
• Linked parts (stiffeners, faceplates, penetrations) are re-associated to the new plates they should be linked to.
• If the source plate part has identical or mirror parts, the new split parts will also create the identical and mirrors.
New Fillet Cut type for Stiffener Endcuts
ShipConstructor 2014 R2.1 has added a new Fillet cut to the list of available cuts for profile endcuts in the Endcut Catalog.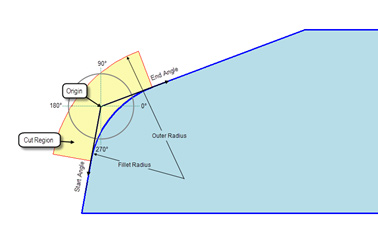 1. The fillet shape is defined by fillet radius, an outer radius, start angle, end angle that represent a partial doughnut shape.
2. The origin of the shape is the intersection of the fillet tangent vectors (typically the corner that will be filleted).
3. The fillet angles are the angles defined as the counter-clockwise angle from along the stiffener's length to the tangent of the fillet circle.
4. Enclosed angles must be greater than 15 degrees.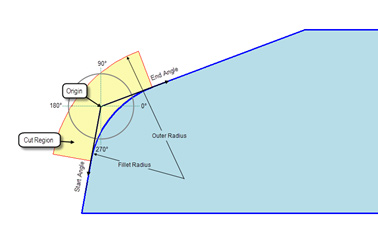 Start angle and end angle are added to Radius cut to now permit pie shaped cuts.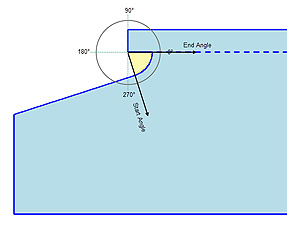 New Pipe and HVAC connection tolerance
There are many scenarios where tight tolerances are not always required in a distributed system (e.g. when dealing with large pipes).Therefore, ShipConstructor 2014 R2.1 now allows for a greater tolerance in connecting pipe and HVAC parts when the ends do not line up exactly.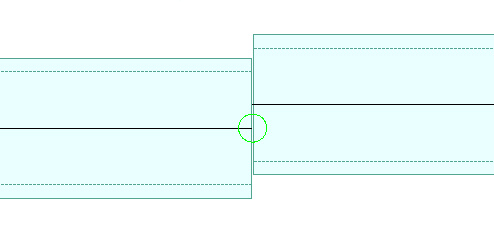 ShipConstructor has added two new project settings to control the connection tolerance: Pipe / Offset Fabrication Tolerance, and HVAC / Offset Fabrication Tolerance. Warning: If the Offset Fabrication Tolerance is reduced after connections are created, the connections will be removed if the transverse distance between the parts is larger than the tolerance.
Ability to Create MarineDrafting Views in Other Types of Production Drawings
In a world of 3D design, 2D drawings are still widely utilized in many scenarios so in the initial release of ShipConstructor 2014, SSI launched a new product called MarineDrafting which allows the creation of 2D DWG based drawings directly from the 3D model. ShipConstructor 2014 R2.1 enhances the MarineDrafting functionality and introduces new workflow options by now allowing 2D MarineDrafting views directly from assembly drawings, support construction drawings, or any type of arrangement drawing.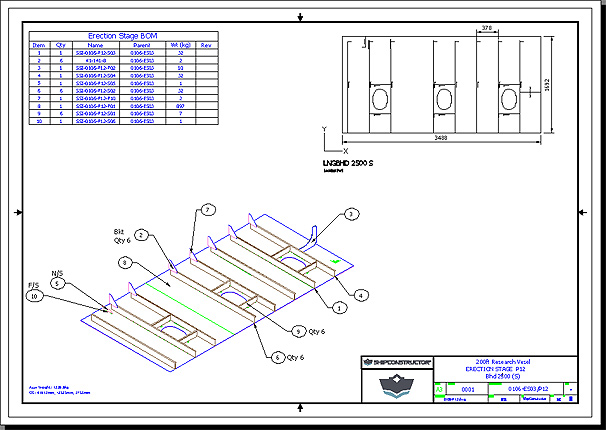 ShipConstructor now allows MarineDrafting views to be used in assembly and arrangement drawings.
MarineDrafting views can now be created in the same drawings as an isometric assembly drawing.
• This gives users the freedom to easily create a single layout with both a MarineDrafting 2D view and an isometric view.
• The MarineDrafting settings can be setup in the template drawings or set up in production drawings themselves.
The MarineDrafting commands require a MarineDrafting license.
System Requirements
SSI has maintained the system requirements for ShipConstructor 2014 R2.1 so that they are the same as the prior release, ShipConstructor 2014. This allows clients who were previously using the latest version of the software to upgrade to ShipConstructor 2014 R2.1 without changes to their IT infrastructure.
Supported AutoCAD Platforms
AutoCAD 2014, AutoCAD Mechanical 2014, AutoCAD Electrical 2014, AutoCAD P&ID 2014
AutoCAD 2013 SP1.1, AutoCAD Mechanical 2013 SP1, AutoCAD Electrical 2013 SP1,
AutoCAD P&ID 2013 SP1
Since ShipConstructor 2014 R2.1 is compatible with AutoCAD 2014, it allows users to take advantage of the latest features of the world's most widely used CAD program.
Supported Client Operating Systems
Supported Server Operating Systems
Windows/Vista Server 2008 R2 (64-bit)
Windows/Vista Server 2008 (64-bit)
ShipConstructor 2014 Installation Guide
See Manuals page.
Download Information
See Updates page.
Purchasing Information
To purchase the software or renew your Subscription contact your local dealer.