Project and Part Revision Viewers

Efficiently review your revision history. What was the change? Who made it? When was it done? The new Parts Revisions Viewer and enhanced Project Revisions Viewer allow users to quickly find answers and navigate to affected model drawings and vice versa.
Pipe Auto-Routing Enhancements
In ShipConstructor 2018 R1.1, we have enhanced an automated functionality that assists you with routing bent pipes from any point in space to a free end of another pipe. The improved logic accounts for a variety of modeling situations while making pipe routing much faster.
Label List Palette (Subscription Advantage Pack)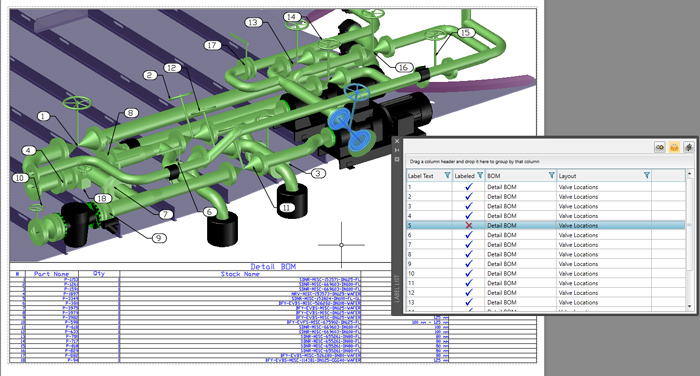 With just one look at the Label List palette you now can instantly tell which parts are missing labels and where those parts are located in a drawing. "You can't imagine how many man-weeks it will save."—SSI Software Super User, Arkadiy Zagorskiy, Marine Technologies Ltd.
Local Clash Detection (Subscription Advantage Pack)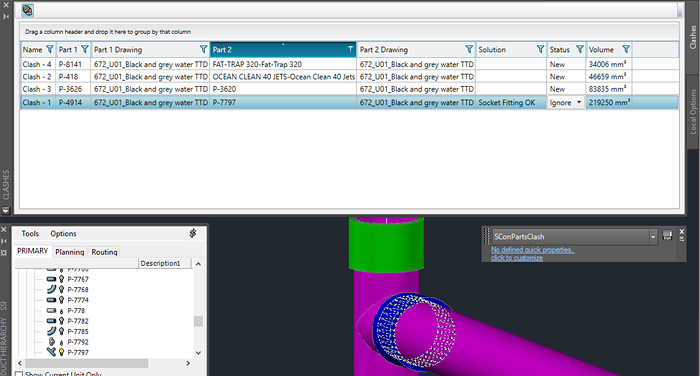 Expanded interference checking capabilities. The Local Clash Detection palette has been introduced providing users with the ability to identify and manage local clashes across a wide variety of part types including PartViews. The clashes identified can be saved and reviewed later.
System Requirements
Supported Client Operating Systems
Windows 7, Windows 10

Supported Server Operating Systems

Windows Server 2008, 2008 R2, or 2012 (64-bit)

SQL Servers

MS SQL Server 2012, 2014 or 2016 are recommended

Installer includes Microsoft SQL Server 2014 Express for projects of 5 or less users.
Note that MS SQL Server 2008 and 2008 R2 are no longer supported.

Supported AutoCAD Platforms

AutoCAD 2018

AutoCAD Mechanical 2018

Navisworks

Navisworks 2018

Side-by-side Installation Compatibility
ShipConstructor 2018 can be installed side-by-side with any
previous major ShipConstructor version; each installed version
of ShipConstructor requires its own dedicated instance of AutoCAD.
ShipConstructor 2018 R1.1 Installation Guide

See Manuals in SSI Nexus

Download Information

See Downloads in SSI Nexus

Purchasing Information
To purchase the software or renew your Subscription contact an SSI Representative