EnterprisePlatform now integrated with ShipConstructor
ShipConstructor and EnterprisePlatorm are now conveniently included in a single SSI software installer. This means all departments, tools and processes within an organization can now leverage engineering information throughout an organization using this powerful new product line. Turn data into action.
Up to 100x Faster Performance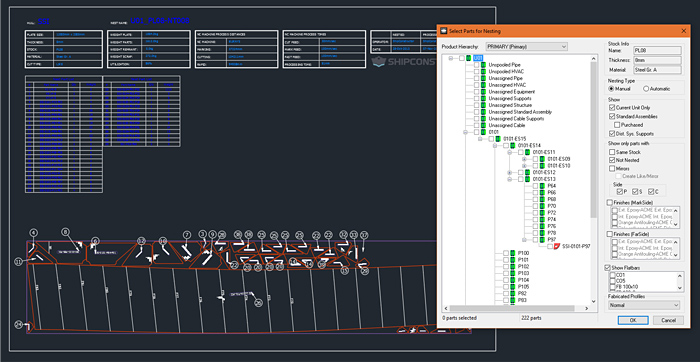 Thanks to recent optimizations of the ShipConstructor database, when working with a large model, opening a dialog interface to insert plate parts into a plate nest can be up to 100x faster.
Other performance-related improvements include:
•  Completing a WorkShare Design Insert operation in projects with a significant amount of UDAs now works up to 50% faster.
•  Model drawings with Distributed Systems penetrations take less time to load.
•  Generating new production drawings with weld information has better performance.
AutoCAD 2018 Compatibility
Get access to the latest features of the world's leading CAD program, including:
PDF Import of Geometry with Text 
Great news for when you need to work from legacy drawings. AutoCAD 2018 lets you import geometry, including SHX font files, fills, raster images and TrueType text into a drawing from a PDF.
High-resolution monitor support 
Enjoy the best possible viewing experience ever, even on 4K and higher resolution displays.
System Requirements
Supported Client Operating Systems
Windows 7, Windows 8.1, Windows 10

Supported Server Operating Systems

Windows Server 2008, 2008 R2, or 2012 (64-bit)

SQL Servers

MS SQL Server 2012, 2014 or 2016 are recommended

Installer includes Microsoft SQL Server 2014 Express for projects of 5 or less users.
Note that MS SQL Server 2008 and 2008 R2 are no longer supported.

Supported AutoCAD Platforms

AutoCAD 2018

AutoCAD Mechanical 2018

Navisworks

Navisworks 2018

Side-by-side Installation Compatibility
ShipConstructor 2018 can be installed side-by-side with any
previous major ShipConstructor version; each installed version
of ShipConstructor requires its own dedicated instance of AutoCAD.
ShipConstructor 2018 Installation Guide

See Manuals in SSI Nexus

Download Information

See Downloads in SSI Nexus

Purchasing Information
To purchase the software or renew your Subscription contact an SSI Representative