Greatly Increased Capabilities for Pipe, Nest and Suites Users
SSI 2019 includes changes to the licensing model to make our products easier to understand and increase value to our clients.
License changes include:
Pipe – Now includes all the functionalities of Pipe, PipeSupports, PipeLink, and P&ID Design Validation.
Nest – Now includes all the functionalities of ManualNest, AutomaticNest and ProfileNest.
Suites – Now, all users of ShipConstructor Suites conveniently have both Hull Structure and Outfitting Modeling tools since the suites have been consolidated into three types: Standard Suite, Premium Suite and the Ultimate Suite.
---
AutoCAD, SQL, and Server Upgrades
AutoCAD
Now compatible with both AutoCAD 2019 and 2018
Windows Server
Now supports Windows Server 2016 in addition to 2012 and 2012 R2 (See note below)
SQL Server
Now supports SQL Server 2017 in addition to SQL Server 2016,2014 and 2012. A key new feature of SQL 2017 is Automatic tuning. Automatic tuning is a database feature that provides insight into potential query performance problems, recommend solutions, and fix identified problems.
---
Client Requested: Improved Labels
SSI has developed a completely new framework that enables you to use predefined Property Label styles while labeling!
Introduced functionality so you no longer need to spend time on building each label individually.
Improved Production drawing consistency across entire project through use of Label Styles.
Transitioned Property Labels to be AutoCAD MLeaders.
Streamlined the process of placing multiple Property Labels. Now, adding multiple labels only takes a couple of clicks per label!
Introduced the ability to lock the appearance for SCONLABEL BOM labels.
---
Client Requested: Hull Effectivity
You can now transfer modeling changes for the major part types between projects with similar catalogs. This is a technical preview of the technology being developed to make it easier for clients to manage changes between sister ships. The current functionality allows clients to make modeling changes in one project and to easily apply those changes to other projects including:
1. Creating new parts
2. Updating existing parts
3. Deleting removed parts
The parts to be transferred can be selected in 3 ways:
1. Selection of parts in a drawing
2. Using the Load Manager
3. Using ShipConstructor Tasks
Before the transfer goes through clients are given a detailed view of all the changes which are going to be made and a report of any things which need to be corrected before a transfer can proceed.
---
Client Requested: Mark Group Intersections for Distributed Systems
You can now select most Distributed Systems drawings and part types in the Mark Group Intersections command when creating 3D solid intersections.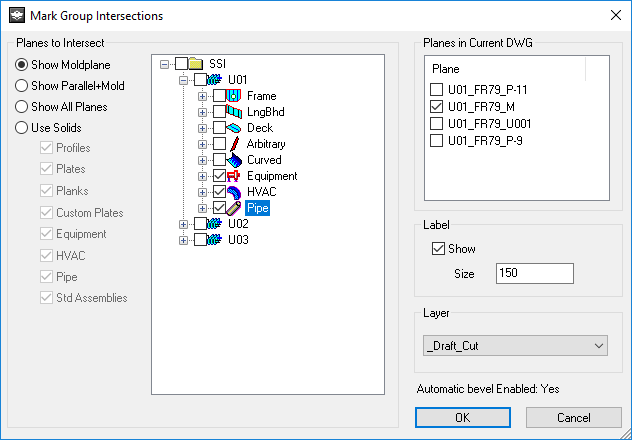 ---
Revisions and Tasks
SSI 2019 offers improved revision and task support when creating, deleting or modifying Distributed Systems parts and stocks as well as WorkShare.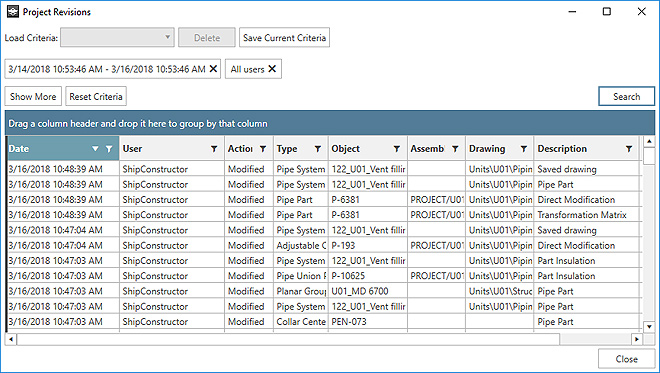 ---
System Requirements
Supported Client Operating Systems

Windows 7 (64-bit), Windows 10


Supported Server Operating Systems

Windows Server 2016, 2012 and 2012 R2

Please note the following dates for end of mainstream support by Microsoft:
Windows Server 2012: 2018-10-9
Windows Server 2012 R2: 2018-10-9

.Net Framework

.NET Framework 4.6.2 (installed automatically)

SQL Servers

MS SQL Server 2017, 2016, 2014, 2012.

Note: Installer includes Microsoft SQL Server 2014 Express for projects of 5 or less users only.

Supported AutoCAD Platforms

2018 and 2019:
AutoCAD, AutoCAD Mechanical,
AutoCAD Plant3D (for ShipConstructor P&ID Design Validation functionality of Pipe)

Navisworks

Navisworks 2018 and 2019

Side-by-side Installation Compatibility

ShipConstructor 2019 can be installed side-by-side with any
previous major ShipConstructor version; each installed version
of ShipConstructor requires its own dedicated instance of AutoCAD.
---
ShipConstructor 2019 Installation Guide
See Manuals in SSI Nexus
Download Information
See Downloads in SSI Nexus
Purchasing Information
To purchase the software or renew your Subscription contact an SSI Representative