Nexus Wishlist Selections
SSI Nexus Wishlist goals include:
Increased visibility and transparency of market-driven developments;
Fostering user community discussions of commonly encountered problems;
Clarification of requirements between users and product development;
Defining and delivering effective solutions.
A focus on development of client requests from within our Nexus Wishlist means improvements to a range of features including:
Modeling
Inclusion of database item 'Unit' in the equipment part naming convention;
The ability to 'Snap-To' stiffener green;
'Zoom-To' clashing parts from the Clash Palette and Clash Manager.
Production
Create MarineDrafting Views using the AutoCAD 'Copy' Command;
Generate two MarineDrafting views, one for each view direction within a bounding box;
Update Model and Systems Drawings Command Improvement.
WorkShare
Email notification when WorkShare operations have completed;
A WorkShare Project 'Split project file' (.SPL) will include Pipe-spool drawings if the corresponding pipe parts and systems have been split from the master.
SSI is listening, and we are constantly working to improve your ShipConstructor experience by making the changes you request from the Nexus WishList.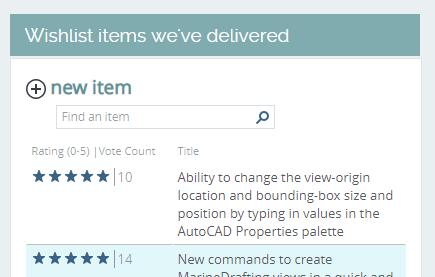 ---
ShipExplorer
The SSI 2020 installer now includes ShipExplorer, a new addition to the SSI product family.
The existing capabilities found within Navisworks Manage is now partnered with ShipConstructor to provide you with the ability to share design changes and communicate complex data models across local and wide area networks, all with the click of a button.
ShipExplorer is a Navisworks Manage plugin that enables existing ShipConstructor files to be easily managed and viewed from within Navisworks.
ShipExplorer provides you with the ability to:
Load from ShipConstructor directly, or from NWF and NWC files;
Use the switchback feature to open the related model drawing within ShipConstructor;
Load and compare revisions between model drawings;
Load the product hierarchies and create sets from the hierarchies for easy navigation, and
Use the embedded Search tool to find specific parts.
Note that with this release, ShipExplorer requires both Navisworks Manage and ShipConstructor to both be installed.
Adding Navisworks and ShipExplorer to your tool-kit streamlines your shipbuilding activities and makes collaboration easier than ever.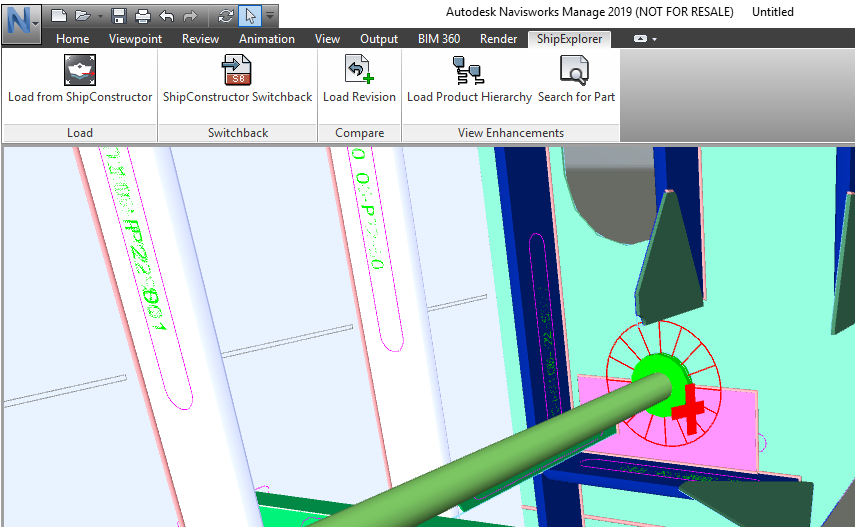 ---
ShipConstructor Help
A re-designed ShipConstructor Help panel provides access to a wealth of information by enabling contextual F1 search functionality, keyword searches and links to learning resources, all with the goal of helping you work more effectively and efficiently without having to navigate away from the work area.
Contextual Help is now available for ShipConstructor commands by pressing 'F1' when hovering over a command button.
Contextual Help automatically searches SSI's online manual, Nexus Knowledge Base articles, and user Community Discussions for relevant information about specific commands.
The redesigned ShipConstructor Help panel now provides access to much more than PDF manuals;
You can now click on the ribbon to find technical specifications about the installed version of ShipConstructor, learn about key highlights, as well as new features and enhancements implemented in the release;
Access the online manual with a valid Nexus subscription and an enabled;
Enter search terms in the new Search bar and return search results from SSI Nexus, manuals and documentation.
Access learning materials from the SSI LEARNING PANEL.
The new SSI Learning panel provides you with convenient access to SSI Nexus and SSI Learning resources including:
Interactive video tutorials from the MyLearning website;
Video library content including everything from how-to instructional videos to archived community user convention references and a host of in-depth training material for both novice and expert users;
and associated training PDF materials.
Interact with other ShipConstructor users through Nexus Community discussions that include feature support, real-world troubleshooting and best-practice advice, as well as a discussion platform on SSILearning for questions about training and topics for users just starting out.
Find answers to frequently asked questions, and submit your own;
Access the Nexus knowledge Base for articles that explain:
How to perform various Operations and tasks within each component of ShipConstructor;
Troubleshooting tips and tricks;
Best Practice articles on the best way to accomplish your tasks;
Instructions for Getting Started and;
Publisher LT Operations information to automate your outputs.
Get help where and when you need it with ShipConstructor 2020's new Help panel and access to SSI Learning features.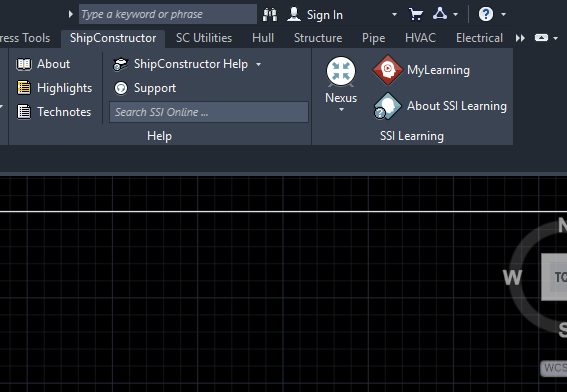 ---
Clash Manager UDA Improvements
SSI 2020 includes a number of improvements to help you use the Clash Manager and Clash Palette features more effectively.
Clashes now support the use of String Lists for User Defined Attributes (UDA's) as defined in Manager, which provide list options for users to choose from within the clash palette and Clash Manager in ShipConstructor;
Now, you can add multiple options to the clash UDA selections, thereby reducing data entry errors and providing standardized options for users to select, based on your requirements;
Once selected, the clash UDA options selected are then also visible from the Properties Palette, from within Navisworks, and the Object Enabler as read only options;
Furthermore, once you have searched for clashes and they appear in the Clash Manager or Clash Palette, you can now zoom to the clash directly, simply by right-clicking on the listed item and selecting "Zoom to clashing Part";
This can dramatically save time and frustration, especially when dealing with a complex model, or multiple components.
SSI is continually working towards making it easier for you to efficiently perform tasks such as clash detection, which is why improvements to the Clash palette such as list UDA's and the new "Zoom-to" features will save time and help reduce errors.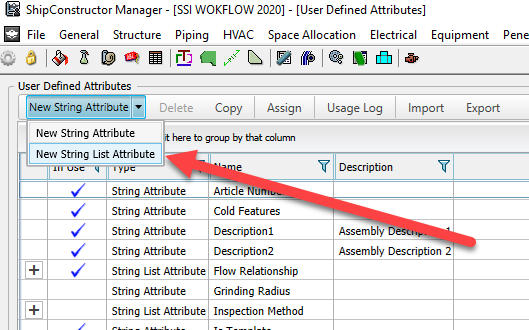 ---
Weld Revisions
ShipConstructor 2020 WeldManagement now supports tracking and review of weld revisions across the entire model.
While revisions have previously been available for other components within ShipConstructor, the ability to track weld revisions provides a whole new level of rigor in viewing and understanding weld changes made to the project over time.
Weld Revisions can now be viewed using one of three methods:
From the project Revisions, or Part revisions palette where synchronized welds, modified welds, deleted welds and added welds are all tracked and displayed;
By using the Task Manager to record and display a Revisions summary, where weld modifications can be tracked by user and for specific changes made within the task list window;
And by using PublisherLT to create output based on revisions remotely. where you can create reports and outputs for weld changes even when not connected to ShipConstructor.
Weld now displays Revisions for the following properties, (including Standard, Auto Standard and UDA)for any object:
Weld Paths;
Weld position within the product hierarchy;
and Weld pin and unpins.
The following changes are not tracked:
Changes to weld types;
Changes to the weld standards;
Changes to the weld schedule;
Changes to the weld status;
Changes to the definition of UDA's;
Changes to the parts the weld is associated with.
Keep track of changes on an individual user level, unit level or project level and be able to access and share that data from a variety of locations to suit your needs.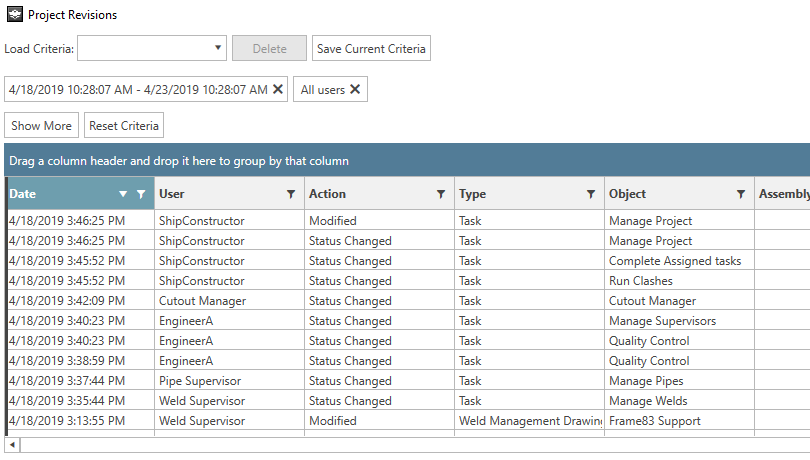 ---
System Requirements
Supported Client Operating Systems
Windows 7 (64-bit), Windows 10
Supported Server Operating Systems
Windows Server 2016, 2012 and 2012 R2
.Net Framework
.NET Framework 4.6.2 (installed automatically)
SQL Servers
MS SQL Server 2017, 2016, 2014.

Note: Express editions are suitable for projects of 5 or less users only.

Supported AutoCAD Platforms
2018, 2019 and 2020:
AutoCAD, AutoCAD Mechanical,
AutoCAD Plant3D (for ShipConstructor P&ID Design Validation functionality of Pipe)
Navisworks
Navisworks 2018, 2019 and 2020
Navisworks Manage 2018, 2019 and 2020 (for ShipExplorer)
Side-by-side Installation Compatibility
ShipConstructor 2020 can be installed side-by-side with any
previous major ShipConstructor version; each installed version
of ShipConstructor requires its own dedicated instance of AutoCAD.
---
ShipConstructor 2020 Installation Guide
Download Information
Purchasing Information
To purchase the software or renew your Subscription contact an SSI Representative