It's been called "Getting in the Groove", "Finding Flow", or "Getting Wired In". What these terms describe is a state of total focus on the task at hand with nothing to disrupt or distract you from accomplishing your goal. This state of optimum productivity is promoted by the new features found in the latest release of SSI's shipbuilding CAD/CAM software, ShipConstructor 2016 R2 along with SSI's information sharing tool, EnterprisePlatform.
Smoother Systems Routing via Continuation Grip Points
ShipConstructor 2016 R2 now lets you stay focused on systems modelling by the creation of a feature called "Continuation Grip Points." Simply click the grip point at an open end of a pipe or HVAC part and you can immediately continue routing a bent part off the currently selected element.
There is no need to continually run a command and then interact with a menu to define attributes each time a new part is added because with Continuation Grip Points, the routed part automatically acquires the proper size, stock definition and system-branch assignment.
This feature helps you stay focused on the main task at hand, eliminates repetitive work, increases efficiency and reduces the likelihood of errors. Attributes simply need to be set once and from then on, you can focus on routing the system
Clarity: Linking UDA Editing with Parts in Drawings & Product Hierarchies
Available in Subscription Advantage Pack
Now you can visualize (and therefore instantly understand) what user defined attributes (UDAs) are associated with specific parts in drawings because now the UDA Editor dialog is connected to drawings. At the same time, you can see where the parts fit within the currently selected Product Hierarchy because Product Hierarchies are also linked to drawings. Combining these three  (Drawing, Product Hierarchy, and UDA Editor) on the same screen, leads to greater clarity and opens up possibilities that have not existed before.
For example, one use case is that it is now possible to find and select a subset of parts in a drawing based on UDA values assigned to those parts. Simultaneously, these parts would be highlighted in the Product Hierarchy tree which gives you the ability to perform operations on them in the Hierarchy Tree.
Enhanced Benefit
A key benefit is that there is no need to reload multiple model drawings and access parts individually. This is because the UDA editor supports group operations which means you can conveniently modify multiple records at once, thereby saving you time.  Once the "SAVE" button is hit, all changes are saved directly into the project database and are applied to all affected part objects.
Set it once: Weld Standards Added to Naming Conventions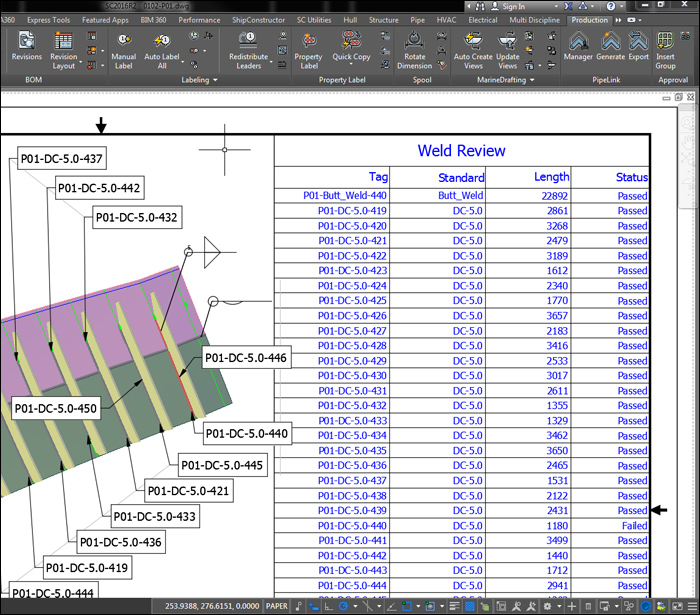 Available in Subscription Advantage Pack
SSI continues to enhance its WeldManagement product. In several markets weld standards are required as part of each weld name to aid with identification and management. Therefore, with ShipConstructor 2016 R2, weld standards can now be set up as part of weld naming conventions. A key point to note is that this feature just needs to be selected once and from then on, the weld standard is automatically added to a weld name. There is no need for modelers to repeatedly and manually identify weld standards.
Streamlined Data Transfer from 3D Model to Pre-Formatted Excel Documents
Since its launch last year, ShipConstructor users have increasingly been using SSI's EnterprisePlatform PublisherLT product to find, package and collect ShipConstructor model data for usage in third-party applications.
Now, this product is even more powerful. PublisherLT can now export data from the 3D model and write it into pre-formatted Microsoft Excel documents. This saves so much time because charts, tables, pivot tables, fonts, formulas etc. do not have to be recreated each time. If you need Engineering information from the ShipConstructor model for usage in a report or for analysis, you can now easily (and repeatedly) find and quickly utilize the information you need.
ShipConstructor 2016 R2 lets you focus on the task at hand, reduces repetitive manual rework (thereby increasing quality), and enables you to just get your job done.
Enhanced Risk Management: Configure Multiple License Servers
ShipConstructor 2016 R2 now provides licencing that gives you the ability to configure multiple license servers (e.g., fail over server to improve risk management).
System Requirements
Supported Client Operating Systems
Windows 7 (64-bit) and Windows 8.1 (Windows 10 currently not supported for this version)
Supported Server Operating Systems
Windows Server 2008, 2008 R2, or 2012 (64-bit)
SQL Servers
MS SQL Server 2008, 2008 R2, 2012, or 2014

Installer includes Microsoft SQL Server 2012 Express Edition SP3

Supported AutoCAD Platforms
AutoCAD, AutoCAD Mechanical, AutoCAD Electrical, AutoCAD P&ID:

2013 SP1.1, 2014 SP1, 2015 SP2, 2016

SSI recommends installing the ShipConstructor 2016 client with AutoCAD 2014 SP1

Supported Autodesk Suites
Factory Design Suite 2016

AutoCAD Design Suite 2016

Plant Design Suite 2016
ShipConstructor 2016 R2 Installation Guide

See SSI Nexus
Download Information

See SSI Nexus
Purchasing Information
To purchase the software or renew your Subscription contact an SSI Representative