While shipbuilding can take several years, a ship will remain in service for several decades, and the distribution of costs is no different. Minimizing the long-term costs of a ship just fractionally can result in extremely large savings when compounded over its life.
Digital Twin
Modern vessels are incredibly complex. At every step from concept to decommissioning, the generated or supplied information is saved for reference or use downstream. Taken together, that information gives your organization a virtual picture of our project – the digital twin. Taking advantage of the digital twin effectively means more predictable maintenance, a better understanding of the onboard reality, and reduced sustainment costs.
Understand your asset
When the ship is handed over to the client, the digital information must remain associated with the ship. But, if the digital data isn't available, your teams need to have the ability to slowly build the digital twin after the fact. Using technologies like laser scanning to capture the on the water state of the vessel, and combining that with any CAD, PDF, or other data that is available, can give your organization a complete picture of the ship. Integrating that data together from every source helps capture the intent behind the digital information and keeps the digital thread intact. The result is a more significant ROI on vessels that have better-managed data.
Explore SSI solutions to manage the digital twin
Digital Twin in Action
---
Repair / Refit
When increasingly strict environmental regulations meet longer vessel lifespans, the result is thousands of ships that need retrofits, repairs, or both performed. Making that process as seamless as possible, with minimal downtime, is a crucial aspect of minimizing the impact on an organization.
Getting ahead of the problem by always having the most up-to-date picture of the ship being operated is one way to do just that. New builds are starting to require digital twins to be delivered alongside the vessel, but that isn't the case for most already built vessels. If an up-to-date digital twin isn't available, creating a usable, reverse-engineered model of existing conditions involves multiple site visits, significant person-hour costs, and can risk disrupting the operation of a vessel. When performed incorrectly, the delays because of fabrication or installation errors are common.
Make repair, refit, and overhaul seamless
For your organization to make repair and refit seamless and be able to take on more repair and retrofit projects, the design and engineering teams need to be able to:
Continuously assessing the current state of a vessel and actively managing the information that is captured is the best way to ensure that an organization is always ready to plan for an unexpected repair or a change to regulations.
Explore SSI solutions for Repair and Refit
---
Operations
Modern vessels are full of on-board IoT sensors that consistently monitor the on-board reality and give your organization the ability to understand the vessel's status more accurately than ever before. When making a decision based on that information involves digging through multiple platforms and manually making connections between the data, it's no surprise that many organization fail to achieve the ROI they expect from their digital initiatives.
Are your teams able to work with information that comes from:
2D CAD
Compliance readings
Maintenance schedules
On-site readings
On-board sensors
Managing your assets
Managing that operational information, in a way that works specifically for the marine industry, allows for bottom-line benefits. The best ship owners/operators are accomplishing this by:
Consuming data from every source.
Understanding how every piece of information affects the vessel and organization.
Seamlessly integrating the data into existing information platforms.
Implementing a solution that does that incrementally, and without replacing what already exists, prevents risk to current projects, reduces lifetime costs, and allows for an immediate ROI.
Explore SSI solutions to manage IoT data
---
Taking Control over Maintain Information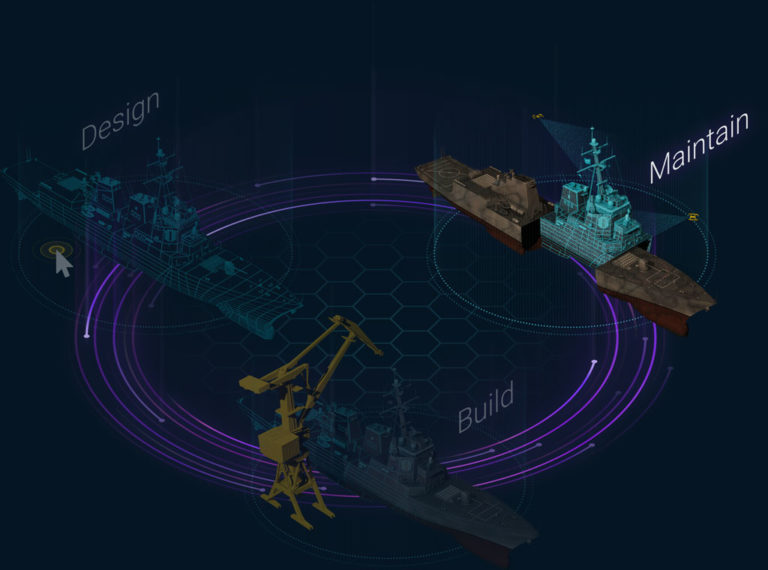 All the information created in the pre-delivery design and build phases of a project is hugely valuable and forms the basis of the information available post-delivery. Those involved in post-delivery will be highly focused on using that existing information to facilitate repairs, overhauls, and refits and capturing new information from data analytics, IoT, and AI sources to improve operations.
When it comes time to design the next vessel in a series, or even an unrelated project, the information gathered from the design, construction, and operation of a ship can be used to inform decisions. When effective capture and storage is in place, it becomes possible to iterate and improve the underlying processes of your organization faster than before.