Today, shipyards are familiar with cloud technology and know that it is something they will need to consider implementing soon. However, that potential change introduces a fear surrounding what is required. For most shipbuilders, though, moving towards virtualization can reduce risk in several key ways.
Distributed Accessibility
The restrictions and disruption because of covid-19 were an extreme example of why it can be beneficial to give employees access to the project they're working on remotely. This is just one of the reasons shipbuilding projects increasingly need to provide remote teams or geographically distributed sub-contractors access to shared projects.
Setting up a virtualized environment where some or all workstations can be accessed remotely reduces the risk of teams being left without access to their work. It also allows departments to easily add remote workers or contractors to where they are needed in response to changing workflow demands.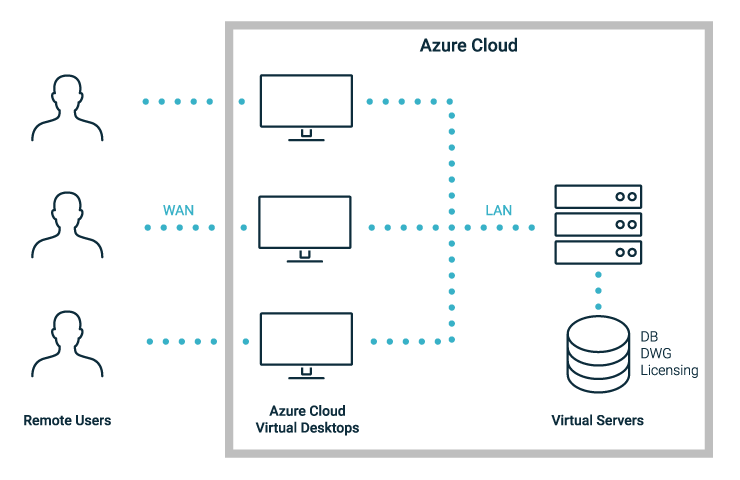 If this kind of distributed work is something you see on your road map, then now is a good time to take stock and see if the solutions your teams are currently using can easily be migrated to a cloud environment. Ideally, your existing vendors will have experience setting their solutions up in the environments of leading providers like Microsoft Azure or AWS.
Enhanced Security
Security is also top of mind for shipbuilders right now. The risk of a compromised system or leaked information can increase alongside vessel complexity and the number of tools in use. Switching to cloud infrastructure for some systems can help mitigate some of those risks.
Cloud systems make it easy to change or modify permissions over who has access to your data and what they can do. For example, when an external team needs to work with your data, you can give them read-only access to interact with the model and revoke it when the work is done, without them ever having to download any of your IP.
Cloud providers also take the lead on security patching and providing a secure computing environment. Most major cloud providers, like Microsoft Azure or AWS, provide environments that satisfy the requirements of even the highest security clearances.
Streamline IT Operations
Taking advantage of cloud technologies can be an opportunity to streamline IT operations, making it easier to focus on the core business of shipbuilding. A cloud environment means avoiding long hardware purchase and provisioning cycles and simplifies activities like server management.
Cloud solutions also support industry-standard APIs that make it easy to integrate them with the existing solutions in the shipyard. The use of those APIs minimizes the amount of custom development needed to get started and hedges against the risk of an integration that only works with a handful of the tools you already have in place.
Leverage New Technology Solutions
As shipyards look to take advantage of new digital innovations, cloud solutions can offer a path forward for some of their implementation challenges. As part of a digital transformation, cloud infrastructure can support digital technology across the shipyard, bringing together design, production, purchasing, and operations, particularly if these units are spread across disparate locations.
The technology can also make certain types of activities possible when they couldn't easily be achieved previously. For example, with a cloud solution, a shipyard could push notifications of critical shop floor events to mobile devices as they occur, allow quick approvals to happen on the fly, or simplify how a tablet-equipped digital shopfloor pulls and pushes information.
Simplified Cost / Investment
Reducing CapEx is top of mind for many shipbuilders right now. The subscription-based cost structure characteristic of many cloud solutions can help provide flexibility and shift hardware expenses to ongoing operating ones. This also helps avoid the headaches of the purchase cycles typical of physical computing infrastructure.
Typically, solutions also offer flexible licensing options that allow your teams to scale up and down dynamically to match the amount of ongoing work.
Introducing Cloud to Your Shipyard
While it is unlikely that most of our business will be cloud-based in the next few years, cloud solutions still offer an opportunity to derisk some parts of shipbuilding. Distributed accessibility, enhanced security, streamlined IT operations, leveraging new technology solutions, and simplified investment strategies can all play a factor today.
However, cloud tech is a major trend right now, so it's important to be pragmatic about the needs of your business and where you can see the value. Getting caught up in the buzz and introducing cloud infrastructure to your organization when there isn't a good opportunity can make it an ineffective investment. Identifying the low-risk initiatives that can give you a competitive edge, like remote sub-contractors or cloud-based design reviews, can be a way to introduce the value of cloud infrastructure to your workflows.
Making sure your tools like engineering platforms, PLM, ERP, and MES work can be set up with cloud providers like Microsoft Azure or AWS is a great first step. With that knowledge, your teams can explore opportunities to introduce the cloud with confidence.