The biggest risks to the cost of building and operating a ship are found in the design and engineering phase. The team in the shipyard, those people in design and engineering, planning, shipyard operations, purchasing, and on the waterfront, all need to be able to effectively contribute to delivery of the project.
Initial Design
An initial design for any shipbuilding project includes a well-defined, validated (through hydrostatic and stability calculations) hull form, general arrangements, equipment specifications and overall vessel requirements.
The shipbuilding industry has several well-known naval architecture packages that allow for the definition of the hull form. Each design the team works on, whether it is purchased off the shelf, is a custom design from a 3rd party design agent, or is done right there in the shipyard, could be delivered in any number of different formats.
Confidence that the design can be brought into the existing environment and carried forward allows an organization to focus on the key requirements and how to maximize potential return. Ensuring compatibility with the various naval architecture software vendors (including Maxsurf, Rhino and Orca3d, NAPA, Paramarine, and others) ensures a smooth transition.
Explore SSI solutions for Initial Design
Initial Design in Action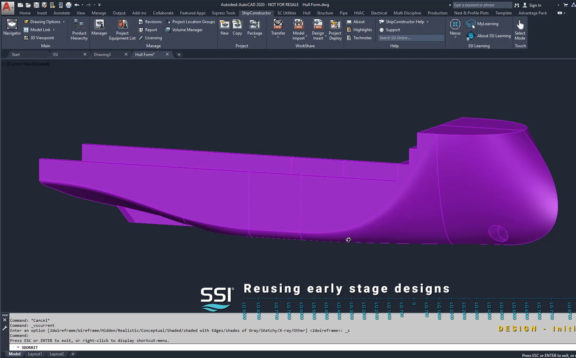 Reusing Initial Design Data for Basic Design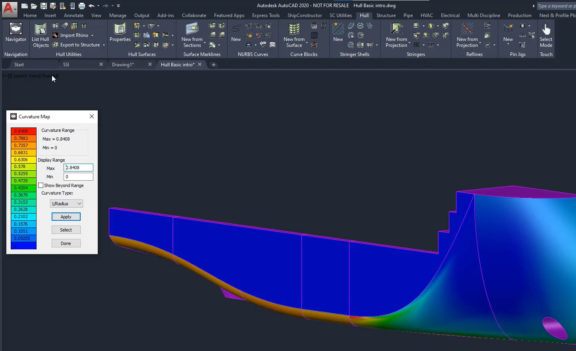 Analyze & Validate a Hull Model
---
Basic Design
Basic design takes the hull form, general arrangements, specifications and other information from the initial design and turns it into a complete functional design of the vessel. This includes a preliminary structural design for all major sections, in-depth structural analysis, functional machinery and systems designs, space allocation for major systems, initial equipment lists and specifications, weight estimation models, and class approval drawings.
Meeting the industry's demanding design schedules requires allowing all members of the team, from structural designers to those responsible for allocating space for major systems, to work together. When everyone is aware of a change's impact, it's trivial to respond before issues arise. It also provides transparency to the entire team on progress, other critical factors like weight management, and both intra and inter-disciplinary clashes in the project.
Communication is never more important than during basic design. This is where a team will make many of the decisions that impact the quality and cost of the vessel being delivered.
SSI allows teams to effectively communicate both internally and externally with:
They spend time on the core design and engineering tasks they are trained for, and let SSI's solutions worry about converting, formatting, plotting, publishing, and searching for information as basic design tasks are completed, allows each team to focus on what they do best.
Explore SSI solutions for Basic Design
Basic Design in Action
---
Detailed Design
Even before the class approval package from the basic design has been approved, work is being done to add the detail required to procure material, plan the construction, and drive fabrication and assembly of the vessel in the yard. This work is the beginning of the detailed design and continues until the vessel is complete and ready for launch.
It is critically important that this work is a natural evolution of the basic design. It is equally important that the engineering team can respond quickly and efficiently to change requests, whether these stem from class society feedback if the basic design has not yet been approved, from production issues, or due to unforeseen changes in equipment or material.
SSI allows teams to rapidly evolve the basic design model into a complete detailed design without slowing down. As a result, the resulting detailed design is always consistent with the basic design. Ensure that every team can quickly and efficiently respond to change, provide them the ability to accurately communicate every detail required for a work package, or for a specific change request. That way, nothing will be missed no matter how many drawings, BOMs, spreadsheets or other deliverables are involved in a change.
Explore SSI solutions for Detailed Design
Detailed Design in Action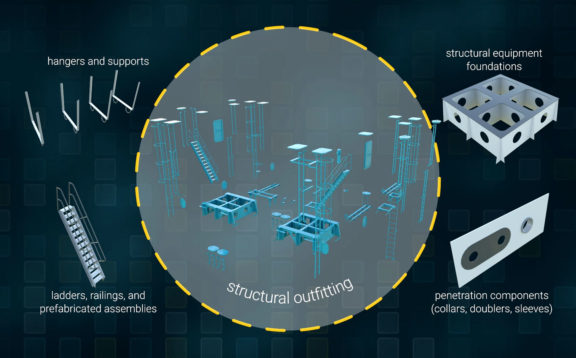 Adding the Details in Detail Design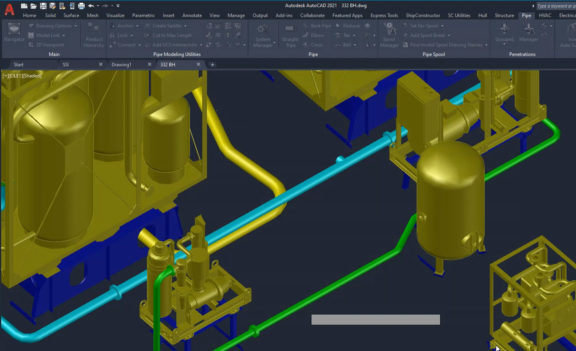 Rapidly create a 3D piping system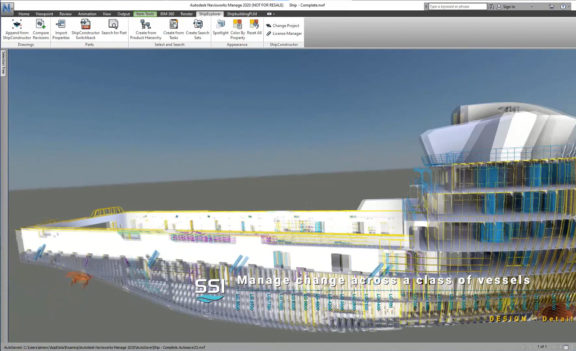 Transfer Changes to a Sister Ship
---
Taking Control over Design Information
The design of a vessel directly impacts costs and timelines throughout the build stage. When every aspect of the design can be translated to work with processes and machinery on the production floor, there is no need to spend additional time manually adjusting for compatibility. Similarly, when it's time to perform a repair or refit, having information from design stages can massively reduce time and labor costs.
An accurate, Digital Twin allows for that information to exist within an easy to leverage framework, and the Digital Twin begins in the design stage. By utilizing a platform that allows information to be captured and made available in lock-step with the vessel, those benefits can begin right away, and your information is ready to be used to help you make better decisions.