SSI delivers software, services, and expertise for the business of shipbuilding. We take advantage of the rapidly evolving technologies that define the future of the industry and understand how to implement them specifically for shipbuilders. For over 30 years, our team has been globally recognized for our specific solutions for the design, engineering, construction, and maintenance of shipbuilding projects.
Denis Morais
CEO
Denis has been internationally recognized for his published blogs, articles, and papers and continues to provide insights on innovative solutions for the marine industries. He has worked hand in hand with industry partners and SSI's clients around the world to solve their most difficult business and technology challenges. This depth of understanding of both the current and future state of technology and the business of shipbuilding serve Denis well as he leads SSI towards the delivery of innovative products and services.
Darren Larkins
President & CIO
Darren has met with shipbuilders around the world, developing an in-depth understanding of industry challenges and global best practices. In response to shipbuilders' call for true concurrent engineering capabilities, he co-invented the company's Database Driven Relational Object Modeling software technology, now at the heart of SSI's products. Today, he brings a rare blend of technology expertise and industry knowledge to bear on SSI's sales, marketing, and operations activities.
Deborah Peet
COO
Deborah Peet is COO of SSI and is responsible for all "behind the scenes" internal operational requirements including the Human Resources and Accounting departments.  Deborah has over 30 years of business experience in Operations, HR and Labour Relations. She has had great success in growing businesses in a number of different sectors and has an appreciation of the nuances of the software industry.  She holds a BCom degree from the University of Saskatchewan and numerous certifications from various training institutes. She is a lifelong learner with a deep curiosity for personal development and human potential. She enjoys working with people from all cultures and backgrounds, collaborating on problem solving and project development, and is a strong advocate for using Non-violent Communication in the workplace as a tool to support collaboration, connection and engagement. She believes it is imperative to support our employees in their personal career goals and continuous learning, as well as engage them in the decision-making process impacting their day to day work, and she supports a flat business structure, using self-directed teams to accomplish common goals.
---
About Us
Shipbuilding's unique challenges require solutions that were developed specifically with shipbuilding in mind. No matter what stage of the lifecycle your project or vessel is in, there is a fundamental need to work with or manage key information. SSI has over 30 years in the shipbuilding industry and provides software, services, and expertise to empower and support shipbuilding excellence.
---
Our History
SSI (then Albacore Research Ltd.) was founded by Rolf Oetter in 1990 as an outgrowth of his research at the University of Victoria in the late 1980s. From the beginning, Rolf implemented a mixture of vision and practical reality. Rolf saw the potential to commercialize CAD/CAM software for shipbuilding applications by leveraging commercially available, off-the-shelf technology so that it was optimized to meet industry specific needs.
Rolf recognized that change was a constant in technology and that he would need to collaborate with global industry leaders to ensure that clients could capitalize on emerging trends and adapt to evolving requirements. In pursuing his vision, SSI adopted the Autodesk and Microsoft SQL Server platforms for development. Rolf also nurtured a culture that embraced change and was committed to maintaining an open architecture solution that could be integrated with other business applications and processes. This strategy enabled Rolf to grow SSI into a multi-million dollar, multi-national enterprise. Rolf stepped down as CEO in 2010, but SSI is still guided by his vision.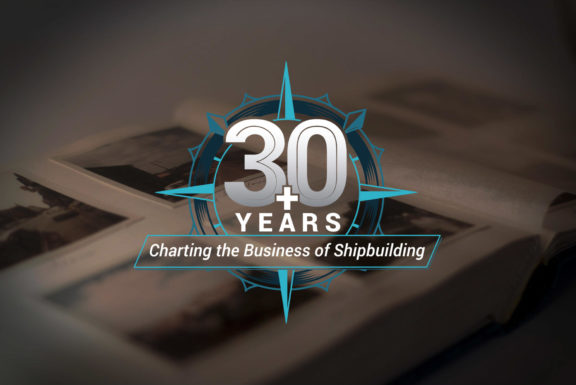 Over 30 Years in Shipbuilding
Explore the stories behind our over 30-year history in the shipbuilding industry. We've collated our significant milestones, key moments, transformations we have helped facilitate across shipbuilding, and the future of SSI and shipbuilding in one place.
Learn More
---
Our Mission
To support and deliver increased productivity for the world's shipbuilding industry by bridging the gap between tradition and technology.
---
Our Values
At SSI diversity, Equity, and Inclusion are important to us. We want to offer a safe work environment that is fair and equitable, which means we commit to recognizing the differences that make up our teams and understanding each individual's needs. We appreciate that diversity brings together many different perspectives and histories, and we honor each other for our differences.
We welcome everyone regardless of what you look like, where you come from, what gender you are, or what your beliefs are. We strive to have everyone feel a sense of belonging to our SSI family, and we celebrate our rich cultural mix.
We are committed to upholding the following values throughout our organization in all our interactions with our customers, coworkers, suppliers, and partners.
Excellence
We strive for flawless execution, to learn from our mistakes, and work towards continuous improvement.
Reliability
We will provide deliverables to our clients, employees, and partners as and when promised. To remain agile and adaptable so that all stakeholders know they can rely on SSI to deliver a solution when and as needed.
Integrity
We are each personally accountable for the highest standards in behavior, openness, fairness, and honesty in all aspects of our work. We strive to maintain an environment where "doing the right thing" is a way of life.
Innovation
We have the desire and ability to venture in to new and emerging areas of opportunity, to adopt open and flexible approaches towards the needs of our customers by listening and respecting their views and staying ahead of emerging trends and potential technological breakthroughs. We are committed to nurturing an environment of questioning, suggesting, constructive involvement and continuous improvement.
Responsibility
We are committed to serving our workplace community and our own communities. We respect the need to balance dedication to the workplace with personal and family responsibilities. We embrace a spirit of caring and respect for our clients, employees, communities and environment.
---
Media Kit & Press Inquiries
Our Media Kit contains brand guidelines, our logos, and a wealth of imagery and print collateral.
Please direct any press inquiries to our PR Specialist. Or submit an inquiry via our Contact Form.