Enhancements to Clashes
ShipConstructor 2020 R2 provides significant enhancements to Clash Management to further help identify and resolve hard clashes as early as possible, saving extra time and effort spent resulting from late clash detection.
Global Clash Check now supports the same part types as Local Clash Check (except for AutoCAD solids), i.e.

Structure
Pipe
HVAC
Equipment
Standard Assembly
Penetration

Space Allocations are now supported in local and global clash checking.
Clashes can be deleted across units or even across the entire project using the Clash Manager.
With a new EnterprisePlatform Operation, global clash check can be run on arbitrary selections of drawings.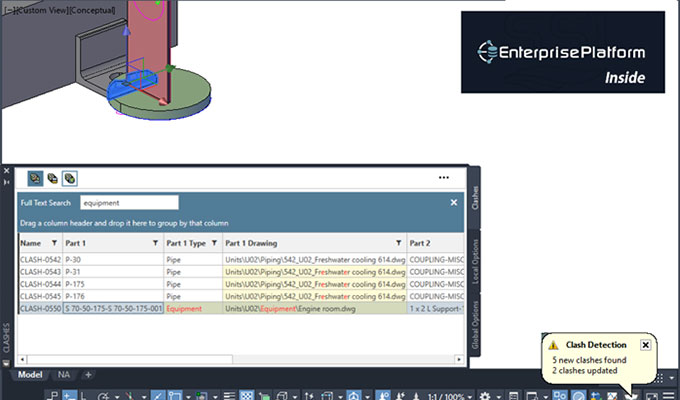 WorkShare Transfer
ShipConstructor 2020 R2 includes a new addition to the WorkShare family of products, WorkShare Transfer, to help you manage change across multiple related projects. Previously available in the Subscription Advantage Pack, WorkShare Transfer helps transfer changes between multiple projects.
To help address the huge challenge of managing change across a class of ships, SSI introduces WorkShare Transfer.
WorkShare Transfer, built from the ground up, allows you to transfer
parts,
production drawings,
assembly information,
systems,
profile plots
between projects. The list is expanding with each ShipConstructor release.
ShipConstructor 2020 R2 release has brought you the ability to transfer profile plots between projects, along with previously supported production drawing types such as spool, assembly, and arrangement drawings.
There is no longer a need to disconnect users to transfer items from one project to another. Clients have expressed a lot of interest in WorkShare Transfer functionality, and many have started using it with great success.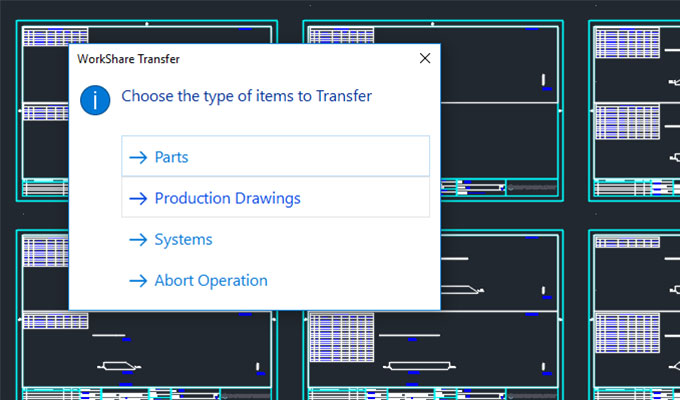 WorkShare Transfer by Task
When using ShipConstructor Tasks, you can now transfer their work on production drawing and systems changes between local projects using WorkShare Transfer, adding to the previously released functionality allowing for parts transfers based on a Task.
With ShipConstructor 2020 R2, in addition to the previously released functionality allowing for parts transfers based on the work performed using a ShipConstructorTask, you can now transfer
Production Drawings, and
Systems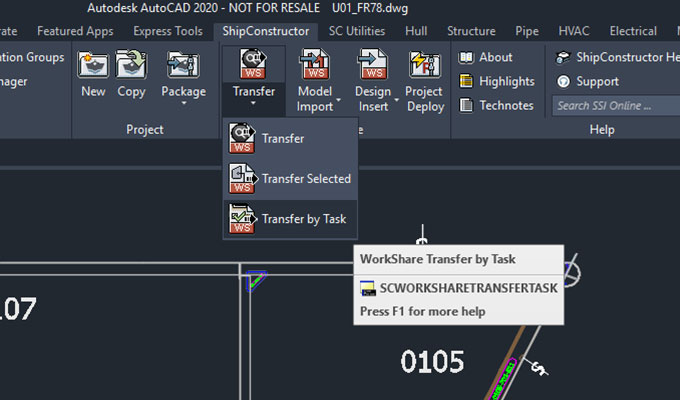 Project Insights
Several enhancements and additions were made to the Project Insights Report template intended to help Managers quickly review and assess project work, progress and trends.
The Project Insights report template has been expanded to include the following part data related pages:
Weight – Displays a break down of part weight across modules and units, by part type and stock.
System Parts – Displays a part count, length and weight, as well as a count of spooled parts and the number of spools, by system, units and part type.
Spec-System-Branch – Displays part statistics (count, length, weight, percent spooled) according to the Spec, System and Branch hierarchy. Includes a dynamic list of parts depending on the selected spec, system or branch.
Parts Nested – Displays the nesting status of structural parts by unit, part type and stock
Assembly Parts – Displays part count, weight, length and CG, as well as a dynamic list of individual parts depending on the selected assembly. Includes support for secondary product hierarchies.
The above information can now be retrieved and visualized across the entire project, from primary as well as secondary product hierarchies.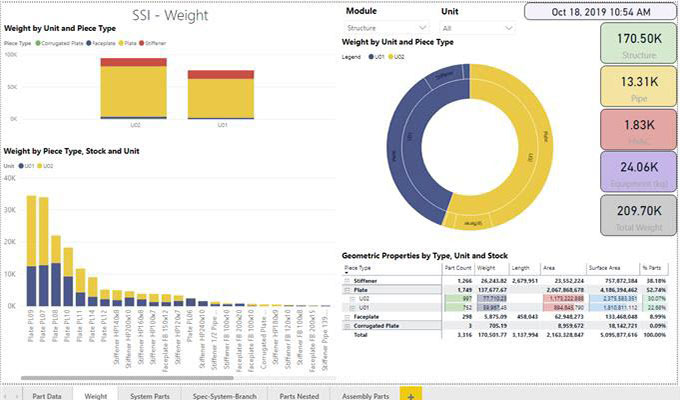 ShipExplorer Launcher
New ShipExplorer Launcher allows you to select the ShipExplorer and Navisworks versions.
With the ShipExplorer Launcher, you can now launch different versions of ShipExplorer side by side using Navisworks Simulate/Manage 2018 or newer. ShipExplorer Launcher is installed as a part of ShipExplorer installation.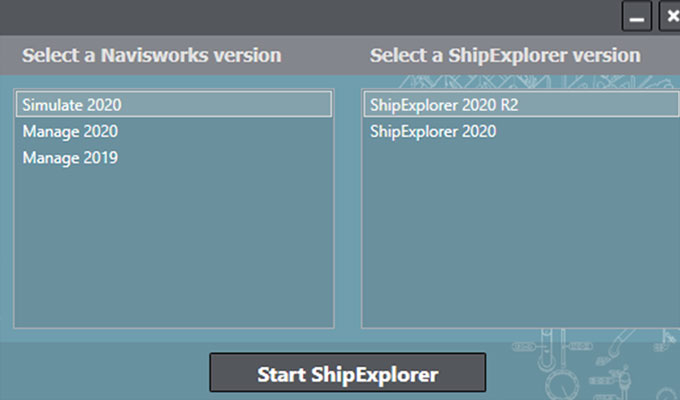 ---
System Requirements
Supported Client Operating Systems
Windows 7 (64-bit), Windows 10
Supported Server Operating Systems
Windows Server 2019, 2016, 2012 and 2012 R2
.Net Framework
.NET Framework 4.6.2 (installed automatically)
SQL Servers
MS SQL Server 2017, 2016, 2014.Note: Express editions are suitable for projects of 5 or less users only.
Supported AutoCAD Platforms
2018, 2019 and 2020:
AutoCAD, AutoCAD Mechanical,
AutoCAD Plant3D (for ShipConstructor P&ID Design Validation functionality of Pipe)
Navisworks
Navisworks 2018, 2019 and 2020
Navisworks Manage 2018, 2019 and 2020 (for ShipExplorer)
Side-by-side Installation Compatibility
ShipConstructor 2020 can be installed side-by-side with any previous major ShipConstructor version; each installed version of ShipConstructor requires its own dedicated instance of AutoCAD.
ShipConstructor 2020 Installation Guide
Download Information
Purchasing Information
To purchase the software or renew your Subscription contact an SSI Representative