Shipbuilding requires careful coordination among many departments, but far too often the information for decisions is siloed in numerous legacy software systems and spreadsheets. A system, designed specifically for Shipbuilding, that offers a practical and organized set of information for your Engineering, Planning, Production, and Project Management groups allows an organization to leverage the massive amount of data and information generated as a result of shipbuilding.
For critical activities like change management workflows, design reviews, and progress reports, it is essential to track design changes throughout the duration of the project. Maintaining snapshots of your data through time, controlling when documentation becomes officially released, and ensuring that the production teams are working with the most up-to-date information are all ways to ensure that you are in control of your data and information.
A successful shipbuilder's information management solution will:
Have pre-configured data with item types including Parts, Assemblies, Drawings, Spools, Systems, and Nests.
Be ready out of the box to show engineering, planning, and production teams the information that matters most to them.
Have web-based access so that applications don't need to be installed on users' desktop computers.
Support information browsing on a tablet computer from anywhere in a shipyard.
Allow for all data to stay local, mitigating risks and allowing for more control over where the data is accessible.
Extend to work with powerful shipyard management workflows.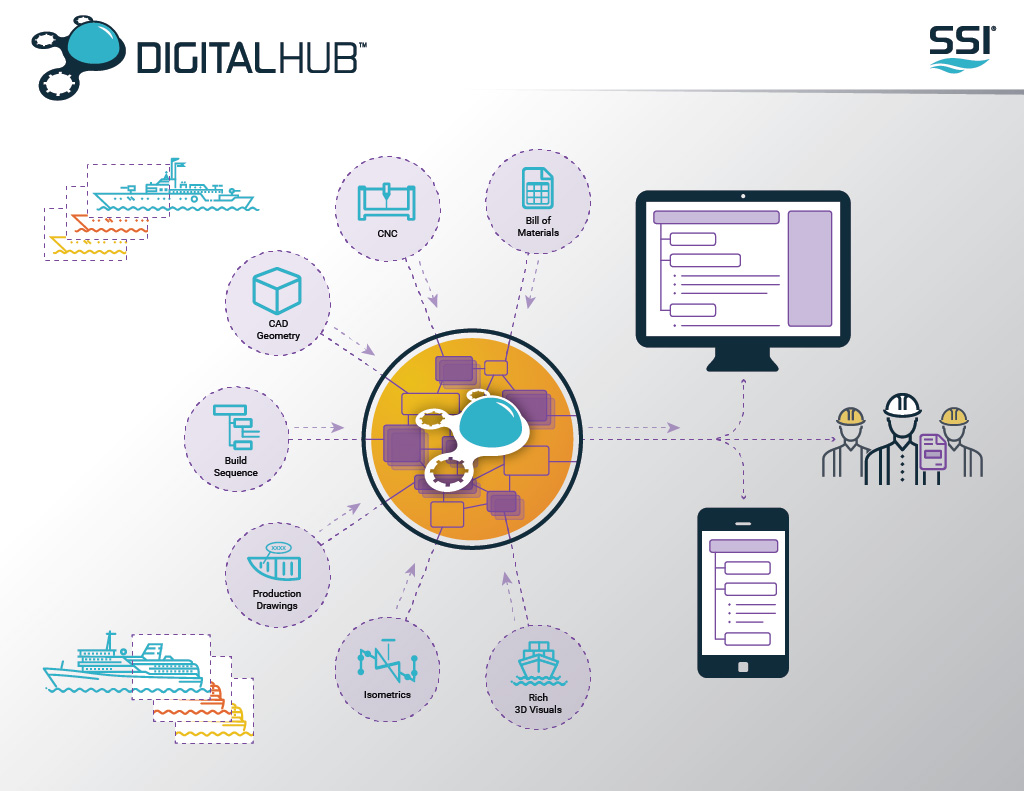 Opening up the silos of legacy software, spreadsheets, employee knowledge, and engineering software is what allows every department to access the information they need. Organizing that information in a way that maintains coordination across departments, is designed for the requirements of shipbuilding, and is practical for the needs of Engineering, Planning, Production, and Product Management is crucial.
No matter how messy the current shipyard system architecture is, as a foundational platform, DigitalHub provides immediate return from a small initial investment and can be further customized to satisfy the specific needs of any shipyard.
Seamless Integration with ShipConstructor
To make informed decisions going forward, it's important to know a project's current and past status. DigitalHub works by capturing the evolution of your ShipConstructor projects through time. Simply by using a standard web browser to view ShipConstructor items and their relationships, accurate data becomes easily accessible to users across all shipyard departments.
DigitalHub can be used immediately because it is pre-configured with ShipConstructor item types including:
Parts
Assemblies
Drawings
Spools
Nests
ShipConstructor data is gathered into DigitalHub through EnterprisePlatform and is recorded as a data snapshot at a point in time. As your ShipConstructor project data changes, these can be periodically imported into DigitalHub to create the most current view of the data, as well as provide historical snapshots and change lists through time.
Secured Locally, Accessible from Anywhere
Especially for global organizations, being able to access the same information from anywhere is key to removing silos. Access to DigitalHub is web-based, so it does not require any applications to be installed on users' desktop computers. DigitalHub is powered by the Aras Innovator PLM that uses standard Microsoft SQL Server and IIS technologies, meaning that your data stays local and accessible.