Albacore Research Ltd. (ARL) is proud to announce that Mr. Patrick D. Cahill joined the ShipConstructor team, representing ShipConstructor in the USA as a consultant, supporting sales, training and customer service. Near-term plans are to open a US-subsidiary with Pat at the helm.
Pat brings over 20 years of Navy and industry experience to the ShipConstructor team. He is a 1983 graduate of the United States Naval Academy, with a B.S. in Naval Architecture. Since completing his naval service requirement, Pat has worked for design agents, shipyards, academia, and in software development. Following one year at CDI Marine and five years with Bath Iron Works, Pat went to the University of Michigan to pursue a Masters Degree in Naval Architecture, specializing in Ship Production. After working with the University of Michigan Transportation Research Institute, Marine Systems Division, Pat moved to Mobile, Alabama where he worked for seven years at Bender Shipbuilding. As Bender's Research and Development Manager, Pat was instrumental in developing design-for-production processes and supporting the beta testing of the ShipConstructor software. He also led a major facility upgrade effort, introducing laser cutting to U.S. shipbuilding. In support of the facility upgrades, Pat worked extensively on system interfaces and integration, creating a seamless workflow process from design to production. The two National Shipbuilding Research Program (NSRP) projects involving enhancements to the ShipConstructor program were the result of Pat's concepts put into a successful proposal. Pat comes to the ShipConstructor team most recently from Atlantec Enterprise Solutions, where he managed the development of ship production support software.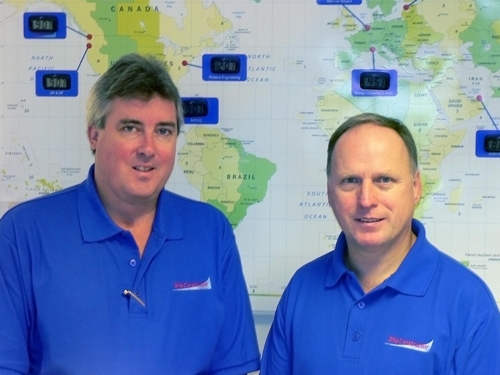 Mr. Cahill and Mr. Oetter meet at ShipConstructor Headquarters to discuss the opportunities for ShipConstructor USA.
We at ARL look forward to working with Pat on the ShipConstructor team as we continue to evolve ShipConstructor into a fully integrated ship design package with seamless interfaces to planning, scheduling, purchasing, and production support functions.