At your company, you are well prepared for future shipbuilding challenges due to your exploration of ShipConstructor. You will exceed the high level of quality a vessel built your company is known for and build upon your reputation for on-time delivery. These achievements are made possible through the adoption of a 3D model that provides the benefits of early weights, CG, advanced visualization, and the capability to automatically generate classification and workshop drawings that capture your company's specific requirements.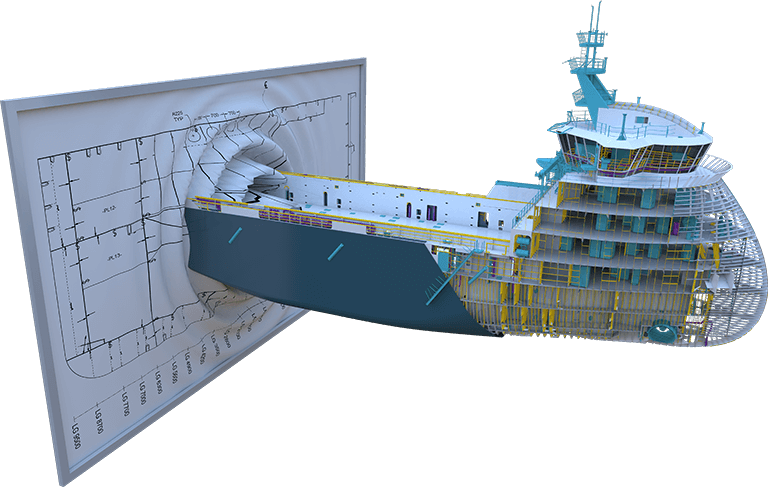 To ensure that you understand how ShipConstructor can enable your company to move into the future of 3D shipbuilding we have created a 3 part video demonstration for you.
The demonstrations below showcase how your company can:
Rapidly create a basic design
Add sufficient detail to the basic design to generate classification drawings
Generate 2D class approval drawings with a 3D model
Rapidly Creating a Structural Model
This demonstration will show you how to rapidly create a structure model of an entire ship – decks, longitudinal bulkheads then frames – using ShipConstructor's key features and best-known practices. The parametric functionality, part relationships, and SSI's understanding of Japanese shipbuilding practices all work together to ensure that this model can be used to:
Accurately estimate weight and center of gravity.
Produce an early stage BOM
Define the space.
Allow export into analysis software like FEA.
Adding Detail to the Basic Design
After the basic design structural model has been created or imported, we will now add in details. This will be enough detail to automatically create and generate 2D class approval drawings.
Generating Class Approval Drawings
Class approval drawings are often created independently of the ship model, however, ShipConstructor's MarineDrafting tools let you create 2D views associated with the common 3D model, annotated with industry-standard, shipbuilding specific symbols.
---
Contact us for more information
If you would like to be informed of when the next demonstration is published, or if you have any questions about the techniques, workflows, or technology demonstrated above, please do not hesitate to reach out to us using the form below.