Heads of shipyard engineering, production, and IT departments are no strangers to the PLM vs. PDM debate. While both systems have been in use at shipyards for some time, there's still a lot of confusion over the difference and how the tools handle product information and data. Getting a clear picture of those differences is the first step in making the right choice.
Is PDM Enough?
While some shipyards have implemented PDM (Product Data Management) systems to manage their ship design projects and some shipbuilding CAD systems come with a set of PDM features included in the software, shipyards have faced difficulties in managing the information & data generated during the lifecycle of vessels designed and built by them. This includes difficulty in managing the scope and scale of shipbuilding compared to other industries, where efficient engineering change and configuration management are major requirements. Not only shipyards but there are also instances where ship owners, like some navies, have tried to use PDM for asset lifecycle management (to manage their fleet) and have realized that the task is overwhelming for PDM systems.
Picking the Right Solution
Shipyards implement product development (CAD/CAM) solutions and enterprise information systems like ERP (Enterprise Resource Planning), MRP (Material Requirements Planning), MES (Manufacturing Execution System), and SCM (Supply Chain Management) owing to the pressures of reduced design time, improved accuracy of production data, information integration, and timely access to relevant data by all stakeholders. Many shipyards have also implemented or tried to implement PDM or PLM (Product Lifecycle Management) systems based on what they assessed as the right solution for them, with mixed results. This blog will look at what each system does and what a shipyard can do with PLM, which it cannot do with PDM.
Aren't PDM and PLM the Same?
PDM software is sometimes confused with PLM software. Some shipyards and maritime organizations have implemented PDM systems expecting such systems to effectively handle the complexities of shipbuilding and manage the lifecycle of ships and offshore structures.
PDM vs. PLM
PDM is an engineering tool used during product development, primarily regarding tracking technical data. PLM software goes beyond product development and manages all product data and information over the lifecycle of vessels. It is a cross-organizational tool for collecting, controlling, and publishing approved product configurations.

A PLM system can cover several functions like:
Project management to manage the vessel construction project from order placement to delivery.
Design process management to manage vessel design, design change, drawings, and material information.
Configuration and Bill of Materials (BOM) management.
Requirements management manages customer requirements and subsequent changes and determines whether customer requirements are reflected in the product.
Issue management of problems incurred during the vessel design and construction process.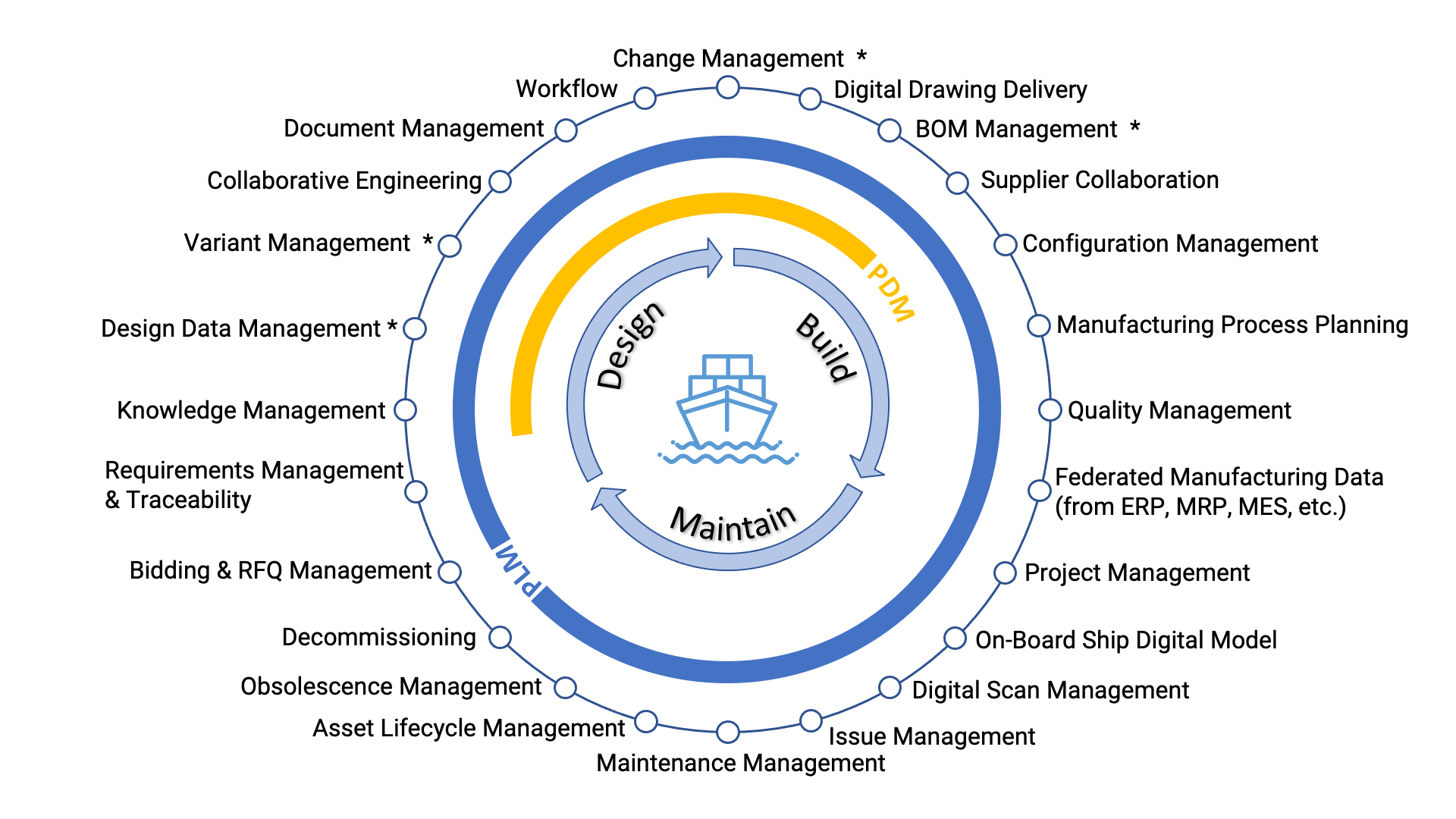 To explain how the two software platforms differ, the diagram above and the table below illustrate some of the core technical and operational differences between PDM and PLM systems for each phase of a ship's lifecycle.
| Phase | PDM | PLM |
| --- | --- | --- |
| Design | A PDM system only stores design and engineering data and provides version management and change control. It does not link to external (non-design) data (like requirements). | Apart from design and engineering data, a PLM system can manage requirements, manufacturing, trials & commissioning, ship configurations, operations & service data. |
| | The basic design object is a CAD file. A PDM system manages sets of linked files — CAD models — in hierarchical folders (which can be real or virtual). | In PLM, part and document objects are represented in a relational database and managed by change forms. Unlike PDM, part and document records exist independently of files. In a PLM system, a CAD file (or set of files) is simply one of many attributes that describe the part. |
| | PDM systems provide engineers and designers with tools for managing linked multi-file CAD/CAE models. | A PLM system provides all disciplines (design, manufacturing, test, quality, etc.) with complete, approved, and controlled product configurations. |
| | PDM systems provide BOM management during the design phase of a vessel. | PLM systems can track and implement BOM changes through design, manufacturing, operations, and through-life support, and also pass the BOM to ERP, MRP, APS (Advanced Planning System) & MES. |
| Build | Manufacturing files are stored in PDM, but inventory or sourcing data may not be stored in the system. | Manufacturing data is stored in PLM, and data from sourcing, inventory, and ERP can be linked to the project data stored in the PLM system. |
| Maintain | Some PDM systems might provide visibility into lifecycle status, but this applies to certain objects in the PDM. | PLM systems track lifecycle status for all aspects of the design and provide configuration management service to capture current & historical product baseline and changes to the same. |
Conclusion
While PDM is an engineering tool, PLM is an enterprise system equivalent in value to a shipyard's ERP, SCM, or MES. We can say that PDM systems perform some foundational tasks handled in modern PLM systems. While smaller shipyards and ship design organizations can benefit from implementing a PDM system, a PLM system would be more suitable for medium to large shipyards or owners/operators like navies. Also, any shipyard, big or small, can start by implementing functions like CAD and drawing management, technical standards management, BOM management, design change management, etc., which are typical PDM capabilities and available in PLM systems, and incrementally add more PLM functionalities like configuration management, requirements management, quality management, project management, etc.
Also, with the marine industry embracing digitalization, there is an emerging need for managing and harnessing various pieces of real-time information generated during the vessel manufacturing, inspection, and operations phases for monitoring & control, prediction, and decision support, for which a PLM system can provide the data platform.
In future blogs, I will look at specific aspects of PLM in shipbuilding.