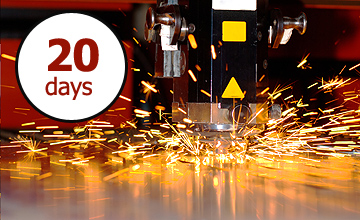 Brazilian shipbuilders report results "better than advertised" at a recent conference sponsored by SSI and Sincronia in Rio de Janeiro.
The November 27 seminar was billed as "Cutting Steel in 60 Days" and was meant to highlight the success of many of the leading Brazilian shipyards in rapidly developing the engineering capability demanded by Brazil's rapidly growing shipbuilding industry.
Alex Luz, Head of Production Engineering at ECOVIX astounded the audience by presenting a case in which just one user with a single Universal License of ShipConstructor CAD/CAM software, produced a production package for 600 tons of offshore structure steel in only 20 days after beginning modeling. This package included all the required assembly drawings, nests, NC-code, as well as production and purchasing reports needed by the shipyard.
The attendees at the conference were impressed with the success at ECOVIX and several others shared achievements of their own. These attendees included a who's who of key opinion leaders in South America's shipbuilding and offshore industry with representation from organizations such as Transpetro, Petrobras, the Brazilian Navy, ABS Group, Estaleiros do Brasil (EBR), UTC Engenharia, Incat Crowther, Estaleiro ETP Engenharia, Estaleiro Atlântico Sul, STX Engemar, Keppel Fels, Enaval, amongst others.
One of the noteworthy presentations was by Ricardo Barcellos, Coordinator of Modelling for Estaleiro Atlântico Sul (EAS). Barcellos demonstrated the innovative processes that EAS used to produce a new fleet of Suezmax tankers as well as Brazil's largest Floating Production Unit (FPU) oil rig. His presentation focused on a complete workflow from initial design to project detailing through to 2D and 3D documentation and then to production. During his presentation, he noted how ShipConstructor and complementary applications provide a complete shipbuilding software solution.
SSI CEO Darren Larkins reported on the dramatic improvements in efficiency demonstrated by US shipbuilders such as Huntington Ingalls Industries (HII) after the adoption of ShipConstructor software. Larkins referenced statistics from the consulting firm First Marine International, to prove his point.
The lessons learned from the US are now being applied to build Brazilian naval vessels according to Luciano de Albuquerque Juinor of Estaleiro Inace.
However, Brazilian shipbuilders are continually finding new ways to improve. In fact, in several areas, Brazil is leading the world in innovative shipbuilding techniques. Bruno França of Sincronia spoke about this innovation during his presentation regarding the Weld Tag initiative project that is a collaboration between SSI and EAS. This project is unprecedented in the industry and will result in the addition of significant new capability to the ShipConstructor WeldManagement product. These capabilities will allow clients to integrate the production and testing of welds in the shipyard into the 3D product model.
"South America is not only a fast growing shipbuilding market," says Darren Larkins, "The shipyards in the region are eager to adopt the latest technologies and techniques. The astounding successes reported at this conference along with the eagerness to advance further are a sign that great things are expected for the industry in this area."