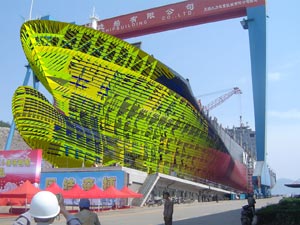 ShipConstructor Software Inc. (SSI), in conjunction with two universities, eight shipyards and five design firms, has created comprehensive college-level materials for the instruction of modern shipbuilding, design and modeling.
These educational resources have been developed in direct response to the stated needs of the shipbuilding industry and are designed to take students with a basic understanding of AutoCAD and provide them with the practical skills and essential knowledge needed to become modelers in a shipyard or marine design agency.
Included are lessons exposing learners to marine materials, classification societies, safety issues, shipbuilding terminology, fabrication strategies, shipyard production drawings and the principles of Design for Production (DFP).
Activities focus on hands-on practice where students get to model structural, piping, HVAC, electrical and equipment parts within ShipConstructor®, a 3D AutoCAD based marine design software program. The lessons also teach students how to create nest, assembly and spool drawings as well as other realistic production output. This hands-on experience, combined with solid theoretical knowledge ensures mastery of competencies requested by the shipbuilding industry.
Graham Chamberlain, an experienced educator and former shipyard manager, coordinated the development of this educational package. Working with the University of Wisconsin (Marinette), the University of South Alabama, and the Worldwide Instructional Design System (WIDS), the stakeholders created a comprehensive set of learner centered modules that can easily be implemented by an educational institution.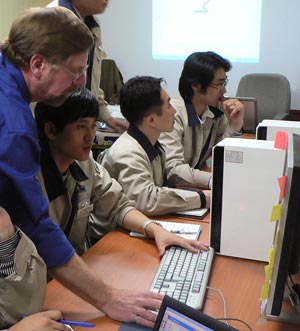 "Besides being practical, it is all completely 'turn-key' and pedagogically sound," Chamberlain says. "Everything an instructor needs for teaching, from lesson plans, to assessment, to learning objectives to instructional videos, interactive exercises, and 'train the trainer' materials, is included on a DVD. We even have experienced mentors available to help faculty implement this instructional material."
The material is scalable. There are five two-hour activities in 3D modeling which may be added onto existing AutoCAD training programs. However, the 5500 files, videos, links and lessons on the DVD may also be grouped together to form a series of courses.
Industry representatives are currently working to have to this material accredited by a certifying body.
"This educational resource package helps universities and colleges provide shipyards and design firms with a larger pool of qualified workers," says Dennis Fanguy, Vice President, Quality Management Systems for Bollinger Shipyards. "We are encouraging SNAME to develop an accreditation program centered on this material so that students can receive certification that is recognized throughout the industry."
ShipConstructor is currently working with a select number of educational institutions to help them integrate this resource into their curriculum and is accepting enquiries from interested colleges and universities who wish to provide practical hands-on instruction in modern shipbuilding programs and practices.
---
Industry & Academic Institutions Invlolved
Bollinger Shipyards, Northrop Grumman, Austal USA, Bender Shipbuilding & Repair, VT Halter Marine, Manitowoc Marine Group, Todd Pacific Shipyard, Atlantic Marine, Art Anderson Associates, Murray & Associates, Genoa Design International, Elliot Bay Design Group, Gibbs & Cox, ShipConstructor Software Inc., Worldwide Instructional Design System, University of Wisconsin (Marinette), and the University of South Alabama.