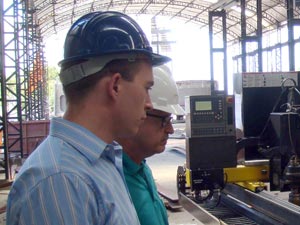 ShipConstructor Software Inc. is increasingly being consulted for its expertise in shipbuilding design and production. "We are more than just software developers," says Darren Larkins, ShipConstructor's Deputy CEO. "Increasingly, we are advising industry, governments, and academia as to the most modern shipbuilding techniques."
ShipConstructor representatives have spent years analyzing the needs of design firms and shipyards around the world and have been called upon by the industry to collaborate on various development projects. As an active participant in the United States' National Shipbuilding Research Program (NSRP), ShipConstructor developed methods for enhancing Design for Production (DFP) in conjunction with shipbuilding leaders such as Northrop Grumman. ShipConstructor also spearheaded the SC4D peer to peer repository of shared equipment parts to reduce design and modeling time.
Universities have enhanced their Marine Engineering and Naval Architecture programs by utilizing ShipConstructor's extensive educational materials. ShipConstructor's fully scalable curriculum leverages the company's understanding of the shipbuilding process, adding value from nomenclature & history, to providing lessons in utilizing advanced 3D design & modeling tools. Academic institutions with well-regarded shipbuilding programs such as Memorial University, the University of South Alabama and the University of Wisconsin Marinette have worked with ShipConstructor to provide content for their courses and talks are underway with SNAME to set up an industry-wide certification program centered on this material.
Increasingly, ShipConstructor representatives have been asked to speak at conferences. Recently, a "who's who" of Brazil's top shipbuilding and offshore executives attended a symposium to learn about best practices in marine production.
ShipConstructor representatives such as Dr. Krishna Rao Adigopula and Dr. Oskar Lee have published numerous technical papers and ShipConstructor's Deputy CEO, Darren Larkins, has given educational presentations in every major shipbuilding nation.
The Canadian Federal Government has requested input from ShipConstructor to help revitalize its shipbuilding and naval warship production industry. The company expects to play a key role by contributing to "Centers of Excellence" that the government has requested to provide guidance, expertise and innovation to the effort.
Around the world, from Europe to South Asia and from Canada to Australia, ShipConstructor maintains a network of highly trained Naval Architects and Marine Engineers who consult and advise each other as well as the industry to ensure that the right solution is applied to the right problem at the right time.