ShipConstructor 2013 offers 33 new features and 194 additional improvements including an innovative solution for design reuse as well as a dramatic extension of ShipConstructor's Associative DWG technology regarding BOM Revisioning.
"ShipConstructor 2013 is our most significant release in years," says Darren Larkins, CEO of ShipConstructor Software Inc. "Our focus groups have told us that just one of the new features alone could save hundreds of hours of work."
---
AutoCAD 2013 Compatability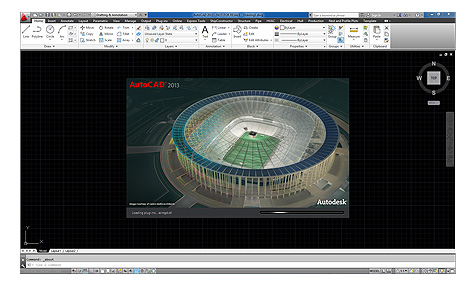 The number "2013" denotes the fact that ShipConstructor 2013 is compatible with AutoCAD 2013, allowing users to work in the most advanced CAD environment of the world's most widely used CAD application. Since ShipConstructor has an AutoCAD platform and is an Autodesk partner product, this means that the latest feature set in AutoCAD is now available within ShipConstructor itself.
---
Enhanced BOM Revisioning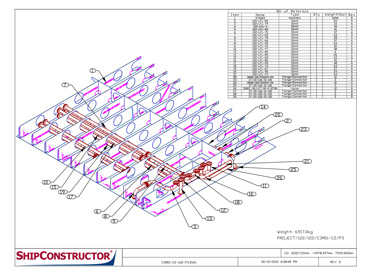 More noteworthy is the fact that there has been a significant enhancement to ShipConstructor's unique Associative DWG change management technology for updating DWG based production drawings to reflect changes in the 3D Model. Now, a clear revision history can be shown on Bills of Materials (BOMs) within a production drawing.
When dealing with the scope of change that is common in today's marine construction programs where a single change to the vessel or platform can affect 100's if not 1000's of drawings of various types, this level of drawing management and control within Engineering is of significant benefit across an entire shipbuilding organization.
Prior versions of ShipConstructor already led the market in being the only software suite allowing DWG based production drawings to be updated when the 3D product model changed. However there still was a challenge if other departments such as Production or Purchasing had already taken action based upon the previously issued drawings from Engineering. Someone would have to visually compare both drawings to determine what in the BOM had changed. This could be done using native AutoCAD capability but it could be a painstaking and laborious process.
Fortunately, ShipConstructor 2013 solves this problem. Now, when a drawing is updated, items that no longer exist in the drawing are struck through in the Bill of Materials in the production drawing. The corresponding row number is also struck through and subsequent annotations in the drawing will not reuse that row number. Additionally, new items are always appended to the bottom of the BOM, ensuring that items that existed prior to the update maintain the same row number and drawing annotation. Correspondingly, updated parts will indicate that there has been a revision performed on the BOM row representing that part. This combination of capabilities ensures that the BOM information in a drawing received prior to a new revision being released is consistent from revision to revision and everything required to determine what has changed exists in the new drawing.
"All of the users I've talked to are ecstatic about this productivity enhancement, says Denis Morais, Chief Technology Officer for ShipConstructor Software Inc. "This time saving feature alone will make a real difference in terms of productivity and quality control."
---
WorkShare Design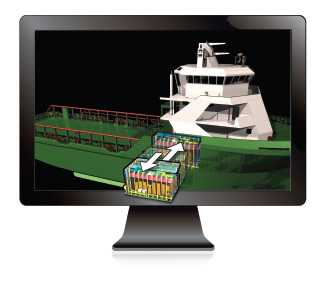 Another advantage of ShipConstructor 2013 is its new WorkShare Design product which opens up new possibilities for parallel design and engineering amongst distributed teams. WorkShare Design allows users of ShipConstructor's CAD/CAM application to intelligently capture, reuse, change and then sync back portions of a design along with the associated production documentation. This new functionality has numerous practical applications including increased capabilities when working with follow ships, design tests, recovery from errors and for general reuse of design data to increase efficiency.
---
Part View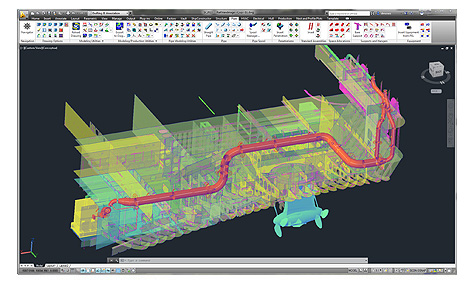 An additional new feature of the software is Part View. First unveiled in the Subscription Advantage Pack for ShipConstructor 2011 R2, Part View has now been promoted into the regular release for ShipConstructor 2013. This feature allows a user working in a drawing to view ShipConstructor parts that are external to that drawing without having to include an entire MLink; only pertinent parts are shown. This dramatically improves clarity in design in applications such as the construction of secondary product hierarchies for use in arrangement drawing creation.
---
Product Hierarchies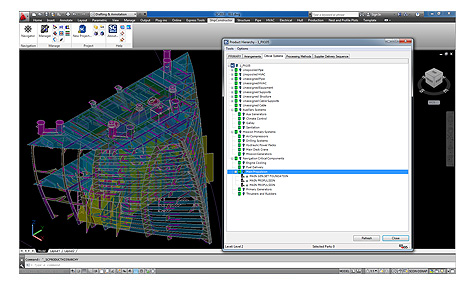 Meanwhile, ProductHierarchy, one of the most highly rated products in the ShipConstructor product suite, has now become even more powerful in the ShipConstructor 2013 release. This product has new tools and usability enhancements in product hierarchies that are helpful for re-use of work on follow ship design along with other applications such as critical path system analysis, organizing parts by processing methods and other applications.
---
More Information
More information along with videos of these exciting new features can be found in the "What's New" section on the SSI website.