Explore the latest features in SSI ShipConstructor 2023 R2.1, including enhanced clash detection, more control over background processes, preventing unauthorized changes to spools, and easier ways to navigate SSI Nexus. Watch the release webinar to get a first-hand look at what's new.
---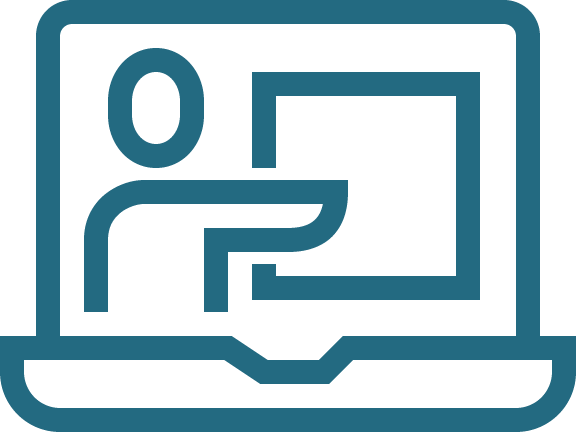 Join the SSI team on February 23rd at 8 am PST (11 am EST, 5 pm CET) for a webinar first look at all the improvements now available with the release of SSI 2023 R2.1.
Register Now
---
Detailed Enhancements
Custom Clash Detection
Custom Clash Detection allows you to perform clash checks across the entire model using the Load Manager. Check individual parts, drawings, assemblies, and units.
Unlike Global and local Clash checking, Custom Clash Detection allows for a more granular and focused check. Your team can also save the check and incorporate it within EnterprisePlatform Operations.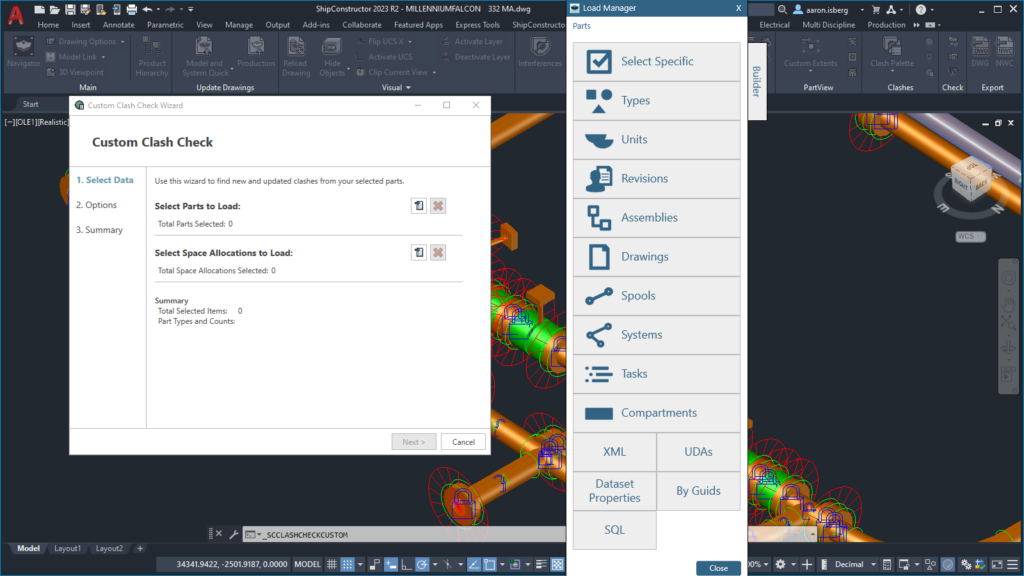 Background Processing
Background Process Monitor, also new for SSI 2023 R2.1, allows you to view and manage the ShipConstructor processes currently running on your machine.
Easily see the progress of activities such as loading PartViews and Global or Custom Clash detection at a glance. This interface also allows you to view completed processes and cancel running ones. It gives you access to summary log files, enhancing your ability to monitor progress and manage your systems more effectively.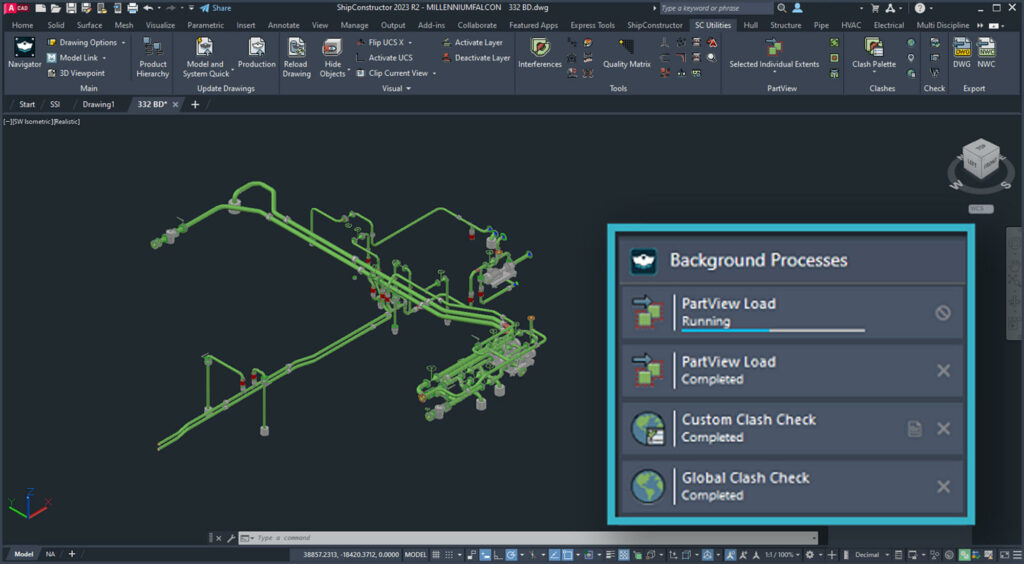 Spool Locking
You can now lock Spools at the database level, allowing managers to prevent unauthorized modifications to approved and modified spools and their constituent parts.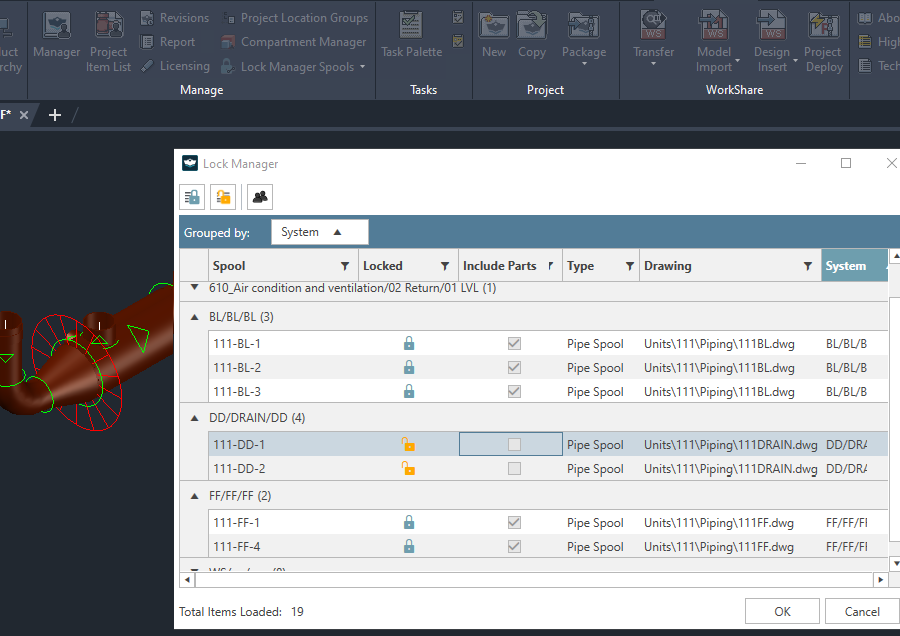 Managing spool locks and user access can be initiated from the Spool Manager window. Use the SCLOCKMANAGERSPOOLS command to call Lock Manager directly.
Locked spools can be made accessible to user groups if changes are required late in the workflow. Also, spool locks are now revision objects (similar to drawing and assembly locks) – so, users can access the history of changes to lock status and user access in the Project Revisions dialogue.
SSI Nexus Updates
SSI Nexus helps organizations learn what is new, engage with the SSI community to discuss and solve problems, and to learn SSI products to understand how to best apply what is new to their business. Now, it's easier to navigate than ever.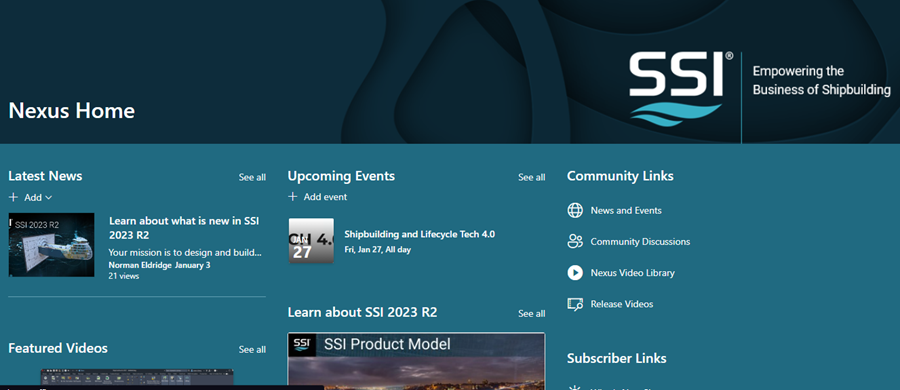 Available alongside SSI 2023 R2.1 are a number of exciting improvements and enhancements to SSI Nexus that:
Facilitate Community Discussions by selected discussion categories and challenges, such as general topics, integration, modeling, production, and training.
Pin featured discussions, such as for important topics on new requirements and features developments.
Streamlines the ability to showcase and help you discover the latest new developments and understand what is new to plan and maximize the benefits of your next upgrade.
Enhanced News and Events features to help you stay abreast of important SSI developments.
Take a look at the changes, and we encourage you to provide us feedback for further changes to Nexus in the coming year.
---
Learn More
Register for the webinar and watch it live to see these new features and improvements in action. There's no better way to experience what's new for this release.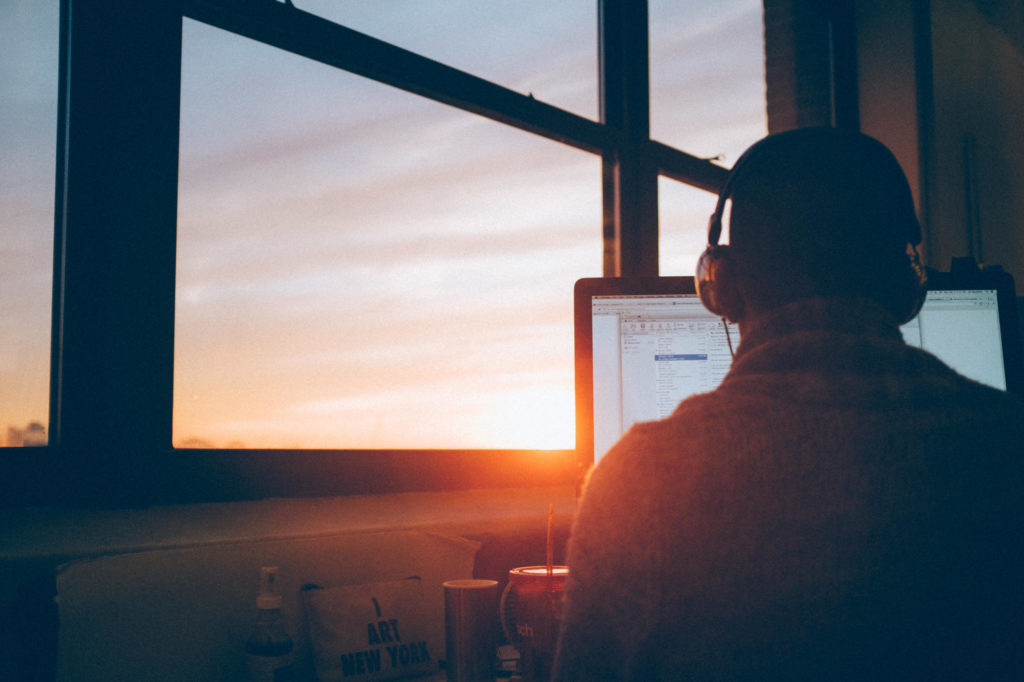 This webinar takes place: 02/23/2023 8:00 am PT.
Register Here
---
System Requirements
Supported Client Operating Systems
Windows 10 (64-bit)
Supported Server Operating Systems
Windows Server 2019, 2016
.Net Framework
.NET Framework 4.7 (installed automatically)
SQL Servers
MS SQL Server 2019, 2017. SQL Server 2019 Express is included with the installer. Note: Express editions are suitable for projects with 5 or fewer users only.
SQL Enterprise 2017+ for WorkShare Teams
Supported AutoCAD Platforms
2023, 2022, and 2021:
AutoCAD, AutoCAD Mechanical,
AutoCAD Plant3D (for ShipConstructor P&ID Design Validation functionality of Pipe)
Supported Navisworks Versions
2023, 2022, and 2021:
Navisworks Simulate, Navisworks Manage
Side-by-side Installation Compatibility
ShipConstructor 2023 can be installed side-by-side with any previous major ShipConstructor version; each installed version of ShipConstructor requires its own dedicated instance of AutoCAD.
---
SSI Installation Guide
Access the latest ShipConstructor manual on SSI Nexus for detailed installation instructions and system requirements for this release.
Download Information
To download this release, visit the downloads section of SSI Nexus. There, you can get access to all the latest SSI releases.
Purchasing Information
For information on this release, to purchase the software, or to renew your Subscription contact an SSI Representative.