We love seeing how the young enthusiasts in our industry tackle challenges and leverage the latest technologies. For the second year running, SSI has supported the University of Victoria Submarine Racing Club as they compete in the International Submarine Races with their human powered submarine. Read the club's update below for some great photos, a 3D Navisworks model, and a look into what they're experiencing ahead of this year's competition in Maryland.
---
It has been an amazing year of hard work and innovation for the UVic Submarine Racing Club.
We have done a number of improvements on all of our subsystems from last year, and we are extremely satisfied with our final product.
Our submarine is currently underway to Maryland USA for our next competition which is taking place from June 23-28, 2019.
Last year during our first ever International Submarine Races we ended up in 4th place overall; this year our expectations are simple: 1st, 2nd, or 3rd place.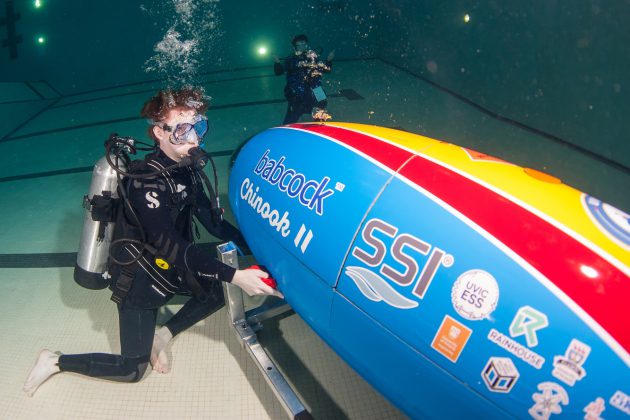 We would like to thank all of our sponsors, UVIC staff members, parents, and loved ones who supported us through our journey this year. All of you have actively helped the development of incredible engineering and business students, and you have supported the future of the Marine Industry.
With that in mind, if you would like to support the UVic Submarine Racing Club with travel expenses and next year's innovations, please follow the links provided below to make a donation or refer to our sponsorship package attached within this email.
Below you will find links to all our footage from this year which includes a lot of manufacturing and testing of the submarine underwater. I have also provided a couple of teaser pictures from our testing events and a link to last year's virtual model of the submarine done with ShipConstructor (SSI) as a reference to view our improvements.
Thank you for your valuable time and support we appreciate it.
Our warmest regards,
The entire UVic Submarine Racing Club
---
Good luck to the entire team as they compete this week in Maryland! We can't wait to see how this year's sub performs and follow along. We'll be sure to post an update of their results following the completion of the competition.
If you're interested in academic licensing for your engineering department, don't hesitate to contact us.