This is my third and last post on my review of COMPIT 2016. For my previous posts click the links:
As-Built: COMPIT 2016 Review (Post 1 of 3)
Using the Cloud (Finally) : COMPIT 2016 Review (Post 2 of 3)
COMPIT 2016 definitely had a huge presence of presentations related to Big Data even if they did not call it that. Below are just some of the presentations which touched on big data:
Autonomous COLREGs Compliant Ship Navigation: Using Bridge Simulators and an Unmanned Vessel Challenges and opportunities
VISIR: A Free and Open-Source Model for Ship Route Optimization
Port ETA Prediction based on AIS Data
Big Data in Shipping – Challenges and Opportunities
Paper: Fuzzy Logic Single-Objective Optimization Using Multiple Criteria to Understand Human Factors on Early Stage Design
Enhanced Voyage Support System based on Detailed Weather and Performance Monitoring
Big Data and (Inland) Shipping: A Sensible Contribution to a Strong Future
I am not going to explain what big data is because it is getting to the point that we at least all understand it at a high level. How to leverage big data and transform the vast amount of information into actionable information is the difficult part. There were several themes relating to Big Data discussed at COMPIT 2016:
IoT – Internet of Things
Environment Conditions
Smart Ships
Big Data Challenges in the Shipbuilding and Shipping Industry
---
1. IoT – Internet of Things
Many papers either talked about IoT including the vast amount of data which came from IoT. It is no surprise that IoT is currently the source or a lot of our "Big Data" problem and will contribute to even bigger data.
There was some talked about how IoT can reduce the maintenance of a ship by over 10%. There was a good presentation which made the point that not all information needs to be transmitted. Just because we sense it does not mean we need to send/share it. There are several reasons why you do not want to send unnecessary information such as storage constraints, bandwidth cost, increased latency of the system, additional processing, noise to signal ratio, etc. Some strategies would be to just transfer changes in sensed data or even just when it reaches a threshold number. The authors went on discussing the benefit of a subsystem near a single or multiple endpoints that can process the information and take action while only passing the decision back to the central hub for analysis and logging information. This allows the subsystem to continue to function even though the main internet pipe to the central hub is cut off.
---
2. Environment Conditions
I am not familiar with the challenges with routing ships but one presentation got me thinking. They are taking weather conditions including currents and optimizing the routes based on time or fuel consumption.
Weather is the obvious input to the data we collect and is the same thing other industries do such as air travel. However, there are other environmental factors that affect the performance of the ship. An example is fouling of the ship which is accumulated over time. Using Big Data you can determine when it is time to remove the unwanted growth. By using previous results, you can also determine when it is time to re-apply an anti-fouling paint.
---
3. Smart Ships
It was interesting to hear that there is a cooperatively sourced set of data that is starting to be used to determine actual performance of a ship. Here is a quote from one of the papers:
For the first time in history of inland shipping, fuel consumption is being monitored against relevant other parameters such as under keel clearance, cargo load and other indicators on a continuous, straight through processed basis.
Being able to record this information and associate it to a ship profile will be huge for our industry collectively. We can now use the information from other ships in our analysis and compare the results to our ship to see if we are in the same range of performance for a similar ship profile and route. In addition, this information will allow us to make adjustments to our ship and/or cargo to optimize the performance just as airplanes change their route on weather and previous flight data from other planes. Performance can mean different things to different ship owners. For example, some measure performance just by time, others use a combination of time vs. fuel and others look at the stress on the vessel to maximize longevity of the vessel.
---
4. Big Data Challenges in the Shipbuilding and Shipping Industry
You cannot really talk about Big Data without bringing yourself back to reality. Even though the benefits and opportunities are huge, there are still some challenges we face.
Closed Systems
Even in today's ships, we capture a lot of information. The difficulty with today's environment is that this captured data is not accessible by external systems. There are many subsystems in the ship and each need to monitor certain assets and environmental factors. However, they are mostly closed systems so you do not truly have an internet of everything. Also, the data that is being captured is not very high quality. The reason is that some systems do not need very high precision and therefore can opt for less quality data since it will not affect the function of this system.
There are also cyber-physical systems that sense data but do not expose that information to the outside world. An example would be a winch with a torque control system.
Human reporting
Humans also can prove to be a challenge when dealing with big data. Many of the reports of the operation of ships are done by humans and are dependent on how the person classifies data. For example, if you ask 5 people what the current sea state is you would get various answers. Some of these inconsistencies can be handled with big data methodologies since some errors or inconsistencies in your data are fine; however, a point was mentioned that in some cases the operator simply lies because if she tells the truth it can have financial implications if they are in violation of some regulation.
Monitoring of ship location
Determining the current location of a ship can have huge benefits for smart ports as well as many other benefits. GPS can be used to record your position but does not send your position to the outside world. The challenge is sending your current location of the ship in near real time is very difficult. There are various technologies such as AIS and VTS but even when combined do not capture the information we need to leverage its information in near real time.
Here is a table from one of the presentations that lists more challenges: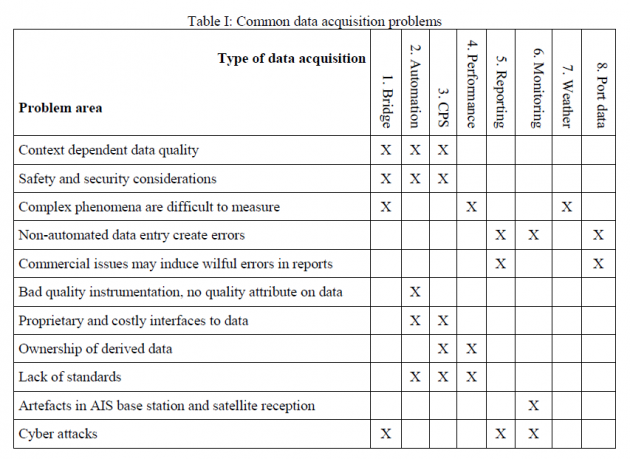 ---
Closing Remarks
It is good to see big data being researched and implemented in our industry. There is already a lot of data being captured; however, because of the lack of standards and open systems there is a lot of data which is not being captured and analyzed in a holistic view.
In the coming years I suspect that we will see several standards being created (hopefully not too manyJ) as well as more IoT devices. This will allow us to sense and transfer higher fidelity information which will result in improving the business of shipbuilding and shipping.