I finally got a chance to catch up on some of my reading this weekend. One of the articles I read was CAD Trends 2015 from Business Advantage. As usual there was a lot of good information and some shockers. I would like to talk about one result from the survey which got me thinking. It was related to Value in Software Upgrades and the time it takes to break even.
The specific slide I am talking about is: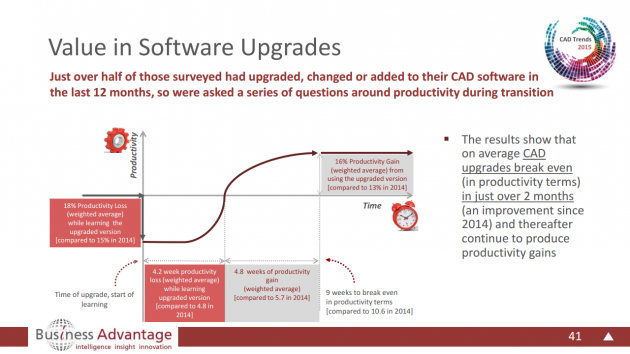 The specific point I found interesting in this slide was:
The results show that on average CAD upgrades break even (in productivity terms) in just over 2 months (an improvement since 2014) and thereafter continue to produce productivity gains
I find it interesting that a upgrade to your CAD tool takes 2 months to recover from the disruption of the upgrade. I know this was similar to the results from previous years but I would have expected a much higher improvement. In my opinion 2 months is simply too long to break even on an upgrade. However, from this slide it is difficult to see what an upgrade includes.
If you are upgrading from a legacy version (over 3 years old) I can see how it will take you 9 weeks to break even. Updating from a very old version will require training of your team to leverage the new features. If you are not planning on leveraging the new features why bother upgrading? This training is an investment and therefore will require time to pay off.
If you are upgrading from the previous year version I would say that a 4.2 week (18%) production loss is too long. I would expect a much lower production loss (~1%-3%) since training will be minimal and a quick check that your workflows still work prior to updating will still be required. This type of upgrade would also probably have a smaller overall productivity gain although still an increase.
What is clearly shown in the Business Advantage survey results is that there is a gain (16%) to upgrading software. Despite the initial loss which is usually what sticks in our memory, updates are an overall production gain. Just imagine what a 16% gain over the course of just that year is…pretty awesome.
---
Future of Software Releases
The software trend in almost every industry is to release more often. We definitely have a different expectation with updating software in our personal lives today than we did several years ago. The question is how does your feeling of upgrading software translate to the software you use at work?
I know many of you find upgrading your company's software scary especially with the results from the Business Advantage survey. If every update to my software tool took me 9 weeks to break even, I do not think I would upgrade too often. However, I suspect most of these upgrades are from versions of the CAD tool which is over 3 years old and it should be an expectation that just the training required to leverage the features would require a certain level of investment.
This software trend of releasing more often has a parallel trend where the software released is of much higher quality. This higher quality results in a more stable product so you will have minimal to no production loss due to software issues if you upgrade. Upgrading more often will allow you to reach overall productivity gains much earlier.
---
Closing Remarks
Over the past years I have wrote several blog posts related to software releases/upgrades:
Why is SSI increasing the number of shipbuilding software releases?
ShipConstructor's release strategy explained
In general I think software upgrades should be non-disruptive. What I mean by this is just the act of updating your software package should not cause delays in production. However, there may be some production loss due to training and a cursory check that your workflows are still valid especially if you have custom scripts/development.
With the software industry moving to releasing more often (which I think is good) software companies are rethinking how they develop and deliver software. This has resulted in better quality updates which have made updating less risky and more importantly less costly.
Updating has a net positive gain on productivity and this coupled with the more frequent higher quality releases will allow you to achieve good ROI on every update.