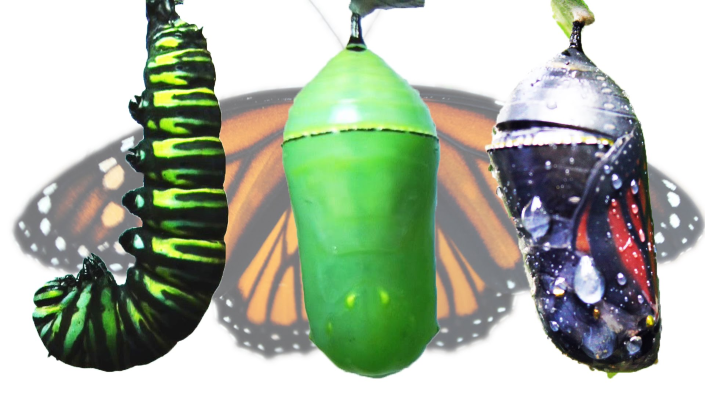 In my previous blog post I talked about the Digital Transformation Illusion which some companies are experiencing with recent efforts of incorporating "digital" throughout their organization. Some (not all) approach their digital strategy with a subconscious mindset of, "let's digitize exactly what we do today."
This mindset will result in improvements similar to digitizing a map by taking a picture of it and using the same processes for finding directions as with the physical map. These marginal improvements to our business are how the Digital Transformation Illusion manifest itself.
We need to embrace the mindset that we are going through a business transformation (becoming a butterfly) vs. a mere digitization of our current processes (faster caterpillar).
---
Difference between Digital Transformation vs. Business Transformation
I am truly not trying to add another buzzword to the countless ones we already have, but I think emphasizing the idea that we are going through a business transformation is an important one.
The main difference is that rather than "simply" improving what we are doing today by digitizing the data and processes we need to take a step back and really look at what we want to accomplish. When we clearly define what we are trying to achieve we take all the technology that is available to us, all the current processes, the lessons learned on passed projects, current realities (not assumptions) of the business of shipbuilding and create an optimal solution for our company. This might be best demonstrated by a simple example.
---
Business Transformation of Maps
I am going to continue to use the maps example from my previous blog post since many have mentioned that it did help them understand as well as communicate the difference.
Imagine you have a physical map of your city. It is a large piece of paper (similar to our production documentation on the shop floor) that I would use to find directions from point A to point B.
With the mindset of "digitize what I have," I would simply take a picture of that map and use it exactly the same way that I used the physical map. This digitization would improve several aspects of my business:
I can store it
I can version it
I can share it
I can print it out whenever I want
I can mark up the digital map illustrating my path from point A to point B
etc.
However, if I use a different mindset of identifying what my goal really is:
"I want to get from point A to point B in the fastest and safest way."
I do not want to spend time searching for my two points of interest on a map.
I do not want to have to determine my route.
I do not want to have to remember the route or write it down
I do not want to remember or record alternate paths
etc.
With the goal we are trying to achieve well defined it would lead us to digitize the information and relationships of the physical map similar to Google Maps. I think we all can understand the benefits of capturing the data in this way as well as how it can solve the original goal better. I no longer need to spend time searching for my source and destination points. I no longer need to determine my route. I no longer need to remember or write down my route. I do not need to spend extra time memorizing additional routes for the "just in case" scenarios.
However, the real benefit of capturing the raw information is that now we have a platform which can be leveraged to provide additional improvements in achieving our goal. With the usage of GPS I can get real-time directions. We can incorporate traffic congestion. I can be warned if there is a police radar on my route (you should not speed). I can be warned when going through a school zone (for safety reasons) and infinite more possibilities which ultimately improve the business of using maps.
I know this is a simple example but I hope it can at least provide an easy way to understand the mindset we need to be in if we want to make a real difference in our business.
---
How is this Relevant to Shipbuilding
The shipbuilding industry has long been known for being a "traditional" industry. In the last few years I have seen a fundamental shift in our industry to embrace and leverage mature technology. Since we are relatively inexperienced in adopting new technology we often focus on digitizing what we do today. This has resulted in some going down the strategy of a "pure digital / paperless" environment with the focus of using the exact same deliverables, just in digital form and digitizing the exact same workflows that were created when we only had physical deliverables. However, there are others who are taking a step back and embracing a model based enterprise approach which would seem to be more appropriate as well as implementing an information management system such as PLM to create the same platform for growth as the Google Maps platform.
Understanding that, this will be a journey and not something we can implement in-between projects. This does mean that it will be perfectly acceptable to keep some current processes and get the marginal improvements by digitizing them. As long as we are aware of what we are doing we will not fall into the digital transformation illusion. It is not an illusion if we are cognizant of what we are doing and why.
---
Closing Remarks
In our pursuit to improve what we do, we first need to have the mindset that we are going through a business transformation which is not simply digitizing what we do today. With clearly defined goals we can leverage all the technology, experience, resources and incorporate the realities of our business to formulate a successful path in transforming to a butterfly.
The strategy that is determined will not be achieved in weeks, months or possibly years. Similar to the digitization of our cities and roads, it will be a journey. However, on this journey there will be continuous improvements to our business which adds value within a very short period of time.
There is no right way or wrong way of proceeding with a business transformation as long as you have the right mindset.