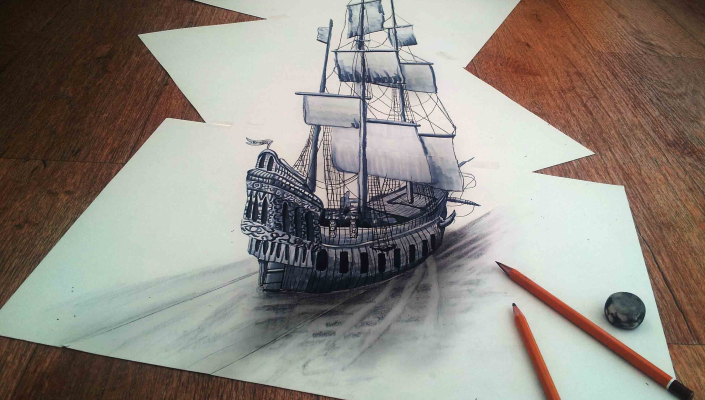 It seems that almost every company is going through a "digital transformation" these days. It is not a surprise that companies are trying to leverage all the mature technologies we have available to us today as they can improve the way we design, engineer, construct, purchase, maintain, operate and even decommission ships. This includes technologies such as collaborative information platforms, machine automation, drones, IoT, VR, AR, point clouds, AI, knowledge platforms, improved visualizations, generative design and UX just to name a few.
Even though I think our industry has never looked better in adopting new technologies I still think there is a major hurdle that we need to overcome. It is call the "Digital Transformation Illusion." This illusion is holding many of us back in achieving the what is necessary.
---
What does Digital mean to You?
Each company has their own interpretation of what Digital means to them. They have their own unique strategies with how they are going about attaining their digital vision. However, on the global scale the successes we have seen in the last few years is only marginal.
Why is this?
Is having our information in a digital format not as beneficial as we thought? Is it hard to digitize our data? Is our industry having difficulty adopting the new digital artifacts? Are the digital tools not mature enough to provide us the benefit that we need?
I think all those points and many more have an influence on our success in transitioning our business to the digital age; however, I believe it is more of a mindset.
---
Digital Transformation Mindset
Many companies are rushing to adopt digital technology and their approach is to simply replicate what they are doing today from their current analog processes to their "to-be" digital processes.
This is where I think the essence of the problem lies. If you are just planning on using the current available tools to do exactly what you did traditionally, you will only ever get marginal improvements. A better way to look at the digital age is to clearly define your overall goals and then formulate a strategy using the current technologies without carrying the baggage of the old way you worked. This does not mean that you need to have completely new processes for every single part of your business, it just means that you need to investigate new potential possibilities that were not previously possible and do not go down the easy path of just using current processes to define your new digital processes.
When digital transformation is done right, it's like a caterpillar turning into a butterfly, but when done wrong, all you have is a really fast caterpillar.

– George Westerman
Using the above quote, if you are only planning on improving your current processes, you simply will just have a faster caterpillar. Even though it is beneficial, it is not what most organizations are investing to reach.
---
Simple Example
An example I give most people is: think of a physical map of your city. Now, if you take a picture of it with your phone, you have "digitized" it. There is no question that this has benefits and for the most part the digital picture of the map can be used how you used it previously but with some additional capabilities. You can now store it on any device you have and therefore access it whenever you need. You can reprint it at any time, you can mark it up in MS Paint and you can even share it. This is just a "faster caterpillar."
Now consider the digitizing of maps the way Google Maps and many others have done. Not only do you get the same benefits from taking the picture but you have opened a door to a whole new world "The Butterfly." Maps can now be updated seamlessly, are easy to update, are always up-to-date, and you can search for places or roads but most importantly, you have created a foundation for endless opportunities which was not available before. You can use this foundation and connect it to other information you already have such as restaurants, common attractions, driving directions, other GIS data, and the endless others we see today.
This is the difference between incorporating digital in your organization (Digital Transformation Illusion) and truly going through a Digital Transformation.
---
The Dangers of Getting Caught up in an Illusion
There are some real dangers when a company has the illusion of going through a Digital Transformation when in reality they are just building a faster caterpillar.
The major danger is that companies only have a finite amount of capital to invest in transitioning their business to a strategy which will allow them to succeed in the future. If the investment is only helping them to be a bit faster they are not going far enough. If companies are not creating a foundation that will allow them to take advantage of future technologies, then they are not investing in what they believe they are investing in. This means that down the road there will have to be additional investment required to truly transition to the digital age and at that time there may be no more funds since the last investment was not very fruitful.
A company will be in a better situation if they know they are not going through a digital transformation than if they think they are but are not. I am not advocating that any company should not truly embrace the digital technologies available to them today, just trying to make the point of how devastating the Illusion is to an organization.
---
Closing Remarks
Every single company is going through some changes today driven by the modern age of digital technology. However, we need to understand that just because we are incorporating more digital assets into our current analog processes it does not mean we are embracing the full potential of the digital era.
There is no doubt that digitizing some of our data will have benefit to the organization and this progress will give us the illusion of success. However, this deception can have devastating effects on a company which they may not be able to recover from.