In my last post Increased Investment in Reality Capture I discussed the transition our industry is facing from outsourcing laser scanning to investing in laser scanners. As mentioned, a key reason for this is that the software to manage laser scanning is easier to use and more accessible. In this post I thought I would go through the workflow and the tools you can use to manage point cloud data within the ShipConstructor environment as well as provide you a video which demonstrates some of the features.
There are 4 stages in any Reality Capturing project:
Capture
Compute & Manage
Create & Reference
Visualize & Communicate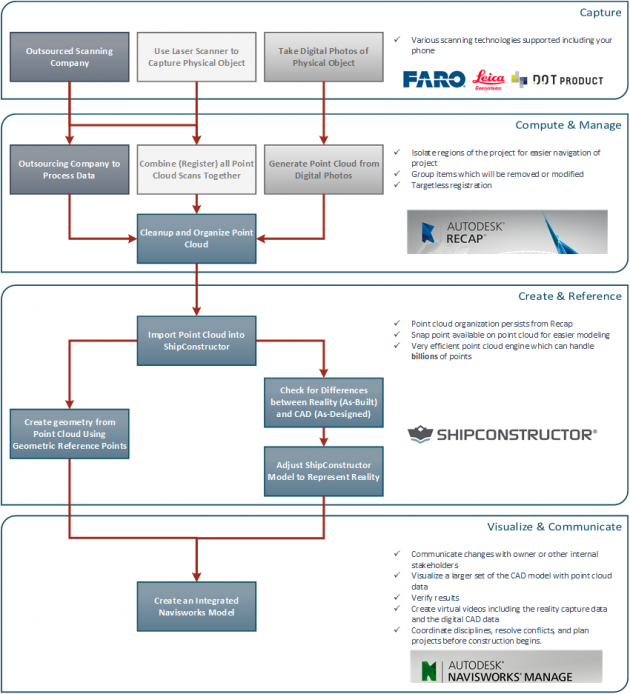 Capture
This phase is relatively obvious as you need to use some method to capture and digitize a physical object. There are several technology options such as using a laser scanner or even just a digital camera. There are numerous different formats created depending on the hardware vendor you choose as well as the technology you have selected. Almost any format is supported in SSI's solution.
Here is a list of file formats which are supported:
ASC

CL3

CLR

E57

FLS

FWS

ISPROJ

LAS

PCG

PTG

PTS

PTX

RDS (3D only)

TXT

XYB

XYZ

ZFS

ZFPRJ
Compute & Manage
After you have digitized the physical object it is time to start to bring meaning to the raw data and this is done with Autodesk ReCap. ReCap has a very cool and useful feature of registering (merging) scans without requiring alignment targets while scanning. Anyone who has done any scanning before will know the pain and the amount of effort it takes to add targets to the physical object before scanning. This targetless registration feature of ReCap can save a lot of time when scanning. The alignment all happens within ReCap which allows the user to pick "similar" points on each scan and then it crunches and magically aligns and merges the scans.
Once all the scans are registered you then continue to use ReCap to manage your point cloud. This involves things such as cleaning up the data, creating named regions of the point cloud for better organization, viewing elevations, or using features to determine planes, etc.
Create & Reference
The next step is to import the point cloud into ShipConstructor. When a point cloud is imported into ShipConstructor all the management and organization done in ReCap persists. This allows you to leverage all the work you have done in ReCap and only view the area you are concerned with.
There are many features to manage the point cloud as well as several performance controls to satisfy your needs.
With the point cloud in ShipConstructor you can now use ShipConstructor modeling tools as usual. There are point cloud snap points to assist in you in your design.
Unfortunately there is no feature recognition at the moment but there are some additional tools available which look promising. More on this in a future post.
Visualize & Communicate
The last step is to be able to visualize all your changes within the point cloud. Some of this visualization is done in ShipConstructor though there is often the need to share your work with other stakeholders who do not use ShipConstructor. To share your changes with any team member or your client who does not have ShipConstructor, you will want to use Navisworks. Navisworks creates a lightweight model with the 3D CAD data and the point cloud that can be easily and freely shared with anyone.
In this model you will be able to create visualizations of the As-Is state and the To-Be state enabling efficient and accurate communication of your changes. This view remains linked to the ShipConstructor project allowing you to switch back to ShipConstructor if a change is required during the project review.
Video
This is a quick video I created showing some of the items I mentioned above.
If you do not have access to YouTube you can access the video here.
---
Closing Remarks
A key reason many companies are investing in their own laser scanners is because the software to manage and use point clouds are so intuitive that it no longer requires "experts."
Autodesk ReCap is part of the SSI Solution and has been developed from scratch with the focus on making point clouds accessible to everyone. It can handle billions of points without any issues. Also, with ReCap being included in many of the Autodesk suites, it requires no additional investment.
ShipConstructor has supported point clouds for several years and has allowed our clients the opportunity to benefit from using point clouds in their workflow. Reality Capture is an area of focus for Autodesk and will continue to bring more value to you in future releases.