In the wake of the Canadian Navy's proposed $40 billion fleet renewal plan, ShipConstructor has played an advisory role to both government and industry.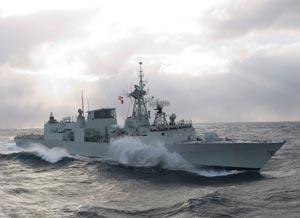 In November 2009, ShipConstructor Software Inc. together with its affiliate, Navware Canada Inc., initiated the organization of the inaugural Canadian Conference on Modern Shipbuilding which brought the industry together. ShipConstructor drew on its global network of contacts to bring in expert speakers for the conference, then, after hearing their presentations, attendees discussed plans for a national R&D program, a human resources strategy, potential niche markets, innovation, education & training, and long-term government investment.
During the conference, ShipConstructor's Deputy CEO Darren Larkins shared the advice he had previously officially submitted to the Canadian Government. He argued that standardization on a common technology platform is a key component for creating a sustainable industry. Standardization based on the effective use of information technology would reduce the time needed for training and enhance collaboration. It would also lower costs of vessels by maintaining the connection between the information required for production and In Service Support (ISS). Larkins concluded by noting that ShipConstructor was well positioned to help implement a common technology platform.
"We have developed a college-level shipbuilding curriculum," he said. "We have created an on-line collaboration portal for suppliers to share common parts. Our US subsidiary plays a key role in the US National Shipbuilding Research Program and we have helped some of the world's most innovative shipyards implement productivity enhancements."