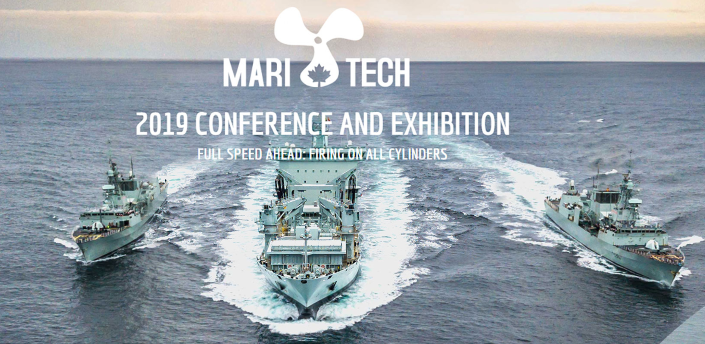 Last week I attended Mari-Tech 2019 in Ottawa, my second time attending this conference. It was a very interesting event for anyone interested or involved in the Canadian maritime industry. The topics from this conference share a common thread with conferences in other parts of the world I have attended over the last few years.
The Canadian maritime industry seems to be very active. Many new programs, initiatives, repairs & overhauls, as well as some new ships are in the works. One of the presenters even mentioned that they believe one of the main challenges we (Canada) will face is if we can handle the capacity (not to be confused with capability) of all these activities.
There were some great keynote presentations and panel discussions with various industry stakeholders; Navy, Coast Guard, RCMP, government policy makers, class societies, shipping, in-service providers, equipment suppliers, robotic partners, software partners and many others.
The general sense I got from the conference is that there are more questions than answers on the future of the Canadian maritime. This is not a bad thing per-se and potentially a good thing. We know that we need to change/adapt/evolve and that there are many ways to so; however, we are struggling to determine where to start or what to focus on.
I will share some of the questions and my thoughts about them.
Where should we start?
What is a Digital Twin?
How to Improve In-Service Support?
How Important is Collaboration?
---
1. Where should we start?
The number of possibilities and opportunities available today are massive. Technology is terraforming a whole new landscape that has added so many new, mature technologies which the maritime industry can leverage and exploit. This creates some new and exciting challenges, like deciding how our businesses should create future products and services for our customers.
There does seem to be an understanding within the industry that the Canadian maritime industry needs to change by adopting these innovative technologies. Plus, the recognition that many people currently do not know what they should be doing. The presentations from the navy specifically mentioned that they are engaging with industry to help determine their next steps. This is good news, as in the future successful businesses and governments will be part of a large ecosystem, unable to achieve significant benefits if they try to go solo.
The challenge of knowing where to start comes from not having a clearly defined business vision, goals, and strategies, which are irrelevant of technology. Technology will only help achieve a vision and goals. If a business defines their vision and goals, the starting point will become clearer.
I do have a worry that the questions being asked seemed to be the same questions other countries were asking a couple of years ago. It is too early for me to decide on this; however, it is possible that the Canadian maritime industry is a couple years behind several other countries
Another worry I have is that we might continue talking about making a change but fail to take any action. It is important that we continue to have good discussions on what should be the next step, but we cannot wait to be 100% sure before taking the first step. We need to move forward quickly and be agile enough to pivot quickly if we take a wrong step. We do not want to be having the same conversations next year at Mari-Tech.
---
2. What is a Digital Twin?
The Digital Twin was mentioned a lot during Mari-Tech. As with every industry, there is no single consensus what a Digital Twin is or is not. I am not sure how important or valuable it is for everyone to have the exact same definition. There will be a point where everyone's understanding will be Good Enough, the same way everyone's definition of friendship is different but close enough that at least people are on the same page.
Usually, there seem to be two different directions that people take when speaking about Digital Twins. Some come from a design perspective where the Digital Twin will improve engineering, design, and manufacturing of the ship. Others come from the perspective of In-Service/Operations where IoT and smart shipping is the focus.
I do think that in most of the presentations I attended and discussions I had, the Digital Twin was being talked about too narrowly (too small of a subset of the potential capabilities of a digital twin). Our understanding will expand as we continue the conversations and discussions.
One area that was missing, and I think the conversation will evolve in the next year, is talking more about a digital/business transformation than just the Digital Twin. Our organizations and industry need to evolve our culture, workflows, tools, mindset, and even strategies before anything like a Digital Twin can be achieved. These requirements did not get the attention they deserve.
---
3. How to Improve In-Service Support?
There were several presentations that focused on In-Service support. This makes a lot of sense as the operating costs of a ship are much more than the initial purchase.
There were presentations on how companies provided significant mid-life retrofits for some of the fleet. There were some interesting strategies, but surprisingly, many of the solutions did not combine many of the technologies they used. For example, one presentation mentioned that they needed to laser scan the ship to get the "as-is" structure. They used that laser scanning to help remodel the area that was being retrofitted. After which they pulled information (manually) to get material data, and then managed supplier information for the assets/material that was purchased. All this was done digitally but was never combined and linked together. There were over 5 different silos of new digital information that is not connected and most likely will not be used again. I see this as a huge missed opportunity.
For all owner/operators of ships there is a desperate need to better support the vessels that are already deployed. Even ships that have just been deployed this year already have documentation, usually 2D PDF's, that are out of date. This is a huge challenge that needs to be addressed as these ships will be in service for 30+ years. Opportunities such as when the ship is being rehauled/retrofitted are important to take advantage of.
For the ships that have not been built yet, such as the CSC, the challenge is a bit "easier," but still out of reach with today's way of working. There were discussions of requesting as-builts with 3D models from the shipyards. This is a step in the right direction, but the reality is the owner/operator are not able or structured to leverage the as-built today. Both the shipyards and the navy would need to adapt their businesses for this strategy to work.
---
4. How important is Collaboration?
I was glad to see discussions and presentations that focused on collaboration. A panel discussion moderated by Leonard Pecore from Genoa got the audience thinking about the importance of collaboration and using collaboration to create innovative solutions.
Collaboration is required in every single phase of shipbuilding, and it is especially important across the entire industry – including between competitors. He brought the great example of the US NSRP (National Shipbuilding and Ship Repair Research and Development Program) where virtually all major shipbuilders, many of which are competitors, collaborate to achieve some amazing things. The NSRP is a perfect example of how collaboration can elevate the entire industry. "A rising tide lifts all boats." To know more about the NSRP you can read my previous blog post 2019 NSRP All Panel Meeting Review.
There are several Canadian initiatives that also believe in an industry wide collaboration model, one being Canada's Ocean Supercluster. However, I am not sure they have achieved the success of the NSRP. These initiatives are still relatively new, so there is still time for it to produce a collaborative environment which we desperately need in the Canadian maritime industry.
Being successful at collaboration requires having a specific mindset. It was not really discussed in detail, but I do see it as the major challenge that has to be overcome. It is easy to say we need to collaborate, and I believe almost everyone will say collaboration is important; however, I do not think most have a collaborative mindset. There is a significant difference between saying one wants to collaborate and actually collaborating openly and effectively.
This collaboration mindset needs to start from the highest leadership level, including any program that is promoting collaboration as a key pillar. I would like to see more collaboration from the government entities to other governments in different countries. If we are promoting the fact that collaboration should happen between competitors, then why can't the Canadian government agencies collaborate with other countries? Many countries have the same struggles as Canada and, in some cases, can provide a lot of valuable information. I do not think we need to re-invent the wheel.
Effective Collaboration is a mindset, not a set of actions.
---
Closing Remarks
Mari-Tech 2019 was a great event for anyone that is involved or interested in the Canadian maritime industry. It does seem that the Canadian maritime industry is at the beginning of their digital transformation journey, with more questions than answers. This is similar to, or maybe slightly behind, where other countries are today.
Asking the question "Where to start?" is where most organizations are today. The landscape has changed significantly in the last few years with so many mature technologies available to us. But our new understanding and appreciation that we need to break free of the old "traditions" which are holding us back.
Digital Twin was the word of the conference. I do think this will evolve to be "digital/business transformation" next year as the digital twin is important, but it is only part of how we need to evolve for the future. Our mindset of how we create future products and services must change, creating a chain reaction and changing our businesses, hence the digital/business transformation discussion.
In-service solutions will continue to be a hot topic, mainly because the operational costs of a ship are significantly higher than the initial costs. These discussions will include making better upfront design decisions that will decide 80% of the operation cost of the ship, as well as leveraging a Digital Twin and AI for operational excellence.
Canada is at the beginning of the journey and slightly behind other countries. However, if we learn to effectively collaborate around the entire industry (designers, shipyards, suppliers, owners, operators, etc.) we can leap frog past other countries. Effective collaboration is a mindset, and it should be easy for Canadians to get to where we need to be.