ShipConstructor software was used for the 3D modeling of one of the world's most complex oil rigs.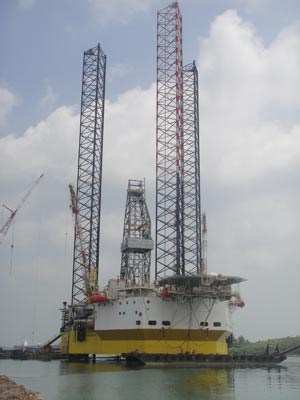 Drydocks World – Southeast Asia Pte. Limited (DDW-SEA) used ShipConstructor on Jack-Up Drilling Rig Hull L202 PERRO NEGRO 6 which was delivered to Saipem (Portugal) Comercio Maritimo Sociedade Unipessoal LDA.
The rig is based on a GustoMSC design for a leg fixation, leg jacking and cantilever x-y skidding jack-up. The detailed CAD/CAM work was done in ShipConstructor based on the basic design plans and system diagrams from GustoMSC.
DDW-SEA shared the ShipConstructor Marine Information Model (MIM) across several disciplines to facilitate collaboration amongst various teams. The design and development involved staff in China, Holland, Indonesia, Norway, Thailand and Singapore.
"ShipConstructor has long been associated with the detail design of ships but has seen recent success in the offshore market with several high profile jack-up rig, semi-submersible and liftboat projects," says ShipConstructor's Deputy CEO Darren Larkins. "Our successes in shipbuilding can largely be attributed to our strengths in hull and structure modeling but due to our continued investment in distributed systems, we are now recognized as a complete package that can tackle even the most complex offshore projects."
PERRO NEGRO 6 is a new generation MSC CJ46-X100D Jack-Up Drilling Rig, equipped for high pressure, high temperature (HPHT) drilling environments, with the capability of operating at 350 ft water depth and 30,000 ft drilling depth. The design features a large VDL, extended deck space and 70 ft and 20 ft X-Y cantilever with an automated pipe racking system. The PERRO NEGRO 6 was built at the Drydocks World-Graha yard on Batam Island, Indonesia.