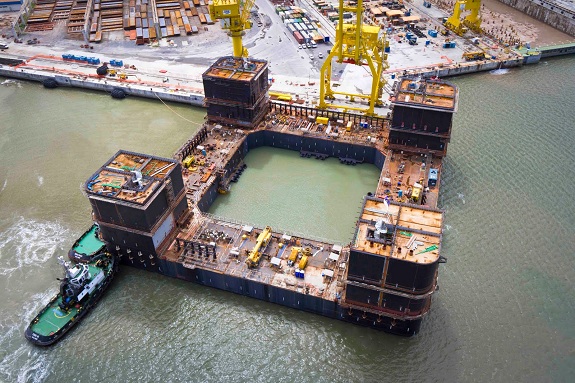 SSI's ShipConstructor AutoCAD based CAD/CAM software was used to build the hull of Petrobras' P-55 Semi-Submersible Floating Production Unit (FPU).
This offshore oil rig is the largest and first of its kind to be entirely constructed in Brazil and is an impressive engineering feat that was made possible by Autodesk software.
The hull was built by SSI client Estaleiro Atlântico Sul using ShipConstructor itself, the main production modules were fabricated and commissioned by QUIP at Estaleiro Rio Grande and other contractors were also involved. Project coordination and collaboration was done using Autodesk Navisworks. Navisworks easily accommodated the fact that the structure of the hull was modeled in ShipConstructor while Intergraph PDS Pipe was used for pipe modeling.
There are a couple of noteworthy points regarding this story. First, is the fact that Estaleiro Atlântico Sul is still a relatively new shipyard; it started with an empty beach in 2007. Since then, the company has been able to build a local engineering team who were quickly able to acquire proficiency in ShipConstructor due its familiar AutoCAD platform. Also, of note, is the importance of the usage of AutoCAD Navisworks for collaboration.
To talk about the success of this and other projects at Estaleiro Atlântico Sul, Ricardo Barcellos, the company's Engineering Corporate Advisor will be speaking at a conference in Rio de Janeiro on November 27. Several other noteworthy Brazilian and international success stories will be shared by SSI and other industry leaders who will highlight details of the latest advancements in Empowered Engineering with Production Integration for Shipbuilding and Offshore Construction.