---
Be Prepared
Are you prepared for growth? Or… are you prepared for the opposite scenario: challenging times or fierce competition that force you to up your game?
One SSI client that has proven the ability to adapt to challenges is Horizon Shipbuilding in Bayou La Batre, Louisiana, USA. Horizon builds and repairs a variety of commercial, government and recreational vessels up to 300' in length. The company has constantly scanned the horizon, looking for new opportunities and has adopted new strategies in order to compete.
For instance, when the 2008 financial crisis caused a sharp downturn in domestic orders, Horizon responded by marketing itself overseas. The company was so successful that it won an award for exporting and was featured on the CNN television network as an example of an innovative company that had found a way to adapt to the changing business climate.
---
Expanded Autodesk Solution (AutoCAD + ShipConstructor + Navisworks)
Horizon Shipbuilding wanted to keep improving. The company saw that one of the ways to enhance operations in multiple areas was to scale up to a fuller Autodesk software solution.
Prior to mid-November of 2013, the only Autodesk product that Horizon had been using was AutoCAD; Horizon used it for detail design work. The company realized that a companion product Autodesk Navisworks would give Horizon the ability to present virtual reality "walk-throughs" of a vessel on the company's 84 inch boardroom monitor. This would help interactions between prospects and clients and it would also enhance communication between the design/engineering team and the workers in the yard.
Because SSI's ShipConstructor software works within the AutoCAD interface and provides an easy way to create Navisworks files, it was natural for Horizon to adopt ShipConstructor and Navisworks as part of an expanded Autodesk based shipbuilding solution. And, after only a few months working with just the hull/structural portion of the ShipConstructor product suite on a 95' towboat project, Horizon saw an immediate benefit.
Within the engineering department itself, Project Manager John Carnley says that the productivity in hull/structural modeling was increased by greater than 50%!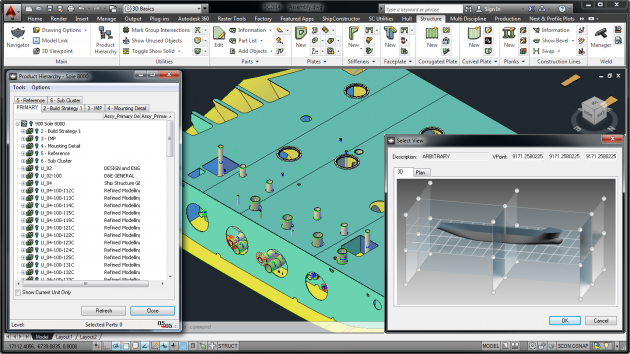 One of the reasons for this productivity increase was because ShipConstructor allowed the company to build nests without having to, "duplicate things over and over again." The company is also excited about being able to use the software to create their own build strategy for the construction of the vessel. As production begins, Horizon sees greater benefits ahead as they fully explore the advantages of an expanded Autodesk based shipbuilding solution.