SSI has made a philosophical commitment to a "best of breed" approach when providing comprehensive software solutions. And it's paying off. Due to our long standing philosophical commitment we are now well positioned – as opposed to those who committed to mainframe, proprietary technologies – to meet these challenges. Within the SSI ecosystem the 'integration' challenge is yesteryear's problem. Today, the ease and benefits of integrating (or replacing) various software components are essentially COTS (commercial off the shelf) capabilities: Autodesk's AnyCAD and SSI's EnterprisePlatform are just two examples. For SSI this has long been our standard and more importantly, industry is demanding it as a standard.

Open Architecture Technology
An example of this developing standard is the open architecture development approach adopted by SSI over 25 years ago in SSI's flagship software product: ShipConstructor. As SSI CTO Denis Morais explains on his Waveform blog post, "Knock, Knock, the future is calling and it is asking for an Open Architecture":
"ShipConstructor has been designed from the ground up to be 100% open. There is not a single piece of information the ShipConstructor solution holds hostage in a proprietary format. That is right, every single piece of information can be extracted and leveraged for whatever purpose the user wants."
The openness of the data facilitates partnerships with other companies and allows other applications to leverage the wealth of information stored within the ShipConstructor Marine Information Model (MIM).
Weight and Center of Gravity
Two of the pieces of data available from the ShipConstructor MIM are weight and center of gravity (cg). These are dynamically updated as you build a virtual product model, moving from basic design through to detail/production design and this information is critical for updating a weight estimation model.
Best of Breed 3rd Party Application: ShipWeight
Here is where a 3rd party best of breed application called ShipWeight is useful. ShipWeight is a software tool for weight & cg estimation and monitoring from early concept design through detailed engineering and construction. ShipConstructor users should note that it is now integrated into the ShipConstructor ecosystem.
Connection to ShipConstructor software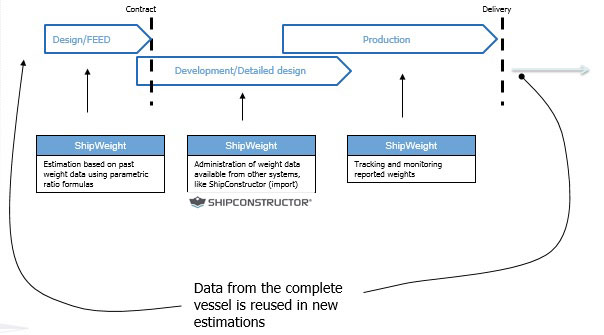 ShipWeight can be used to create a weight estimation model of an entire vessel in the early stages of design. Then, as detail engineering is done on various blocks in ShipConstructor, the ShipConstructor weights can be fed back into the ShipWeight model. At the end of a project, this information can be leveraged when planning similar ship designs since you can reuse and utilize your as-built data.