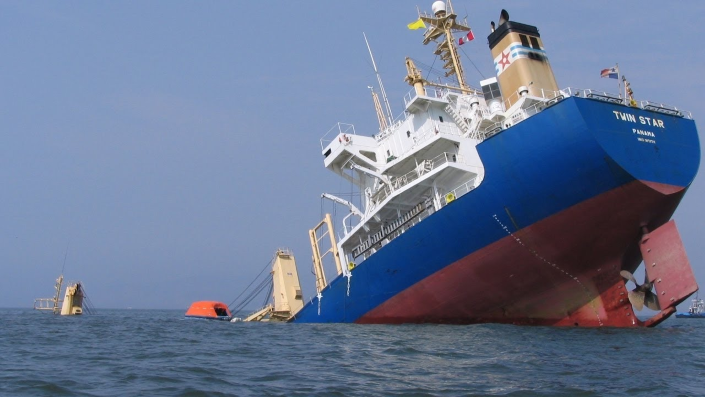 Weight Management is arguably the most important parameter throughout the entire design phase of your ship. From conceptual design to delivery,you need to have assurance that your weight of the vessel is within the correct parameters to meet the requirements of the ship.
Even though many SSI clients leverage ShipConstructor to get accurate and up-to-date weight take-offs from the 3D model, there are some situations where more is required. In these cases users require a more complete and robust weight management solution.
ShipWeight is an industry leader in weight management for any type of complex floating structure. SSI has had a long relationship with ShipWeight and with the help of DRS and NDAR we have created a really good workflow to exchange information between SSI's ShipConstructor and ShipWeight via SSI's EnterprisePlatform.
---
Why Do I need Proper Weight Management Control?
At the start of a project there is no 3D model and therefore there is no way you can calculate the weight of your ship. This is where a ship management solution can guide you on creating a highly accurate estimation model during conceptual design using your previous data from similar projects and/or provide a good starting point from templates. The ship management solution uses industry validated sophisticated algorithms for their weight estimation, weight distribution curves, calculation of gyration values, center of gravity, uncertainty calculation and much more.
As the 3D model progresses from the basic to the detail design, the precise information in the 3D Model needs to update the weight management model estimates. This continuous updating of the weight management model with precise data will ensure that the project is within acceptable tolerance and identify any issues early.
In today's shipbuilding environments, not all parts are modeled in the 3D system. This means that even when a 3D model is considered "complete" it will not accurately represent all the weight that needs to be considered for a weigh management solution. This is why it is important that the weight management solution needs to always be able to handle estimated calculations with data that is accurate and true.
---
The Workflow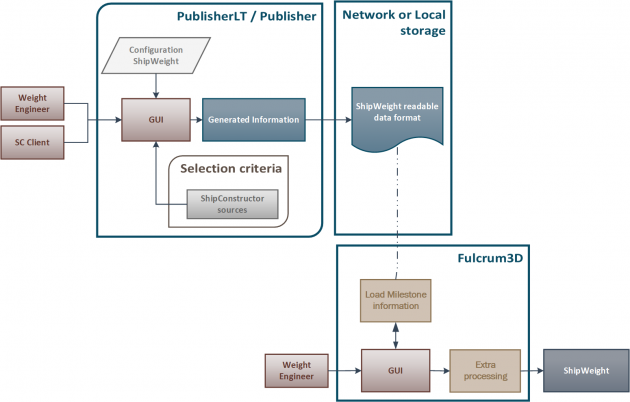 The workflow between SSI and ShipWeight supports disparate types of users as well as several different workflows depending on the type of workflow the yard requires.
Importing information from ShipConstructor to ShipWeight directly was determined to be not ideal. The reason is that in many cases a Weight Engineer would want to verify the data being imported into ShipWeight and do some additional processing. For this reason we created an intermediate file that is generated via the SSI EnterprisePlatform (automatically or manually initiated) which will be loaded by an intermediate application called Fulcrum3D. In this application the Weight Engineer would be able to load the file generated, analyze results, make modifications and then import the changes into ShipWeight.
It is important to note that any modifications (ex. Adding attributes to an assembly/part) is persistent (remembered) the next time an updated file is processed. This means that there is no loss of information and effort when changes are done in Fulcrum3D. This is supported because ShipConstructor and ShipWeight identify the part/assembly the same way. This also allows support for updating new or deleted items.
When is Information Passed
A user can initiate the generation of the ShipWeight information exchange file using SSI EnterprisePlatform PublisherLT or Publisher. This can be a ShipConstructor user or a Weight Engineer even without ShipConstructor and AutoCAD installed.
A pure automatic method is also supported which would allow you generate the information on any schedule that you desire.
What Information is Passed
There is no restriction on the amount of information you would like to exchange. For example you may want to only exchange information one block at a time or you may want to exchange the entire project. The process that you will want to use will depend on your company's processes and needs.
---
Setting up ShipConstructor, EnterprisePlatform and ShipWeight
There is a well written Knowledge Base Article on this here.
---
Acknowledgements
It takes a team to create a solution as streamlined and easy as we have today. I would like to thank:
Bruce Hays – formerly of Leonardo DRS
Larry Leibman – formerly of Leonardo DRS
Chris Emerson – SSI
Jason Rancourt – SSI
Craig Johnson – SSI
Nick Danese – NDAR
Runar Aasen – ShipWeight
---
Closing Remarks
A comprehensive weight management strategy is a very important aspect in any shipbuilding project. Without one, the risk of not delivering a ship that will meet the intended requirements are high.
A weight management strategy starts with estimates in the conceptual design phase to accurate data from the 3D detailed model just before delivery. The reconciliation and updating of a pure estimated weight model to one which mostly has precise data upon delivery requires continuous synchronization between the weight management solution and the 3D solution.
SSI and ShipWeight have created a synchronized solution that exchanges information throughout the lifecycle of the engineering and design phase.
If you require any more information on this integration feel free to contact me.
---
About ShipWeight
ShipWeight is a weight engineering software tool useful for weight estimation as well as weight monitoring and tracking. ShipWeight can be used from the early conceptual design work, based upon parametric regression of historical data, and all the way through production until the vessel is launched.
In addition to weight estimation and weight monitoring, ShipWeight features weight distribution curves, calculation of gyration values, center of gravity sanity checks, uncertainty calculation and more.
The weight reports and reporting system are very powerful and may be tailored to meet each customer's desire, both on layout and graphics as well as the data to be presented.
ShipWeight can be set up in a multi-user environment with permission control and login, running on an SQL database. It is also highly adaptable to any organization with regards to work breakdown structures, and customized import and export of information between ShipWeight and other software tools within the user organization.
---
ShipWeight Reports Example