The improvements inside SSI 2023 R1.1 are ready to give you and your teams a boost in mastering your project. By continuously adding to how our clients can manage change, model in the way that fits the reality on the shop floor, and have licensing that fits the business realities of the shipyard, engineering, planning, production, and every department can confidently work together. Read on to see a detailed breakdown of the latest enhancements and watch the release webinar to get a first-hand look at what's new.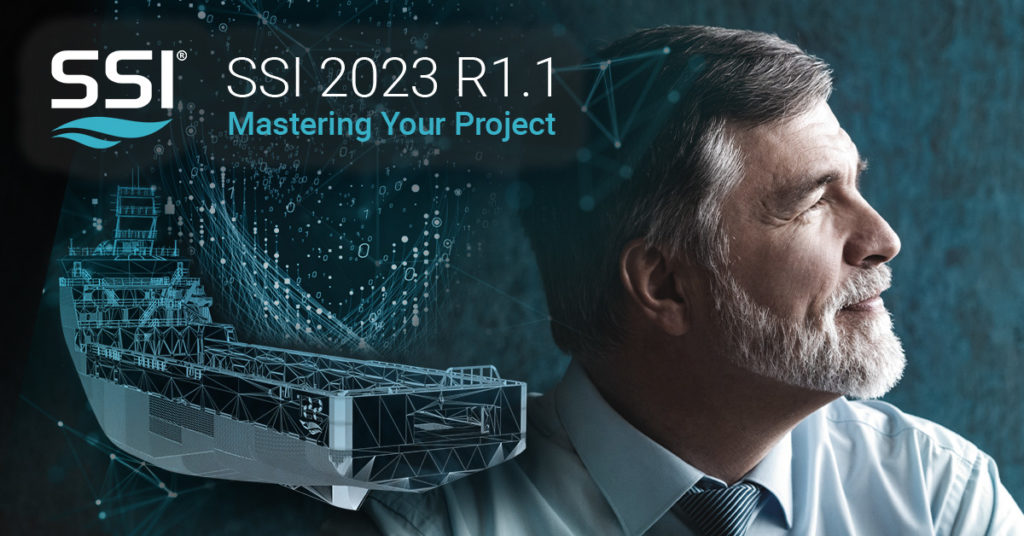 ---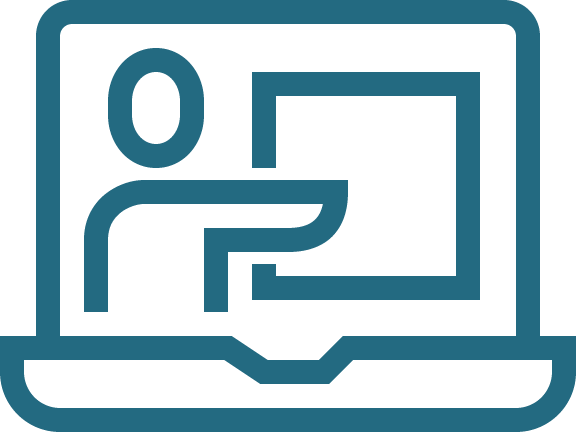 Join the SSI team on August 25th at 7 am PT (10 am ET, 4 pm CET) for a webinar first look at all the improvements now available with the release of SSI 2023 R1.1.
Register Now
---
Detailed Enhancements
Flex Cloud Licensing
Shipbuilding is not a straight-line process. There are peaks and troughs of work, and as a project evolves, so does the number of users required to progress it. We are always looking at ways to help our clients work better within the business of shipbuilding. Our new flexible licensing options provide our clients with a convenient means to temporarily increase the size of the workforce working on a project.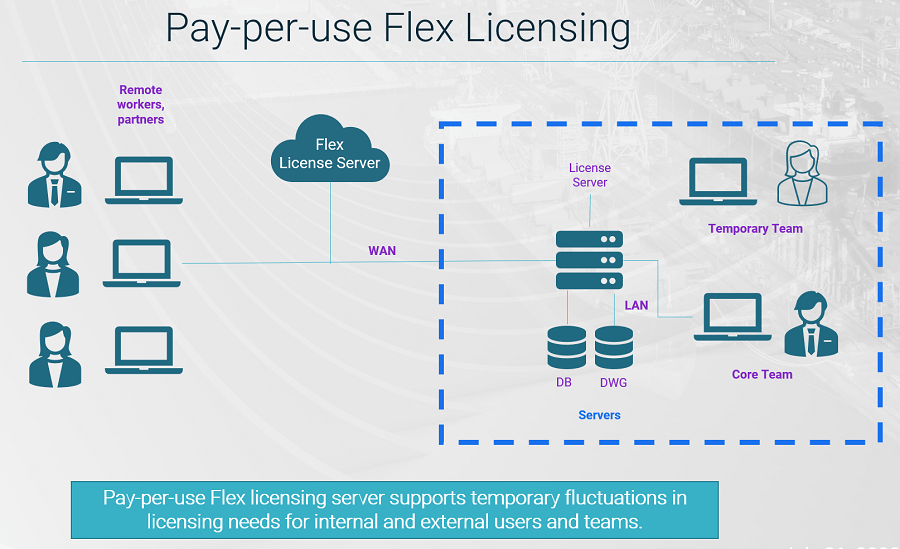 The teams working on a project can be comprised of in-house personnel as well as subcontractors, and users can also be very geographically dispersed. SSI now allows clients to quickly and easily increase the number of users required to do the job using SSI pay-per-use cloud licensing globally.
SSI pay-per-use licensing is designed to complement SSI's other available licensing offerings by allowing clients to set up a pool of available licenses that can be quickly and easily activated or deactivated, in any given month, on an as-needed basis from the cloud.
What is Pay-per-use (Flex) Cloud Licensing
In comparison to standard on-premises licensing, where clients install and manage a license server that must be accessible over their internal network, SSI Cloud Licensing provides a server hosted on the cloud that may be accessed globally, with an included failover server for even greater peace of mind. The license server is provisioned and managed directly by SSI, though clients have access to a web-based portal where they can control license access and view usage reports.
Flex licensing provides clients with a pool of available licenses that can be quickly and easily accessed and utilized on an as-needed basis. Each month, only licenses that are used concurrently for more than 5 minutes will be invoiced (i.e., the maximum number of concurrently used licenses).
ShipConstructor Suite Flex Edition – The ShipConstructor Suite Flex Edition license provides access to all ShipConstructor products under a single concurrent user license. Licenses can only be used within two time zones of the license server.
Change Management – Additional Locking Permissions
We've highlighted before how easier to use and more transparent configuration control over projects is key to successful change management. We're working hard to make it easier to manage what is locked, locks and access groups, and who has access to the locked items.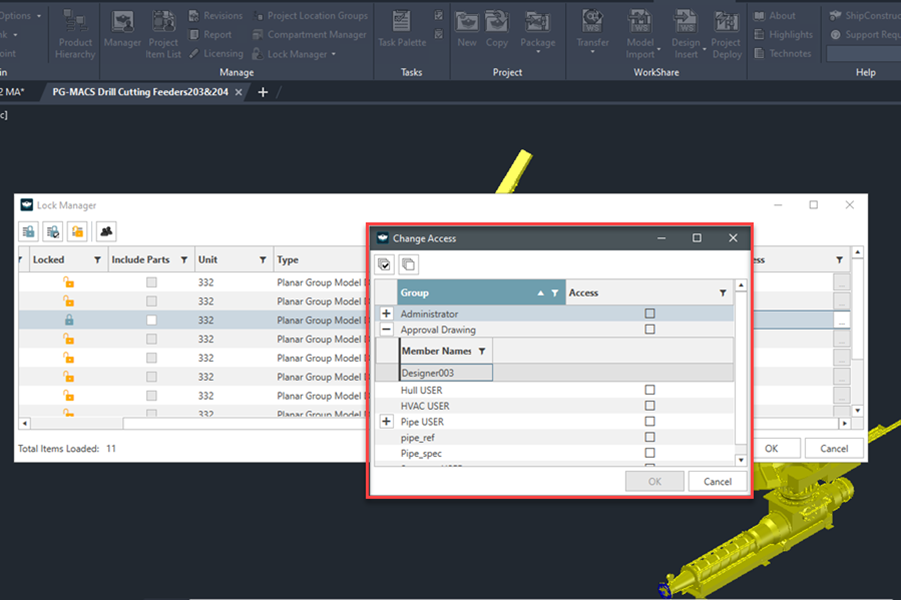 In SSI 2023 R1.1, we have introduced two additional levels of permissions to achieve that goal. The standard lock permission gives managers and planners access to the Lock Manager, where they can lock and unlock ShipConstructor entities and manage access, and a second more restricted permission that provides the user with the privileges to override any lock throughout the project. In the Access dialogue of the Lock Manager, the permission groups grid can be expanded to show a read-only list of the users in the groups.
Users with access are alerted that they have editing privileges of locked objects, specifically when entering locked drawings. Locking, unlocking, and access changes to locked entities generate revisions, making locks and access changes revision items that can be viewed in the Project Revisions dialogue.
Change Management and Tasks
Unified Task Management and Execution is now available as a ShipConstructor Core feature. ShipConstructor Tasks has been rebuilt from the ground up to provide centralized interfaces for both the designer and manager. You can now easily create, assign, and archive Tasks quickly and easily. A new importer allows for easy inclusion or updating of Tasks prepared outside ShipConstructor.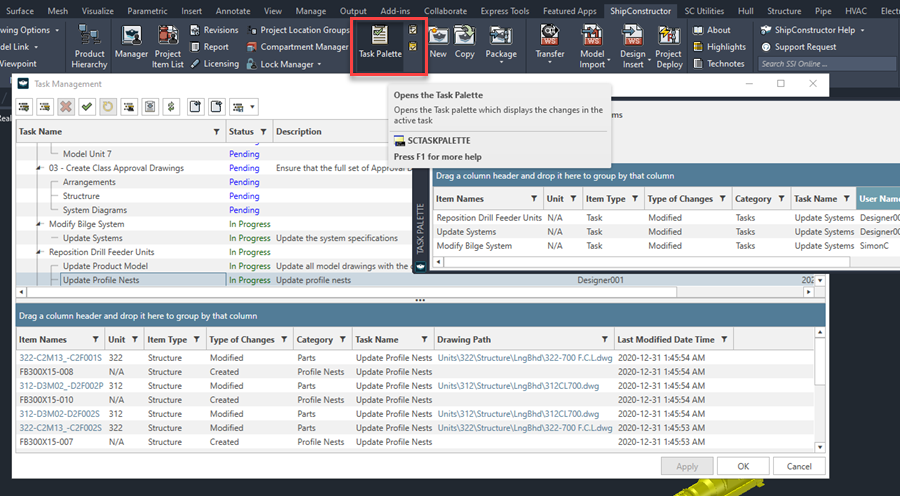 Managers can:
Move changes between Tasks to ensure work performed is always reflected on the correct Task.
Hide both completed and archived Tasks to enable greater focus on the work to be performed to increase visibility for active users, Task progress, and completion status.
Quickly assign relevant users based on permission groups using the improved user assignment interface.
Accessory Side Affinity
Production drawings must contain the information that production needs, and that goes for accessories. Accessory side affinity is a way for planners to identify on which BOMs and reports accessories appear. This feature eliminates a historical ambiguity with connection accessories that required them to show on the BOMs of both parts of a connection, which often leads to the double reporting of accessories and allows accessories to go with the trailing assembly in the build strategy.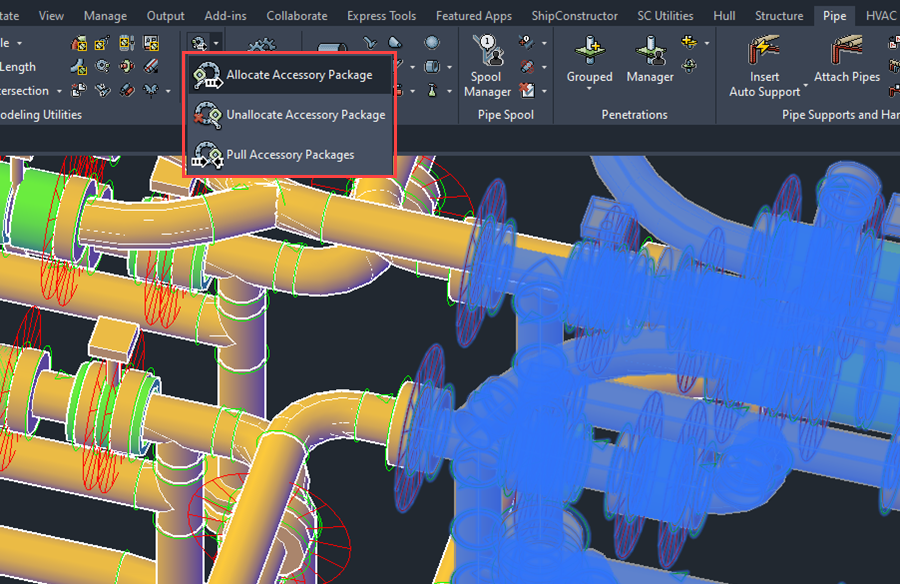 Accessory side affinity also gives planners more control on where in the process accessories make it into the yard – especially at fabrication boundaries like units or blocks. More specifically, planners can now include spool boundary accessories (such as flange connection accessories) in the appropriate spool drawings or exclude them from arrangement drawings if they are not required.
The accessories on a connection can be allocated to one side of a connection. This will add the accessories to spool drawings on the allocated side while excluding them from arrangement and assembly drawings that then only include the spool or part on the opposing side.
Modeling – PartViews
Designers need to see more of the model than just the drawing they are working in. This enhancement in SSI 2023 R1.1 makes it possible for designers to visualize targeted slices of the project and quickly display parts by system, branch, and any connected parts or spools.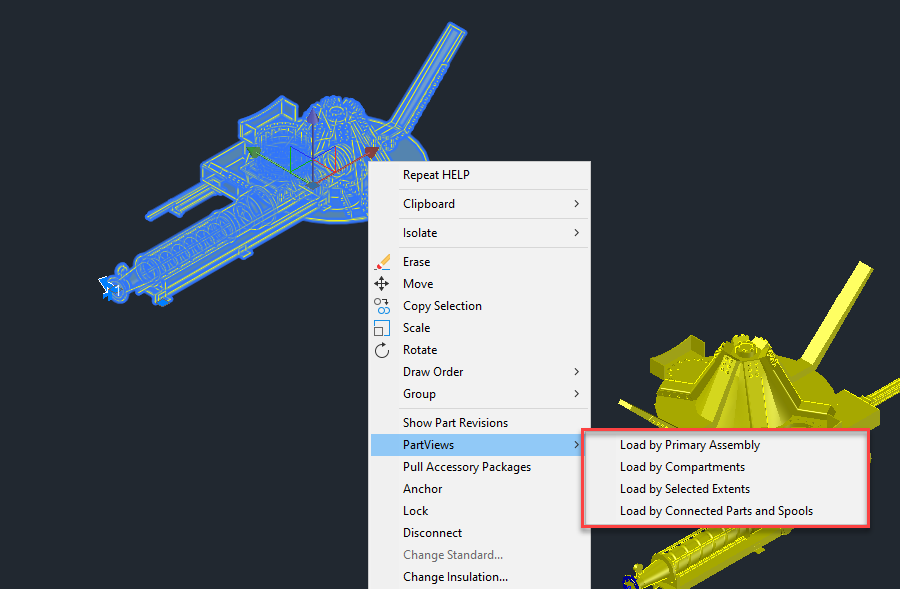 In this release, we now provide methods of quickly viewing a targeted set of parts related directly to systems the designer is working on, based on parts in the current workspace. The right-click context menu allows users to Load by:
System
Branch
Connected Parts and Spools.
Simply right-click on a part to select which PartView loading option you desire. "Load by" selections only display the valid options based on part selections.
More MIM Reports
For Directors, VPs, and Managers who regularly need to understand project progress and control the changes being made, ShipConstructor Project Progress Reports provide visual reports that help to assess structure modeling completion, production planning progress, and production preparations. The reports also visualize the user permissions and groups and the individuals and teams that have access to implement changes.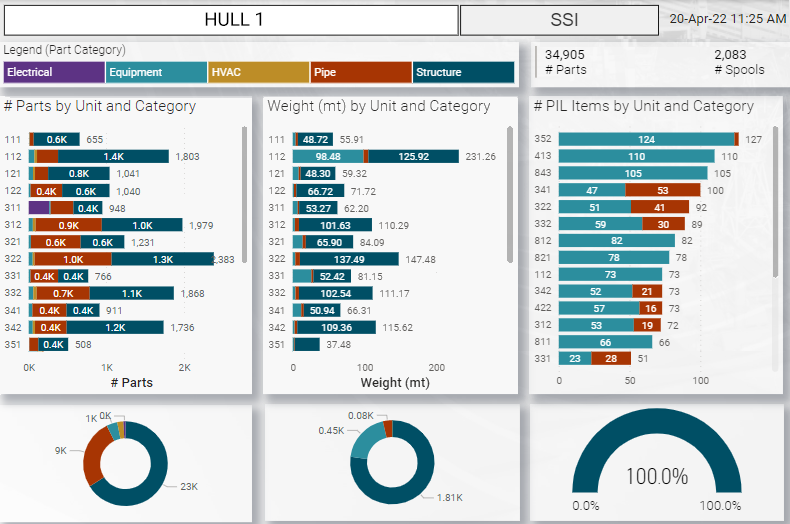 Accompanying this release, we have expanded on the Marine Information Model Power BI Reports to include an easy-to-use, visual report of the user memberships found in Permissions and User Groups.
MIM Reports are compatible with ShipConstructor 2021 and higher versions.
Naming Convention Updates
Name and assembly information from a secondary product hierarchy are now included within the name of the part(s).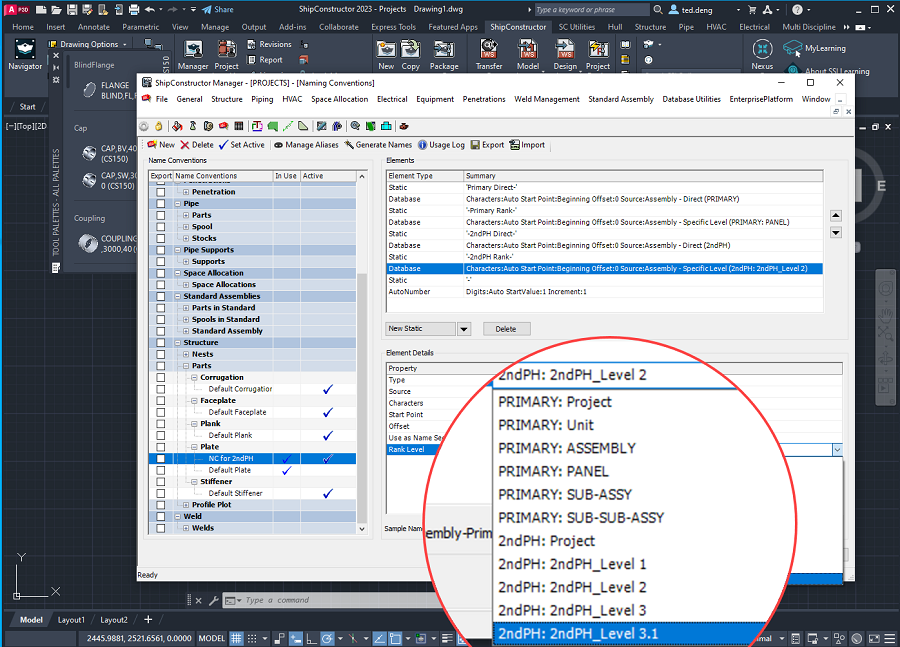 Having the ability to include name and assembly information from a secondary product hierarchy in the part name enables and enhances the efficiency of the grouping based on that product hierarchy. The part name can include elements from both the direct assembly for the part, and a specific assembly level from all product hierarchies.
SSI Desktop App Notifications
Keep up with the SSI Nexus community with desktop notifications. The SSI Desktop App now helps users benefit from SSI Nexus Community expertise by providing Windows desktop notifications of the latest activity on Nexus.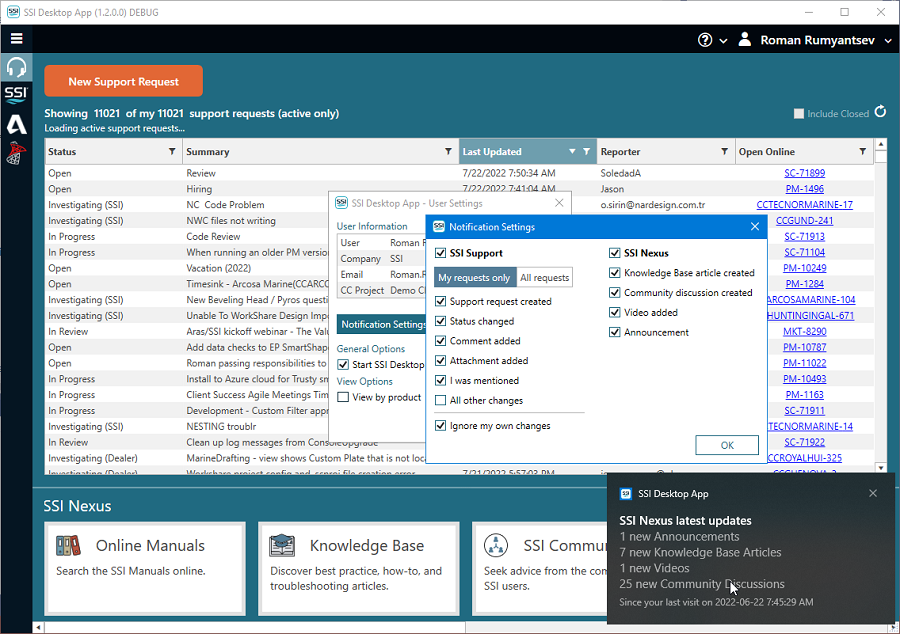 Be the first to see:
New Community discussions
New KB articles
New videos
New Announcements
Simply click on the pop-up desktop notification to open the related Nexus page in their browser.
To ensure that noise is kept to a minimum, it's easy to enable /disable which areas of Nexus you wish to receive notifications for. Users must have their Nexus account set up as a pre-requisite to visiting SSI Nexus.
---
Learn More
Register for the webinar and watch it live to see these new features and improvements in action. There's no better way to experience what's new for this release.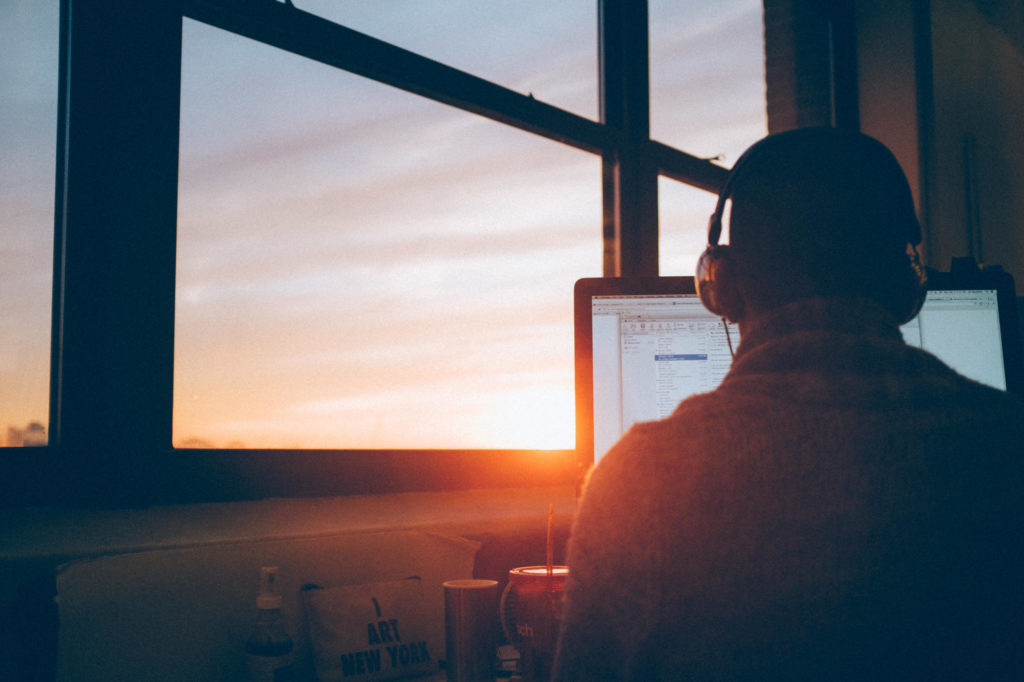 This webinar takes place: 08/25/2022 7:00 am PT.
Register Here
---
System Requirements
Supported Client Operating Systems
Windows 10 (64-bit)
Supported Server Operating Systems
Windows Server 2022, 2019, 2016
.Net Framework
.NET Framework 4.7 (installed automatically)
SQL Servers
MS SQL Server 2019, 2017. SQL Server 2019 Express is included with the installer. Note: Express editions are suitable for projects with 5 or fewer users only.
SQL Enterprise 2017+ for WorkShare Teams
Supported AutoCAD Platforms
2023, 2022, and 2021:
AutoCAD, AutoCAD Mechanical,
AutoCAD Plant3D (for ShipConstructor P&ID Design Validation functionality of Pipe)
Supported Navisworks Versions
2023, 2022, and 2021:
Navisworks Simulate, Navisworks Manage
Side-by-side Installation Compatibility
ShipConstructor 2023 can be installed side-by-side with any previous major ShipConstructor version; each installed version of ShipConstructor requires its own dedicated instance of AutoCAD.
---
SSI Installation Guide
Access the latest ShipConstructor manual on SSI Nexus for detailed installation instructions and system requirements for this release.
Download Information
To download this release, visit the downloads section of SSI Nexus. There, you can get access to all the latest SSI releases.
Purchasing Information
For information on this release, to purchase the software, or to renew your Subscription contact an SSI Representative.