SSI, makers of ShipConstructor software, congratulates its client, Austal USA, on the shipyard's Littoral Combat Ship Coronado (LCS 4) successfully completing Acceptance Trials.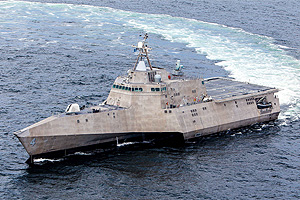 This milestone achievement involved the execution of intense comprehensive tests by the U.S. Navy while underway, which demonstrated the successful operation of the ship's major systems and equipment. This is the last significant milestone before delivery of the ship, which is expected in September.
The LCS program is in full swing at Austal USA with five ships under construction at this time. The Littoral Combat Ship (LCS) is a fast, agile, focused-mission platform designed for operation in near-shore environments yet capable of open-ocean operation.
All of these innovative warships have been detail designed and engineered using a range of products and technologies from SSI and Autodesk that are focused around SSI's AutoCAD based ShipConstructor software. Coronado (LCS 4) will soon be followed by Jackson (LCS 6) which will launch at the end of the year and Montgomery (LCS 8), which is being assembled after celebrating its keel laying ceremony on June 25. Construction is well underway on Gabrielle Giffords (LCS 10) along with Omaha (LCS 12) which just started construction last month.
Austal is using ShipConstructor software on multiple other U.S. Naval projects as well.
Austal has been contracted by the U.S. Navy to build ten 103-meter JHSVs under a 10-ship, $1.6 billion contract. Two of the ten have already been delivered. Austal continues to make steady forward progress on the JHSV program as USNS Millinocket (JHSV 3) prepares for Builder's Sea Trials in the fall and will be delivered to the Navy later this year. Construction on Fall River (JHSV 4) and Trenton (JHSV 5) is also well underway in Austal's Mobile, Ala. shipyard.
For more information on SSI, visit www.ssi-corporate.com