---
Consistent with its recent innovations in the area of 3D weld management, CAD/CAM software maker SSI is developing solutions for Computer Aided Robotics Welding (CAR-W).
---
NSRP Project
This research project is under the aegis of the US Navy's National Shipbuilding Research Program (NSRP).
Working with Industry Leaders
On December 10-11, 2015, SSI representatives met with representatives from Wolf Robotics and Edison Welding Institute to further advance this development. Other organizations involved in the research include Bollinger Shipyards, Ingalls Shipbuilding, NSWCCD, Purdue University, Colorado State University, Tony Macijewski and Longview Advisors.
---
The Problem for Naval Shipbuilders: (High Mix, Low Volume)
The biggest challenge regarding the widespread application of robotics welding technologies is that it is costly to repeatedly program the robotic cutting machines off-line. This is less of a challenge in commercial shipbuilding where there is a relatively "low mix" of parts that can be cut in high volumes.
However, US Naval shipbuilding features a high mix of parts to be cut in low volume. Therefore, in practice, these are more likely to be cut manually by welder in the field.
---
The Solution: Automation
The way to increase productivity is via automation, i.e. eliminating off-line programming of the robotic cutting machines. This will involve creating a process to integrate Wolf Robotics path planning software with CAD Model data from SSI's ShipConstructor software as well as fab process data from Edison Welding Institute. (See diagram below)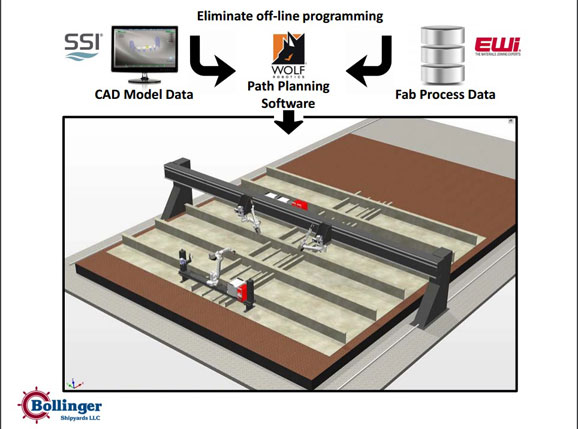 More Information:
Darren Guillory
Project Consultant, SSI USA
Darren.Guillory@SSI-Corporate.com