Last week SSI and Wolf Robotics demonstrated some co-development which automatically drove a fully autonomous welding robot to weld several ship panels. This was part of an NSRP CAR-W project with US shipyards.
The workflow starts in ShipConstructor by automatically identifying the welds in the ShipConstructor 3D CAD model. The ShipConstructor user then uses an interactive 3D visual drawing to configure the weld properties such as the weld standard and includes weld breaks, weld pitch, etc. The weld information and various other relevant data (e.g. geometry of panel to be welded) is exported to Wolf Robotics via SSI's EnterprisePlatform. The operator on the shop floor reads the files generated in Robot Studio which runs a path planning algorithm that evaluates several collision avoidance scenarios. When the operator is ready they click "Go." This is where the magic happens because the robot automatically sizes up the panel with several touch sensing actions and then welds the panel.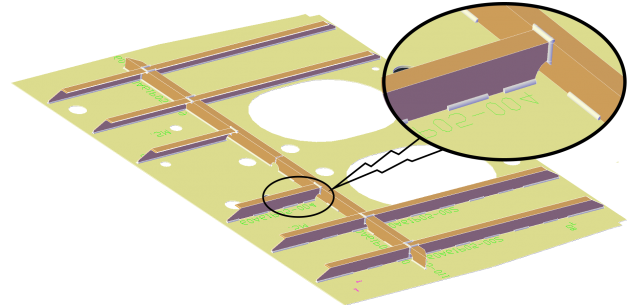 ---
Video Demonstration
If you cannot view videos on YouTube click here.
---
Shipbuilding Automation
Automation of the production floor machines is really the future and we are seeing more and more initiatives to drive machines on the shop floor via SSI EnterprisePlatform. The work we did on this project is probably the most complex we have done. For those non-shipbuilders reading this, it might not be apparent in the video, but virtually every single panel welded in a ship is unique. In shipbuilding we do not have the luxury of having a standard part/assembly. That means that we cannot just program the robot once and have it repeat itself; we need to support the most complex scenario of producing different welds, using different paths, generating a totally different physical structure. That is why what you are seeing is extremely awesome.
I was not able to attend the demonstration, unfortunately; however, the video below shows what was demonstrated. It was a video that was recorded several weeks ago during the process of validating what we will be demonstrating. It is quite remarkable to watch especially if you know what is involved in the alternative manual process.
This was just the first live demonstration with more to come in future phases. In the future phase we are planning to complete a more complex sub assembly from the Bollinger's FRC design.
---
Thanks to a Great Team
I would like to say thanks to the Wolf Robotics, EWI and Bollinger team as they were a pleasure to work with and we look forward to building on what we have. I'd also like to thank the SSI staff. The people working on this project were:
Dan Spieker– Wolf Robotics
Jeff Penoyer – Wolf Robotics
Mike Davis – Wolf Robotics
Dennis Fanguy – Bollinger
Steve Marning – EWI
Harvey Castner – EWI
Darren Guillory – SSI
The HuckleBerry Pie Team (This is the SSI team code name): Simon Guy, Chris Emerson, Yves Duruisseau, Craig Johnson, Kevin van Donkersgoed, Ryan Graves, Dan McCuaig, Andrew Wilkie, Daxue Dong– SSI