After being in the water for an hour and a half a half-mile off shore, with the sun setting off the Victoria coast, a Mayday call came in from a windsurfer in distress. Answering the call was the crew aboard Station 35's Craig Dunn, already on the water and just wrapping up training for the night. Shortly after the call, the windsurfer was on board the rescue vessel, warm, and reunited with family back on shore.
The Royal Canadian Marine Search and Rescue (RCM-SAR) Station 35 crew was ready to spring to action thanks to their continuous commitment to training, made possible by an experienced team of volunteers and the Victoria Marine Rescue Society (VMRS), the organization that supports the station.
The dedication of the volunteers of VMRS and Station 35 to creating a safer marine environment around our HQ of Victoria, Canada is one of the main reasons that we are proud to announce our sponsorship of the VMRS with a five-year, $100,000 commitment that extends through to 2026.
"For over 30 years, ships built with our solutions have been put in service all over the world, as well as here in Victoria." says Darren Larkins, SSI co-CEO. "I'm proud that we are able to partner with a local organization committed to keeping our marine community safe, including for those onboard vessels we've played a part in."
"It is fantastic to have the support of a company like SSI, especially when they are local to Victoria." says Alan Lawrence, VMRS Treasurer. "SSI's support brings us closer to achieving our goals and boosts our readiness to tackle any rescue situation in our waters."
VMRS is ramping up fundraising activity in the Victoria community to establish a new home near Ogden Point, construct an all-electric rescue vessel, train more people to be available for rescue, and increase the number of back-office volunteers.
The contributions of $20,000 annually for five years represent a long-term commitment to supporting VMRS. The rescue organization's fundraising efforts within the local community will give the non-profit more opportunities to save lives.
Kicking off the partnership
In late August, the SSI team had the opportunity to kick off the partnership with VMRS and Station 35 by joining them for their annual BBQ. The community-focused and family-friendly event was the perfect backdrop to start off the relationship on the right foot. Our team had a great time getting to know the society and station leadership, as well as all the volunteers that keep the local seas safer.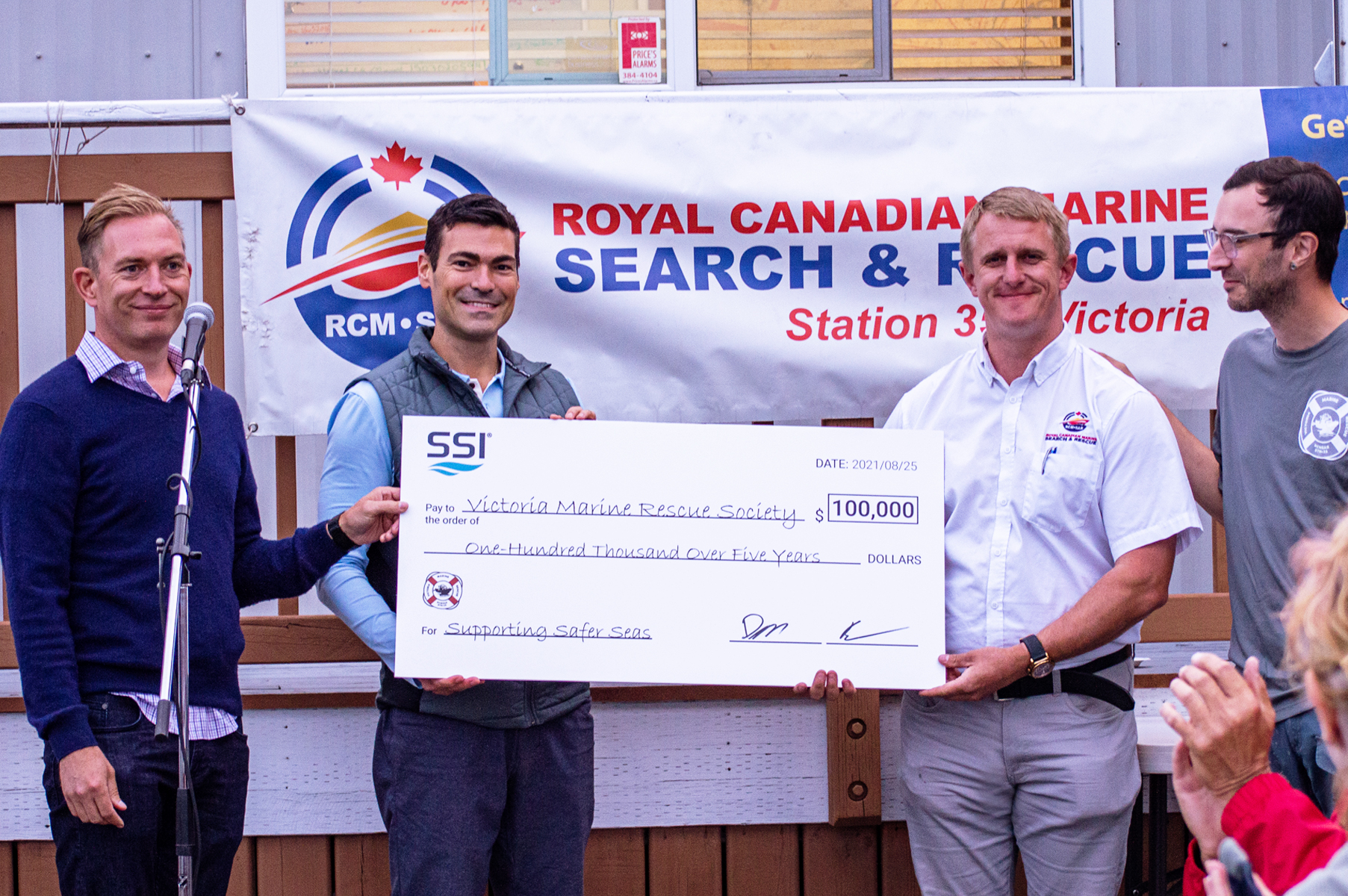 About VMRS
VMRS is the volunteer organization behind Royal Canadian Marine Search & Rescue – Station 35, Victoria's local search and rescue station based at Ogden Point. Station 35 keeps the waters around Victoria safe to enjoy for all.
Donations to VMRS can be made by visiting: Donate | VMRS