I am on my way back home from a two week trip visiting several clients as well as attending COMPIT.
COMPIT is defined as per their website as:
An International Conference on Computer Applications and Information Technology in the Maritime Industries
The conference deals with the following topics in Shipbuilding, Marine and Offshore Engineering, Port and Ship Operation:
CAX Techniques
Virtual Reality
Simulations
Robotics
Web Technology
Artificial Intelligence
Decision Support Systems
Ship design methods and tools
I have been presenting at COMPIT for a few years and even won an award for one of my papers. I enjoy COMPIT as it is one of the few conferences which focuses on technology in the marine industry. It is rare to find people that are as interested as myself in applying new and innovative technologies specifically to improve the shipbuilding and offshore industries. This COMPIT was similar to previous years where I got a better understanding and some new ideas on how we can apply the latest trends in technology within our industry.
COMPIT was a jam packed 3 days of 8+hrs each day listening to a series of 25 minute presentations. The presentations were on topics which varied from new theories and approaches to improve the way we define characteristics of a ship (hull shape, general layout, etc.) in the conceptual phase, to presentations about using robots with lasers for maintenance and inspection.
I presented a paper I co-authored with Darren Larkins and Mark Waldie about leveraging engineering information. You can access it here.
The topics I found most interesting were the 5 presentations relating to augmented reality and virtual reality which was fortunately the session I was chairing.
Augmented reality has been a topic discussed at COMPIT for several years; however, this year does seem that there has been some progress with current prototypes and research. In the past few years the cost of the technology to support augmented reality has significantly decreased mainly due to the COTS (Commercial Off The Shelf) solutions providing more than enough capability at a very cost effective price.
The applicability of augmented reality has some real practical use cases within our industry such as:
Validation of fabrication
Dynamic information for the fabrication process
Instructional information on installing various components on a ships such as outfitting
Repair and retrofit
Training of personnel
Accessing related or complementary information
Etc.
One of the workflows demonstrated by Kohei Matsuo from the National Maritime Research Institute in Japan, was the automatic routing with fabrication information of a connecting pipe which I have not seen before in augmented reality.
Below is an image from his paper: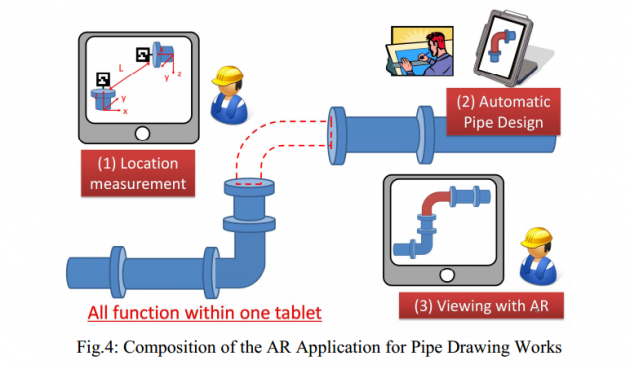 In essence, the worker on-site would add markers to the two ends of the pipes he wants to connect.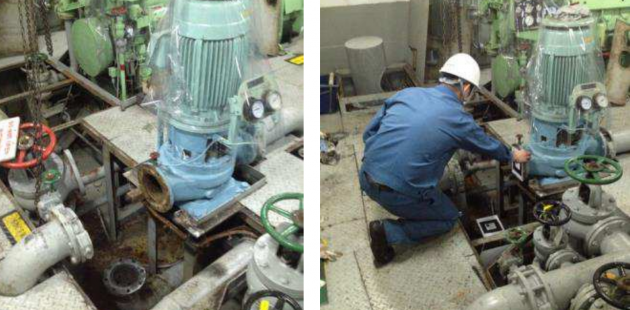 Using a tablet (Windows 8) they make sure the two markers are visible using the camera. Once the software on the tab finds the two markers, the user is presented with a window requesting them to enter additional information for the pipe such as the pipe and flange stock. This is because it currently only uses a camera to identify the markers in 3D (x,y,z) space and does not detect the pipe features/geometry.
It then automatically routes the pipe between the two pipes while avoiding any collisions.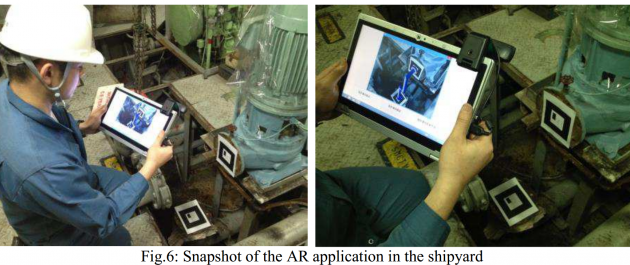 It was definitely an interesting concept which I had never really thought of before; however, I do have some doubts about its real world applicability in this use case. I can see this type of solution for items which can be fabricated with less ridgid requirements such as HVAC, cable trays and pipes without the need of flanges, etc.
I do see augmented reality as the future technology which will reduce the need for printed documentation on the shop floor. There are still some challenges that I think need to be solved such as removing the need to use markers on the parts and use new techniques to sync the real world with the digital world without requiring any staging of the real world.
There were some technologies such as cloud computing/processing which were not mentioned. I do think this is one area where the marine Industry is not leveraging the potential of what is possible today as well as not looking forward to where this can significantly change how we work in the future. When I compare the analysis which goes into a ship vs. a building I understand enough that the number of variables is significantly higher resulting with a much more complex problem. I cannot count the number of papers about new estimation and approximation methods mentioned at this conference, but there were a lot. Virtually all new methods were created or refined to get "good enough results" in a "short" time frame. I just feel with such a concentration of improved and new algorithm paradigms that there can be significant improvements to using the computing power of the cloud for these computationally intensive calculations. I still think that we need to continue to improve our current frameworks, algorithms, paradigms, workflows, etc. but we also need to leverage the power available via the "Cloud."
On a related note of using the latest technologies I would have liked to see more participants on social networks such as twitter. Having yearly conferences such as COMPIT is great; however, I would like to have a better way to know what others are working on throughout the year. I think social networks (Google+, Twitter, LinkedIn, etc.) would be a great way for our industry to share what each of us are working on as well as discuss the tough challenges we face in our industry. Doing it once a year is simply not enough.
Closing Remarks
COMPIT is a conference I do plan on attending in the future because of the high quality of the content but more importantly to network with other technology geeks about the marine and offshore industry.
I do think our industry is advancing forward; however, as I mention in a previous post, slower than we need to. Conferences such as COMPIT are great for our industry as it gathers the great minds in our industry which can make a significant positive difference. I think we need to spend a bit more time looking outside of our industry to learn what others are doing to solve similar challenges we have. Shipbuilding is different with unique challenges but it is not as different as most people think.
One of the best quotes I heard at the conference was:
"The possibility of having a paperless shop floor is the same as the possibility of having a paperless washroom." Even though in some countries there is no paper in washrooms the comment still resonated with me as well as reminded me of the movie demolition man.