Last week I spent a day at Seaspan's Vancouver shipyard with an elite team from a major North American shipbuilder. This meeting at Seaspan was initiated by the shipbuilding company in its search to improve its own processes and tools to become even more competitive in today's environment. The team came to Seaspan because Seaspan has recently invested greatly in its infrastructure from software tools to production machines and has aligned its processes to maximize its investment. They wanted to learn from Seaspan who now have some real world metrics regarding how improved software, new machines, optimized facility management, and workflows to connect the virtual world to the real world, can reduce effort and costly mistakes when building today's ships.
The day started with Seaspan discussing some of the challenges they overcame by automatically exchanging information throughout their organization. This includes how information is extracted from ShipConstructor into their ERP system and used to create their work packages for different stakeholders (Purchasing, waterfront, etc.). The visit also revealed how Seaspan has a belief in automating as many of their production machines as possible from the data in their virtual model (ShipConstructor MIM). I cannot discuss the details of all the conversations but it was one of the most collaborative discussions I have seen between two shipyards probably in my entire career. After this discussion we went for a yard tour.
Here are some of the key takeaways I had from this visit.
Iterative Approach
Seaspan has definitely taken an iterative value-added milestone approach. This strategy allows them to improve a specific task/workflow in a relatively short time frame, assess the improvement, make any modification or alterations and then proceed to the next improvement. Seaspan's implementation approach is very agile which is uncommon in our industry. I have seen many shipyards try to do too much at one time. It is definitely a skill to break a multi-year project into small measurable chunks and Seaspan does seem to have done a pretty good job at it.
Automation
Seaspan certainly understands the benefits of automation. They have automated many of their processes which should be automated.
They have removed many of the workflow recipes that have plagued many yards by automating the exchanging of information within many of their software applications. As mentioned above, an example of this automation is the extraction of information from ShipConstructor to their ERP system. This means no need to waste time, effort or manpower to create reports, throw it over the proverbial wall and re-enter the data in another system manually. It still surprises me still how much this happens in our industry.
They have also taken the automation outside the digital world and are driving their production machines such as their HGG automatic profile cutting machine. I talked about this before in my previous posts:
Improved productivity by leveraging your CNC profiling machine
Connecting ShipConstructor to CNC Profiling machines
Their PEMA panel line was just as impressive. I do not remember the man hours it saved but as you can imagine it can be substantial. In addition, the consistent and accurate welds make for a much higher quality ship.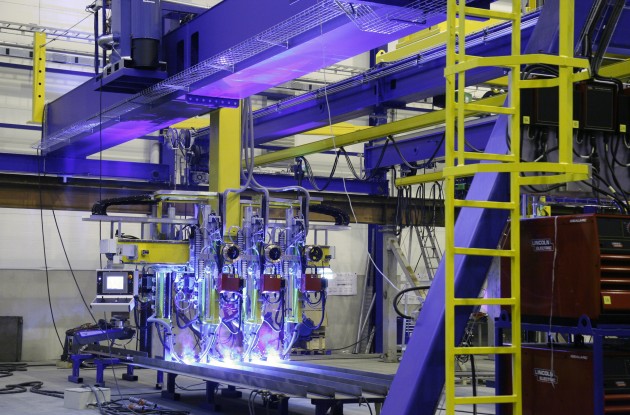 Image courtesy of PEMA
Connected Departments
Seaspan's culture compared to many other shipyards is very different. They seem to strive for a much more open and connected environment between all departments. It was an intentional decision to make engineering and planning sit in the same area as close to production as possible. This might seem to be a small decision but the closer proximity really promotes more collaboration between departments and supports a healthier culture when solving issues when they arise.
Environmentally Friendly
Something I have not noticed at any other yard visit before, probably because I was not really looking for it, is how environmentally aware they are. There are signs and markings throughout the yard to ensure everyone understands various environmental impacts.
---
Closing Remarks
I want to thank Seaspan for one of the most informative and collaborative yard visits I have ever had. I have been to this yard several times and I have enjoyed seeing how it has progressed over the past 2 years.
There is no doubt that Seaspan's facilities are top notch. However, what really impressed me was how they are leveraging the software and streamlining their processes to maximize their state of the art facility. It is easy just to buy new equipment but if you do not change your processes you will not gain all the benefit that is possible.
The strategy to automate things which should be automated is something we all can do better at (myself included). There are manual, error prone and time consuming things we do today which if automated would have a huge Return On Investment (ROI).
The question really is why do we not stop for a second and invest in our future by automating these repetitive and monotonous tasks?