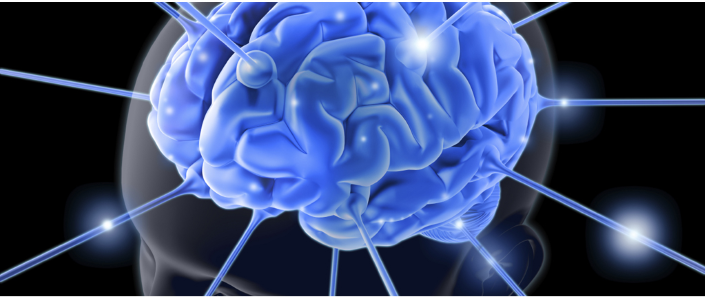 Two weeks ago I went to The Congress On the Future of Engineering Software (COFES). It is not a typical conference but rather an invitation only event where the best of the best (and myself) get together to discuss, disagree (in a very healthy way) and strategize how we can improve the business of technology and the lives it touches.
Even though this gathering was attended by the very rare species of Type A Nerds, it was surprisingly not as technical as previous years. The majority of the conversation revolved around the culture to adopt technology, creating a sustainable ecosystem enabled by technology, the ramifications to society and humanity by technology and even the inability for us to change as rapidly as technology.
The fact that these were not so technical discussions coupled with the fact that I heard way too many times, "This is the same problem we tried to solve 30 years ago" has significantly affected how I view my role as a technology leader.
The question I am asking myself is:
Are we at a crossroads where the technology experts have to make a paradigm shift to take advantage of the technology of tomorrow to implement sustainable solutions which positively affects our children and our children's children?
---
Know our History
Before even looking at how we are going to leverage tomorrow's technology it is interesting if we look how we have implemented yesterday's technology. I do not want to go too far back in history and will stay in the engineering software space.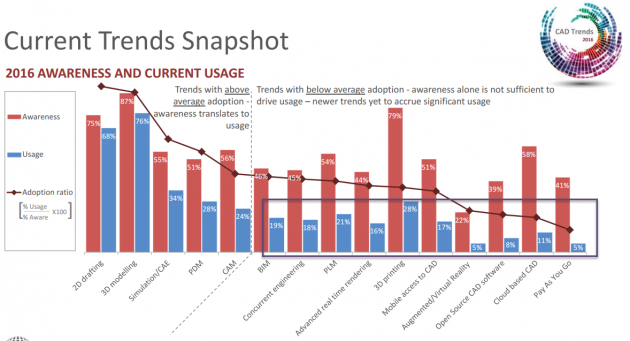 The easiest place to start is 3D modeling. I think most would say that we have successfully adopted 3D modeling but how long did it take? I do not have the answer to this question at this time but 3D modeling has been around for decades and has only been recently considered a success. This might depend on your definition of success since by Business Advantage's Worldwide CAD Trends 2016 Survey Report only 76% of company's use 3D modeling. Compare this to 68% which still use 2D drafting. Is it a success?
If we move to a slightly newer technology such as PLM/BIM which can improve innovation, reduce coordination issues, improve quality, decrease time to market and provide new business opportunities such as operation servicing, why is this 10+ year old technology still failing to make a dent?
If we look at a "newer" technology that technically is considered old news in today's terms such as "Cloud based CAD," it has a mere 11%. It had 8% last year so it did have a 3% jump; however, at this rate when would we say "Cloud based CAD" has been a success?
I know you may have a lot of comments based on the above examples but I kept it brief as I did not want to waste your time and my time providing extra context about those statements. Additional commentary would not contribute to what I am trying to convey to you.
The key takeaway is that getting technology which is mature enough and has the potential to have huge benefits has a very slow incubation period. There are many reasons why this is so, but rarely will it be because of the technology.
---
Ever Increasing amount of Mature Technology
The fact that many current technologies have not been widely implemented is concerning because we are on the verge of another technological explosion. It is no secret that the rate of advances in technology is growing at unprecedented speeds. As mentioned in my previous blog post By Itself Generative Design is not Important, one main reason why it seems that there is so much technological advances in so many different areas is because almost every disruptive technology is feeding the enhancements of other technologies and then creating a self-feeding and fertilizing feedback loop to other technologies. If we look in history we could say that social networks, cloud and mobile devices had this relationship. Without any one of those technologies, none of them would have been as "successful" as they are today. Future examples are IoT, infinite computing, big data, Artificial Intelligence and machine learning. They are all in a self-perpetuating feedback loop which is accelerating each of these fields at amazing rates. Another example of technologies reinforcing each other is the combination of generative design, 3D manufacturing and material development. There are many more examples of this.
If we look at what the industry (or at least marketing) calls disruptive technology, almost all of them have been around for a long time. What is really disruptive is how we are combining and leveraging many adjacent technologies to solve existing and new challenges. I would argue that there is not one disruptive technology out there which does not have a synergistic relationship to another disruptive technology.
The challenge that we have today is that there are so many technologies that are at or about to reach a level or maturity that the way we implemented these technologies in the past is not sufficient. We really need to rethink how we go about incorporating these technologies in our businesses and how it can affect us in the future.
Our old methods have had less than ideal results. With the ever increasing amount of technology at the mature stage, combined with the rate at which technologies are changing, we might be required to create new methods of implementing technology.
---
Our Problem has Never been Technology
If I really think about it I am not sure if the problem is really technology. It is how we think of technology and how we try to capitalize on its potential. If I think back to the roundtables at COFES and their outcomes, almost of all of them were very similar in nature:
We need industry to decide on a standard to use
We need to create/use standards
We need to get users to push vendors to do "X"
The "Enter technology name here" was implemented incorrectly and that is why it failed
The Marketing was overhyped for "Enter technology name here" which created inflated expectations as to what it can do today
One thing which really got me thinking about this blog post topic was from a COFES attendee who made a comment that maybe we (conference members) do not have the skills to solve these problems and potentially need to put more of a concentration in creating a new generation with the skills to do so. He also mentioned maybe we should be investing more in artists and philosophers than STEM (Science, Technology, Engineering, and Mathematics). Interesting that Steve Jobs is considered by some as an artist.
I am not sure I agree with the exact statement but the underlying premise I think is pretty interesting. It is hard for anyone to admit that they cannot solve a problem, especially for anyone who considers themselves problem solvers. It is even harder to get a bunch of Type A expert problem solvers to admit they do not have the skills. However, it is definitely something that I will be pondering for a bit more.
---
Closing remarks
Technology is moving so fast now that it outpaces our ability to implement and leverage it by orders of magnitude using todays methods. If we look at history we have always had a very difficult time implementing and leveraging the technology and now with technology growing so fast what chance do we have?
For us to have any chance to even exploit some of the technology advances available today we will need to re-think how we do so.
I wish I had more answers than questions at this time. All I can say is that this is what is keeping me up at night these days…and my two sons which still do not appreciate sleep:)
Overall the COFES conference was a great conference. I would not have some of these thoughts if it was not because of it.
I leave you with a quote you have heard before and you will see it many more times in this future. It is what I am telling myself these days.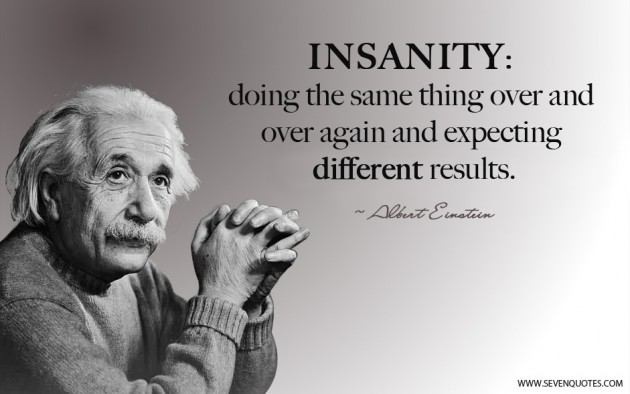 For those not familiar with COFES its official description is:
COFES is the engineering software industry's only annual think tank event which brings executives from design, engineering, architectural, development and technology companies together to understand the role engineering technology will play in the future survival and success of your business.
This is my third COFES with my previous blog posts Technology Resistance and COFES 2015 Revenge of the Thought Leaders