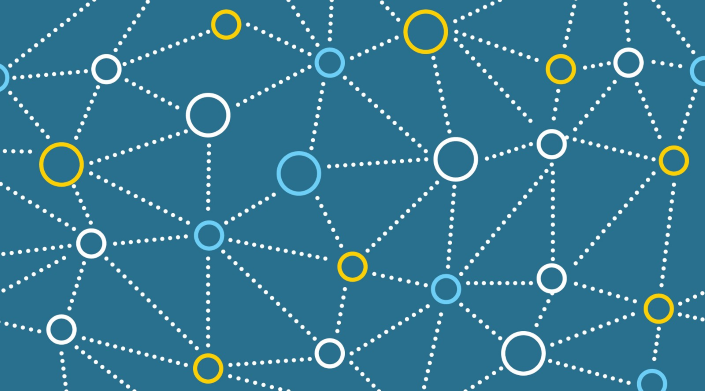 The benefits and promises of the digital twin continue to fill our inboxes and take center stage in our meetings and discussions. The Digital Twin, with all of its potential, has not really manifested itself in any shipyard across the world. This is not because it does not have huge value, but rather that it requires a lot of change, discipline, and focus. All of which takes time.

Digital Shipbuilding
Get a first-hand experience of what the design, build, and maintenance phases are like in an increasingly digital shipyard.
Experience now
However, there are portions of the digital twin which are already well on their way to helping the marine industry achieve their digital twin vision. In most cases, these portions of the digital twin are being marketed as The Digital Twin which is incorrect when taking a holistic systems approach. For example, many engine and large equipment manufacturers have a Digital Twin solution for the asset that they are selling (an engine for example). Even though this is not the holistic Digital Twin solution we are usually talking about, these Digital Twins nodes that represent a specific asset are the step many are taking toward their vision of a holistic Digital Ship (Twin).
The adoption of these Digital Twin nodes is the start of the reality we will be facing in the future. There will be no single Digital Twin Platform, but rather a network of connected Digital Twin Platforms that together will define our true holistic Digital Twin.
---
Digital Ship (Twin)
We all have heard the high-level description of what a digital twin is.
"A digital twin is a complete digital representation of a physical asset."
It would take multiple books to list the digital twin's benefits. Achieving a digital twin in all of its glory is a journey that will take us decades; however, many companies are correctly looking towards how they can make small but valuable steps on their journey by adopting a digital twin solution for a specific asset.
Ultimately, we can consider the entire ship as our physical asset and therefore the digital twin should be a complete representation of the ship. This is really the vision that we will move towards. The amount of "sub-assets" (engines, steel, values, pumps, propulsion, scrubbers, etc.) in a modern ship are in the 10s or 100s of thousands. Attempting to include them all in our digital twin representation is an enormous undertaking. Therefore, we have seen many of the digital twin solutions focus on a subset of the key and critical assets within our ship, such as an engine, which we will be able to benefit from today.
From a holistic Digital Ship perspective, digital twin solutions for these asset subsets will act as a single node in a connected multi-node environment. This is not a problem, but rather the reality of the future with our systems. I have called this the platform of platforms ecosystem in previous posts, but there are many other names for it.
---
A Connected and Networked Digital Twin of Platforms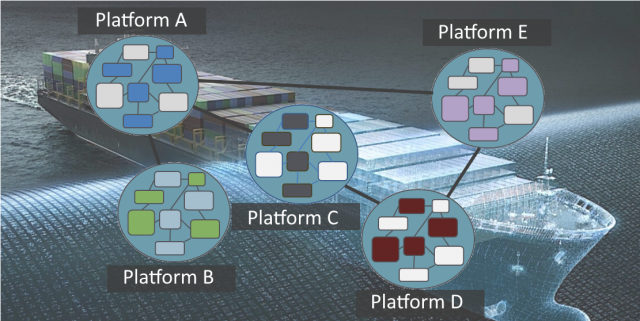 A connected and networked digital twin of platforms is as it sounds. There will be several "digital twin" platforms (nodes) that each will perform several, if not all, of the functions we require for that specific asset. The holistic Digital Ship (Twin) of the entire ship will be a connected collection of these platforms that work together to represent the whole ship. From an end user perspective, there will be a unified user experience where information from various systems will be pulled together for your task. It would be nice to have a single platform with all the information and features we need to attain our digital twin vision, but this is like finding a unicorn…it will not happen.
Just as our industry and others have realized, there are many systems & platforms from different vendors and partners that are required to run our businesses. This strategy we are implementing for our enterprise systems will be the same we implement for our Digital Twin vision.
I understand that there is some concern about this future. Our past experiences dealing with, exchanging, and integrating across systems have either failed or not achieved the benefit that we wanted or needed.
However, as our business has changed over the years so has the business of a technology provider. It is understood across the technology providers that to be successful you will have to be capable of connecting to other systems from other vendors, even if they are your competitor in some areas. This removes the burden from the end user to connect the systems and therefore eliminates the root cause of many issues with previous integrations.
The connecting of these systems will need to be the technology partner's responsibility, allowing the users of their system to focus on their business and not creating a custom integration. This is not 100% a reality today, despite most technology partners messaging that they are "open" in their marketing material. Their solutions have not caught up to their messaging. Simply put, if a technology partner has a closed system, it will not exist in the future. We have already seen huge losses in the last few years from some major software vendors who forced their closed solution on their clients, who in turn found alternate technology providers. This is motivating everyone to embrace the new open digital world.
---
Closing Remarks
We should not confuse our Digital Ship (Twin) vision with the technology powering it. The vision is completely separate from the technology, even though some technology partners will tell you otherwise.
Even though many technology and manufacturing providers are racing to create a Digital Twin solution and platform, the reality is that there will not be a single Digital Twin Platform to rule them all.
The strategy that we and other industries will be implementing in the future consists of a network of connected Digital Twin Platforms. These connections between the platforms will be a first-class feature from the technology partner and will require very little effort from the end user.