SSI clients have used the company's ShipConstructor CAD/CAM software to design projects incorporating big new innovations with big environmental impacts. These solutions have, and will, result in dramatically improved fuel efficiency and reduced costs to ship owners. Less fossil fuel out of the ground, less emissions into the air, and less cost to shippers equals less cost to consumers and less cost to the environment; all in all, "GREEN" looks pretty good for many different bottom lines. Below are 3 green technologies pioneered by ShipConstructor users.
Mewis Ducts
At the recently concluded Nor-Shipping trade show, SSI client Becker Marine Systems announced that it calculates that since their introduction in 2008, the company's Mewis Ducts have already lowered ship's CO2 emissions by more than 1.4 million tonnes worldwide! Becker has built 1000 Mewis ducts and they are in service on large ships around the globe.

The Becker Mewis Duct is a power-saving device for tankers and bulkers that consists of a duct positioned ahead of the propeller together with an integrated fin system. The duct straightens and accelerates the hull wake into the propeller. The fin system provides a pre-swirl to the ship wake which reduces losses in propeller slipstream. This results in an increase in propeller thrust and it makes a measurable improvement in efficiency. To back up Becker's claim of 1.4 million tonnes of CO2 emissions reduced worldwide, the company has provided several cases studies. For instance, after a Mewis Duct was installed on the 250 DWT crude oil carrier the Samco Redwood 314, fuel efficiency improved by 6.4%. This translates to 4, 271 t less of CO2 emitted per year. And other tests show similar results.
Boiled-off Gas for ATBs
Another ShipConstructor user Elliott Bay Design Group (in conjunction with Moran Towing Corporation) has recently been granted a patent for using boil-off gas in Liquefied Natural Gas (LNG) Articulated Tug Barge units (ATBs).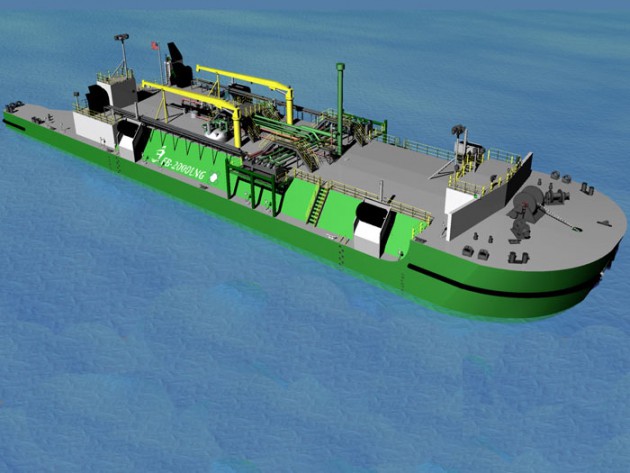 This technology transfers boil-off gas between an LNG tank barge and its tug. Using boil-off gas is not uncommon on LNG tankers but what makes this revolutionary is that Elliott Bay had to figure out how to take into account the relative motion between the barge with fuel and the tug itself. The solution involved a clever system of rotatable joints in the conduit system. This advance in fuel transfer technology will mean more efficiency and less pollutants in the atmosphere.
Superyacht Hybrid Propulsion
SSI's clients are pioneering trends that are being adopted by others in the industry. Over the last few months, there has been much talk in the superyacht world about hybrid propulsion. This technology was first introduced to superyachts back in 2008 by ShipConstructor Client Council Member Royal Huisman when the company launched Ethereal. Royal Huisman has since continued to advance the hybrid technology on its newest yacht Elfje.
A hybrid sailing yacht can operate under sail, diesel, or electric power. While under sail, Ethereal's propeller drive-shaft can charge the Li-ion phosphate battery bank. Elfje builds on this technology by using "artificial intelligence" for power storage conversion and management.
ShipConstructor is Green
While SSI's clients are pioneering green technologies involving energy, engines, and form, SSI's ShipConstructor software itself helps them reduce negative environmental impacts in several other ways.
ShipConstructor is used, even during initial design, to calculate accurate figures for weight and center of gravity (CG). Design agencies such as Vripack and Gibbs and Cox emphasize that as a matter of best practice, it is important for fuel efficiency to know these numbers as soon as possible and to carefully track weight and CG throughout the life of a project. ShipConstructor is their tool for that purpose.
Clients are also appreciative of ShipConstructor's numerous error-reduction features that decrease re-work and waste in a shipyard, thus reducing environmental impacts. Furthermore, tools such as ShipConstructor's WeldManagement product incorporate innovative features to aid the process of inspection to ensure that tankers and oil rigs are more soundly built.
Conclusion
SSI is excited about the emerging environmental technologies being pioneered by our clients and we are appreciative of how companies are using our software to find ways to help the environment. We encourage all ShipConstructor users to continue to look for ways to increase efficiency in both ship production and operation.