As a company committed to environmental sustainability, SSI congratulates its client Peters Shipyards on the Christening of the LNG GREEN RHINE tanker. The vessel was detail designed and production engineered using new features of ShipConstructor software that provide increased flexibility, enabling clients to implement innovative solutions.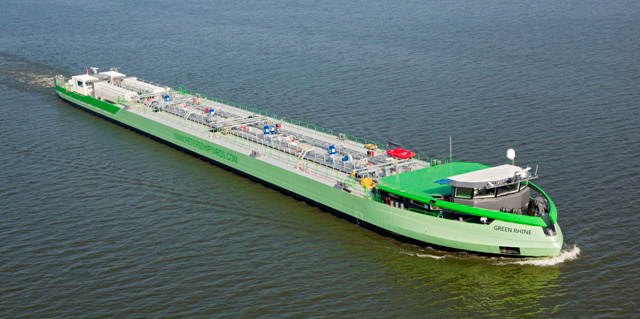 ---
Environmental Sustainability
The LNG GREEN RHINE is an electrically powered ship with generators fuelled by LNG (Liquid Natural Gas). The use of LNG, compared to the traditional diesel oil, reduces emissions of CO2 and nitrogen oxides (NOx) by more than 25% and 80% respectively. Moreover, no sulphur dioxide (SO2) and particles are released. Due to the configuration of four engines, the LNG GREEN RHINE offers a load sharing operation which results in low fuel consumption, increased safety and redundancy.
---
Innovative ShipConstructor Usage – multiple product hierarchies and UDAs
To produce such a technologically sophisticated vessel, Peters has taken advantage of the flexibility of ShipConstructor to fully leverage the power of the application and tailor it to suit the company's innovative engineering practices. This has been done by enthusiastically embracing the capabilities SSI introduced in recent releases of ShipConstructor regarding multiple product hierarchies and user defined attributes. Peters uses these functionalities to do sophisticated production planning and logistics management within the shipyard. Peters also successfully takes advantage of ShipConstructor's recently enhanced WorkShare functionalities supporting multiple office collaboration.
---
Positive Impact
SSI CEO Darren Larkins notes, "Peters Shipyards is an example of how with technological sophistication and the right tools such as ShipConstructor, innovative companies can be leaders in the global market and help to impact the world in positive ways."
For more information on SSI, visit www.ssi-corporate.com