ShipConstructor Software Inc. (SSI) is helping shipbuilders adopt cutting edge technologies and techniques from the aerospace, automotive and plant industries.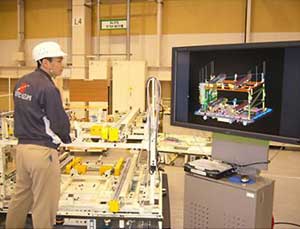 Laser scanning has long been standard in the plant industry for measurement and quality control and ShipConstructor customer Signal International is using this technique to regularly laser scan as-built models. Laser scanners have recently been reduced in price to as low as $30,000 USD and software such as Autodesk based ShipConstructor is able to leverage AutoCAD's increasing sophistication at handling point clouds derived from laser scans.
Shopfloor 3D is another innovative practice that SSI is excited to see being copied from the Japanese automotive industry. As shown in the accompanying picture from a Japanese textbook, 3D is being used on the shop floor by workers who use terminals to view a 3D model with assembly instructions and information on material properties. ShipConstructor client Royal Huisman, the luxury yacht builder from Holland, has incorporated a similar practice at its shipyard. Production staff view and fly through 3D Navisworks models that are easily output from ShipConstructor to assist them in fabrication.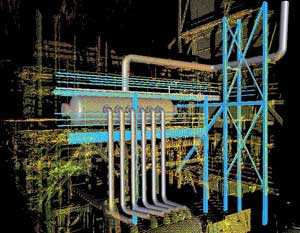 SSI helps shipbuilders adopt various cutting edge technologies because it is a scalable software solution. A scalable solution is cost-effective and allows companies time to change technology and processes in a step by step fashion. For instance, ShipConstructor has unparalleled two dimensional production output but also has been an innovator in stressing the usage of 3D.
SSI also supports innovation by leveraging the CAD industry standard Autodesk Corporation's massive R&D budget which dwarfs the annual revenue of even leading shipbuilding and offshore CAD vendors such as AVEVA. SSI is working in conjunction with the R&D team at Autodesk as they work on various projects to harness the power of parallel processing and cloud computing etc. to further advance the power and capabilities of CAD applications. These advances will ultimately drive down costs and increase the productivity of shipbuilding.