Once again, Austal USA has recently christened a vessel detail designed with ShipConstructor Software. The USNS Spearhead, the first of 10 US Navy Joint High Speed Vessels (JHSV) designed for rapid intra-theater transport of troops and military equipment, was christened on Saturday September 17, 2011.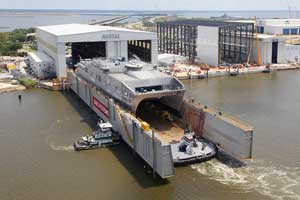 Work on JHSV 2 and 3 is now underway and Austal is currently preparing to launch a second Independence-variant 127-metre Littoral Combat Ship (LCS) class vessel for the US Navy. As Congressman Jo Bonner notes, "Austal… is becoming synonymous with high speed defense on the water."
All of these fast warships are being 3D modeled in the Autodesk based ShipConstructor CAD/CAM application. ShipConstructor contains features for work sharing and collaboration amongst distributed sites that have helped Austal coordinate modeling with its office in Australia. Austal has also worked with SSI to integrate data from ShipConstructor's CAD program with Austal's ERP system to promote greater efficiencies in material management.
The JHSV is an impressive vessel. It will be capable of transporting personnel, equipment and supplies over operational distances in support of maneuver and sustainment operations. It will transport Army and Marine Corps company-sized units with their vehicles and be capable of reconfiguring to transport an entire infantry battalion. It has a flight deck capable of handling the CH-53E, the largest and heaviest helicopter in the American military, and an off-load ramp capable of allowing M1A2 Abrams to quickly drive off the vessel.
ShipConstructor Software Inc. is proud to be associated with yet another successful Austal project. "The level of excellence and attention to detail demonstrated by Austal in everything it does is inspirational", says ShipConstructor Sales & Marketing Manager, Michael Viala.