We are pleased to announce that Denis Morais, CEO of SSI (ShipConstructor Software Inc.), has been honored as a SNAME Fellow by the Society of Naval Architects and Marine Engineers (SNAME) for the Fall Class of 2023. In the dynamic realm of shipbuilding and maritime technology, Denis' remarkable additions to the industry are a significant achievement.
A Distinguished Honor
The SNAME Fellow designation is a distinguished recognition reserved for individuals who have demonstrated unwavering dedication and noteworthy contributions to naval architecture, marine engineering, and related fields. It reflects excellence and acknowledges the recipient's outstanding accomplishments. As per SNAME's guidelines, achieving the Fellow grade requires at least a decade of active practice and substantial contributions to various facets of the marine industry, including design, research, production, operation, education, or management.
Pioneering the Path of Innovation
Denis Morais has not only met but exceeded these criteria through his exceptional work and commitment to advancing the maritime sector. His journey from a dedicated practitioner to an internationally recognized industry leader is a compelling story of passion, innovation, and persistence.
Denis has consistently pushed the boundaries of what's possible in shipbuilding and marine technology. His path to becoming a SNAME Fellow is marked by notable accomplishments that have left a lasting impact on the industry.
Publishing Excellence
One of Denis's notable contributions is his prolific writing. His blogs, articles, and research papers have been a source of valuable insights for professionals across the maritime sector. Through his writing, Denis has shared his deep knowledge and expertise, shedding light on the latest trends, challenges, and innovative solutions in the marine industry.
Global Collaboration
His influence extends beyond the written word. He has played a pivotal role in international collaborations, working closely with industry partners and SSI's global clients to address complex business and technology challenges. His ability to bridge theory and practice has been instrumental in allowing shipbuilders and designers to implement innovative solutions and processes quickly.
Leading SSI into the Future
Denis Morais' appointment as a SNAME Fellow recognizes his past achievements and underscores his vision for the future. As CEO of SSI, he continues to lead the development of innovative products and services that are shaping the future of shipbuilding, and allowing shipbuilders to achieve their goals today. His deep understanding of current industry trends and evolving technology and business landscapes positions SSI for excellence and innovation.
Denis Morais joins Patrick Roberts as SNAME Fellows
In joining Patrick Roberts as an SNAME Fellow, Denis Morais aligns with a fellow industry leader who received this recognition in 2022. Patrick Roberts, VP of Sales and Operations at SSI USA, known for his outstanding contributions to the maritime industry, shares a commitment to advancing naval architecture, marine engineering, and related fields. Together, Denis Morais and Patrick Roberts represent a powerful force for innovation and excellence within SNAME and the broader maritime community.
Denis Morais at SNAME Event

Additionally, we are delighted to share that Denis Morais attended the SNAME Maritime Convention (SMC) 2023 this month, where he was officially recognized with this prestigious award. As a SNAME Fellow and a highly respected industry leader, his presence offered invaluable insights and significantly contributed to meaningful discussions among peers in the field. His active participation in SNAME activities underscores both his and SSI's unwavering commitment to advancing the maritime sector, emphasizing the vital role of collaboration and networking in shaping the industry's future.
---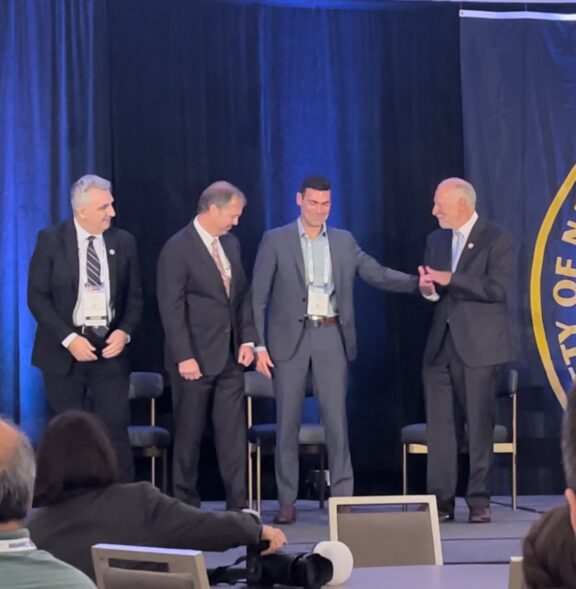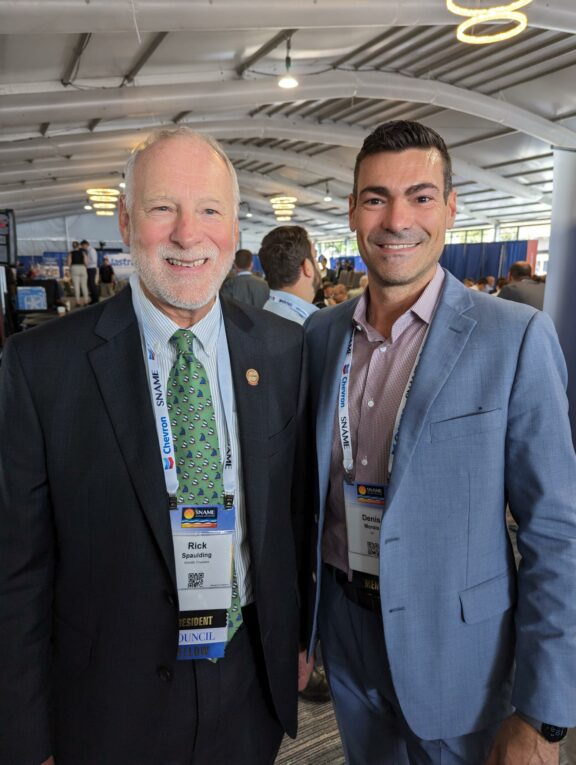 ---
In conclusion, Denis Morais' recognition as an SNAME Fellow signifies his exceptional contributions to the maritime industry. We congratulate him on this well-deserved honor and look forward to his continued positive impact on the industry. Denis Morais is not just a Fellow by title but also in spirit, driving innovation and excellence in shipbuilding and marine engineering.