The National Shipbuilding Research Program (NSRP) has been a bulwark of shipbuilding innovation in the United States. Most key US shipbuilders, design agencies, vendors, and partners participate and work together to move the industry forward. As an organization, NSRP is one of the best in the world at promoting productive collaboration within the industry.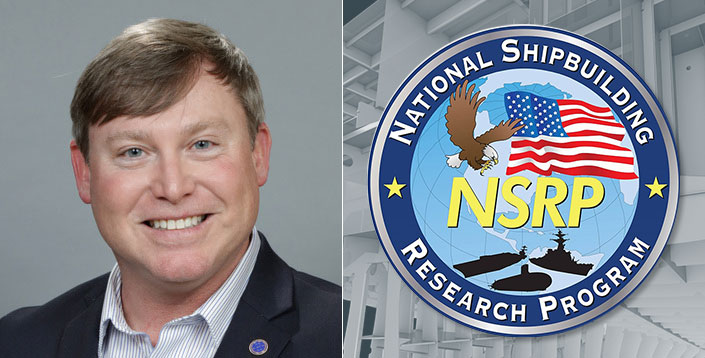 One of the key panels promoting digital innovation within the NSRP is the Business Technologies (BT) Panel. The BT panel's key role is to steer its membership towards collaborative research projects to improve technical procedures and practices across the US shipbuilding industry. For 2020, the BT panel's focus was on exploring application and implementation strategies for the Digital Twin, Digital Thread, Model Based Enterprise (MBE), Digital Shipbuilding, IoT, and many other innovation topics that will be reviewed by the NSRP Executive Control Board for funding projects.
Last month, Patrick Roberts was re-elected for a 3rd 2-year term as BT Panel Vice Chairman, with James "Jamie" Breakfield of HII-Ingalls Shipbuilding as Chairman. Roberts' election marks the start of his 8th consecutive term as an NSRP Panel Vice Chairman. In the past, Roberts has Vice Chaired the Ship Production Process Technologies and Business Process Technologies Panels.
"The NSRP is unique." said Roberts, "There is no other organization in shipbuilding that has allowed competitors to collaborate within the industry while addressing business and technology challenges through innovative research. I'm proud to have served NSRP for over 15 years and consider it a privilege to do so for another 2 years."
---
Driving Real-World NSRP Results
Roberts' reelection serves as a vote of confidence in his ability to deliver practical results. With this vote, leaders from across the industry have acknowledged his track record of fostering and developing strategies to reduce costs and find efficiencies across US Navy shipbuilding. His 20+ years of experience across the industry leave him well-positioned to understand the technical, business, and process challenges shipbuilders face. Just since 2016, some of the NSRP projects Roberts has played a key part in are:
Increased CAR-W system flexibility and efficiency by enabling on-line scanning of as-built parts, identifying value-add use cases for production scan data and the "digital thread", increasing CAR-W system productivity by enabling automated, collision-free programming of multiple robots, and extending direct support to opt-in shipyards looking to align with CAR-W technology.
Leveraged existing FEA workflows at shipyards as the basis for automating large-scale lift preparation and analysis, and provided mechanisms for generating appropriate "Lift Package" production drawing deliverables.
Automated the provisioning of information at each step of the ship design process as the engineer progresses through the flow of work.
Allowed for the use of new remote scanning technology that lowered costs and increased the speed of 3D scanning workflows in shipbuilding.
Automated the qualification maintenance process for welders, saving time by allowing the shipyard to maintain weld qualifications through the course of a welder's normal day-to-day duties.
---
More on SSI and the NSRP
For more insight into SSI's involvement with the NSRP, make sure to review our co-CEO Denis Morais' looks into past NSRP All Panel Meetings. He touches on the benefits, challenges, and future vision of the NSRP, as well as the role each member organization must play going forward.