ShipConstructor Software Inc. (SSI) has determined the best way to integrate CAD data with ERP systems. The key is to understand shipyards' processes.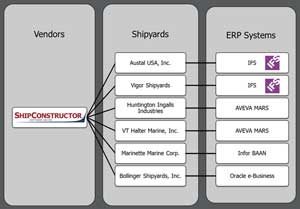 CAD systems are a key "source of food" for ERP systems and there is a direct link between the success of an ERP system and how well it is fed the information it requires to do its job. Unfortunately, too often the process of feeding ERP is handled via manual data entry which is time consuming, frustrating and prone to error. On the other hand, even with an automatic or semi-automatic method for transferring data, the transmission is often done poorly because the right data is not transferred in the right fashion in the right level of detail.
SSI realized that the only way to correctly integrate the ShipConstructor CAD system with various ERP programs was to gain a thorough understanding of various shipyards' business processes to see exactly how the data from both systems needed to be handled.
Utilizing a sophisticated IDEF0 function modeling methodology, SSI USA led the effort to analyze the operations of six American shipyards that built vessels of varying sizes for both commercial and naval purposes and who used various different ERP systems.The shipyards involved were: Austal USA, Inc., Vigor Shipyards, Huntington Ingalls Industries, VT Halter Marine, Inc., Marinette Marine Corp, and Bollinger Shipyards, Inc.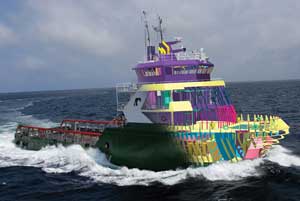 After a detailed analysis, SSI created a data alignment map for each ERP system, a neutral schema and special tools to easily transfer the data between both systems.
As a result of this integration project, shipyards have noticed immediate improvements including a reduction in scheduling delays, increased throughput due to improved JIT (Just-In-Time) material handling and multiple business improvements that became apparent during the IDEF0 process mapping exercise. ShipConstructor's strategy for process modeling is applicable to not just ERP, but to integration projects involving other applications as well.